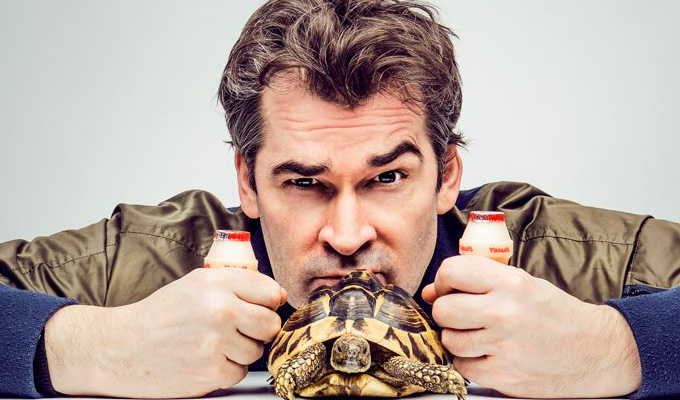 Adam Riches: The Beakington Town Hall Murders
The Beakington Town Hall Murders is probably the most ambitious show yet devised by Adam Riches: a murder-mystery packed with preposterous set-pieces in which the feared king of audience participation must determine which of us in the auditorium committed a heinous crime.
For last night, during a Christmas party, the turtle tombola in the titular civic building was recklessly opened mid-spin, flinging the amphibians contained within to all corners of the room at what turned out to be a terminal velocity.
Riches sets out the scene in the guise of a chummy Kiwi, before leaving the room so that the person responsible for the turtle atrocity can be identified. Fellow comic Ben Target, in ridiculous character, also fully explains the terms of engagement.
The man to solve the crime is Riches's most enduring creation, Victor Legit, the Yakult-chugging alpha male of Alpha Males who was first introduced to Edinburgh 12 years ago.
In all that time Riches has honed his instincts for reading an audience, which could help him identify the killer here. That or the tried-and-tested process of elimination favoured by criminologists everywhere: a game of Guess Who? The fact the woman who helped him tonight entirely misunderstood this premise only added to the farce.
Guess Who? is just one of the unconventional interrogation techniques deployed that are so absurd as to fall through loopholes in the Geneva Convention. Without going into too much detail, plastic sheeting is laid down, boxing gloves are used, and Legit has a punishment to fit the crime.
Over the course of the investigation, swathes of the audience get involved on stage, and Riches ramps up the tension by milking the palpable fear of participation, threatening people with even further humiliation if they do not comply. But despite Legit's bullying ways, those press-ganged into service end up doing silly things, not horrible ones.
Although the slapstick spectacle of the grand exploits is the most memorable part of the show, Riches has other tools in his comedy toolbelt, too. Legit, of course, is a great conceit: Chuck Norris, The Sweeney and both Mitchell Brothers all rolled into one. And he has great lines of precise comic description that they raise the show beyond the level of improvised muckabout.
Though he's never quite parlayed his considerable talents into broad success, Riches produces one of the highlights of the Fringe year-in, year-out. And 2019 is another good vintage.
Review date: 9 Aug 2019
Reviewed by: Steve Bennett
Reviewed at: Pleasance Courtyard
Recent Reviews
What do you think?