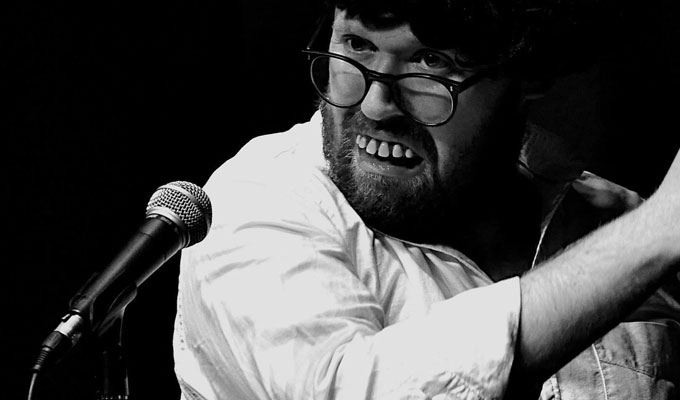 John Kearns: Double Take and Fade Away
It's easy to wax lyrical about the bathetic poetry of the mundane that hallmarks John Kearns's work. But in praising the distinctive, quirky elegance of his philosophical vignettes, we shouldn't overlook the fact, for all his protestations of being 'not for everyone', the double Edinburgh Comedy Award winner is damn funny.
In Double Take and Fade Away he is a man all dressed up with nowhere to go. Not just the ill-fitting fake teeth and tonsure wig that has become his on-stage armour, but in the surreally exaggerated, tragi-comic portrait of his daily life that he recounts as he puts on his best bib and tucker only to wait sadly by a phone that never rings.
On one level the existence he describes is pitiful, yet he has a fragile optimism about it all, seeing art in the cracked plaster of his ceiling. He dreams of wearing a tailored tuxedo to a society event, aping the debonnaire elegance of Fred Astaire, but the reality is a shabby off-the-peg number on the night bus.
The aspirations, the pride, the unearned air of superiority are pure Tony Hancock – as are the routines that are about essentially, nothing – but Kearns adds his own peculiar twists.
He finds inspiration in the most unlikely of places. For him, the carelessly written 13th step of a Nigella Lawson chocolate cake recipe accidentally contains a nugget of conceptual profundity that blows his inquiring mind.
Kearns is also inspired by the Renaissance greats. What starts as a dad joke about the ceiling of the Sistine Chapel expands into a hilariously cartoonish mental image, while he completes a task on Leonardo Da Vinci's unfinished 'to do' list and describes a woodpecker's tongue. Curious about the world, as you might expect from a former Palace Of Westminster tour guide, Kearns's show is liberally seasoned with obscure facts such as this.
His monologue is theatrical in the way it details the slightly adjusted universe he inhabits with delicate precision and amusing, eloquent phrase-making. Such witty writing is enhanced by his occasional acknowledgement of the artifice of any gig, and indeed the strange reality his own semi-successful career.
Nor is this piece, delicate as it is, preserved behind a fourth wall. Some of the funniest moments on the opening night of his two-week run at the Soho Theatre come from some improvised business that emerges from initially stilted banter about fridge magnets. Kearns's rich script might be a delight, his use of the pregnant pause masterful, but he can work in the moment, too.
He can write a proper gag as well, the strand about tuxedos, for so long a whimsical nostalgia as he evokes the message he would give to his younger self, eventually becomes an elaborate shaggy dog tale with a fine punchline.
Not for everyone, maybe, but which comedian is? An hour of this unique act, exquisite but robust, is more rewarding than any arena stand-up; he deserves to break out of the cult niche he currently inhabits.
• John Kearns: Double Take And Fade Away is at the Soho Theatre untoil December 7 and on tour next year. Dates and tickets
Review date: 26 Nov 2019
Reviewed by: Steve Bennett
Reviewed at: Soho Theatre
Recent Reviews
What do you think?