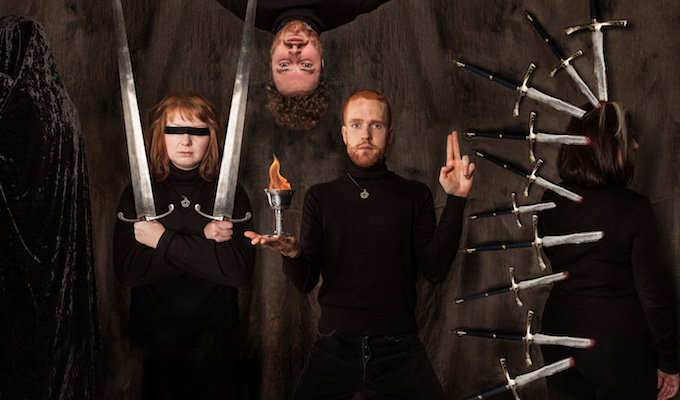 Tarot
Dressed as to evoke the ghosts of Victorian children, three sinister figures with blackened eyes enter the attic and lay out a magic circle of salt in ritualistic protection against the dark forces they are about to unleash.
But while gothic sketch trio Tarot dabble in the supernatural, with a jet-black strand underpinning many of their scenes, this is the least sombre evocation of the occult you are likely to find. It's a coarse, raucous blast of ridiculous, mischievous energy, hilarious for its unfettered outrageousness.
The show is never the same twice. Ostensibly that's because there are nine Tarot cards representing different skits and not time to perform them all. By yelling 'Brucie' in honour of the late Mr Forsyth at each in turn, the audience – now complicit in the madness – choose which will be performed, and in which order.
But the main sense of exciting unpredictability comes from the performers' willingness to muck about, while stilling keep their eyes on the prize punchlines. This sketch supergroup – comprising Ed Easton and Kath Hughes from Gein's Family Giftshop and Goose's Adam Drake – are literally bouncing with enthusiasm at the chance to do this. They tease, provoke and dare each other to keep things spontaneous while offering a running commentary ('Horrible, isn't it?') to include the audience in their conspiracy.
A sauna-based scene involving Easton and Drake in only their too-small towels, superficially about toxic masculinity, is a fantastic bit of high-stakes slapstick – especially given the presence of a teenager in the room; jeopardy that Easton milks for all it's worth. It might not be too sophisticated, but it's laugh-from-the gut hilarious, heightened by the repetition of a choice turn of phrase.
Sketches tend to start conventionally, such as the 'shall I play mother?' premise listing a lot of parental clichés, before spiralling off into the bleak. Death, incest and bloody injuries are all on the menu.
Meanwhile dabbling int the Tarot cards means they are flirting with powers they cannot hope to understand, which can surely only end badly. In fact, they end with the same manic pandemonium that has hallmarked the whole hour, just amped up even further. Performances from all three are never less than compelling: bold and fearless; over-the-top in comedy but taut and dramatic when needed.
Comparing Tarot to League of Gentlemen seems trite, but they invite it with their publicity including a quote from Reece Shearsmith. He found it 'brilliant' and it would be hard to disagree with that verdict of this high-octane hot mess that's one of the balls-out funniest shows on the Fringe. Quite literally, if that towel sketch goes wrong.
Review date: 18 Aug 2019
Reviewed by: Steve Bennett
Reviewed at: Pleasance Courtyard
Recent Reviews
What do you think?