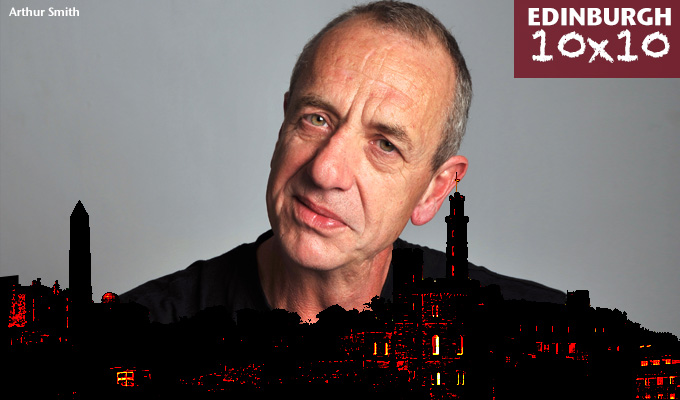 Edinburgh 10x10: Fringe institutions
It wouldn't be the same without them. Here are ten Fringe institutions, back again for 2016.
Such an important part of Edinburgh they named its mountain after him. Probably. He first came in 1977, when his first audience numbered four, all of whom he knew. He wrote in his memoir My Name is Daphne Fairfax: 'My adulthood has been measured out in Edinburgh Fringes and if the event did not exist I would have had a different life.' You can read a full extract his website. This year he becomes a self-styled 'hipster guru' to offer a beginners' guide to Mindlessness.
Pleasance Courtyard, 13:00
It is the 30th year that actor, writer and presenter Mervyn Stutter and his pink jacket have graced the Fringe, and the 25th in which he's presented a daily Pick Of The Fringe showcase. He also hands out 'spirit of the Fringe' awards to his favourites every year. There will be a two-hour special at Assembly George Square on August 15 this year to mark his anniversary, with proceeds going to a Cape Town charity for township children; while his daily show is at…
Gilded Balloon Teviot, 13:00
Mark Watson became a bona fide Fringe legend with his unforgettable long shows, starting with a 24-hour marathon in 2004, peaking at 36 hours in 2006 and ending with another 24-hour stint in 2009, just before serious psychological damage from the sleep depravation kicked in. He first came to the festival in 2011 with the Cambridge Footlights, and his other ambitious ideas included The Hotel, a site-specific immersive show in 2012. As well as his stand-up show I'm Not Here, this year he'll be reprising his Edinborolympics of daft comedians' challenges for the last ten days (Pleasance Courtyard, 23:00, August 18-27) – doping scandals permitting.
Pleasance Courtyard, 21:00
4. Cambridge Footlights
Talking of the Footlights, they have to qualify as festival legends, having been attending since sometime in the 1950s, as well as comprising half of Beyond The Fringe which did so much to promote the Fringe name in 1960, despite, ironically, being part of the International Festival which wanted to slap down to the upstart event. The Footlights also won the first ever Perrier award (now the Edinburgh Comedy Award) with the 1981 revue that included Emma Thompson, Hugh Laurie, Stephen Fry, Tony Slattery and others. The troupe's heritage ensures good audiences, even if their show is not always on the critical radar, yet it = consistently produces notable comics, including David Mitchell, Richard Ayoade, Simon Bird and Stefan Golaszewski in recent years.
Assembly Roxy, 18:55
See also The Oxford Revue, whose alumni include Rowan Atkinson, Stewart Lee, Al Murray and Armando Iannucci, at Assembly George Square, 17:30.
5. So You Think You're Funny
The final's too long, too hot, and not always consistent – but the competition remains a highlight of the Fringe, while retaining a relevance despite a plethora of other new act competitions sprouting up in the 29 years since Karen Koren started this one for her Gilded Balloon venue. Previous winners include Peter Kay, Lee Mack and Dylan Moran.
Heats: Gilded Balloon, 22:00, August 7-15, not 12, 13, Final: August 25, 19:30
See also the BBC Radio New Comedy Award final (19:15, George Heriot School, August 14), the Amused Moose Comedy Award (TheSpace@Symposium Hall, 13:10, August 21), and the Chortle Student Comedy Award Final (22:30, Pleasance, August 16)
Australian musical comedy trio DAAS, as they are known, ran riot through Edinburgh in the late 1980s. Former street performers Paul McDermott, Tim Ferguson and Richard Fidler very much took the 'comedy is the new rock and roll' mantra to heart, with anarchic behaviour on and off stage. One of their albums was even banned in the UK for a reference to the IRA (though a judge overturned it). The group - named after a politician – split up in 1994, following a farewell tour, but reformed in 2014 with Paul 'Flacco' Livingston taking over from Fidler, now a broadcaster down under, and evolving a whole new dynamic.
Pleasance Courtyard, 22:00, August 3 to 14 (not 8,9)
Munnery performs for his 30th year at the Fringe, where he started as God and Jesus and The Security Guard before inventing Alan Parker: Urban Warrior and The League Against Tedium, the compere of the avant garde Cluub Zarathustra – a comedy club if run by an oppressive, totalitarian regime. This year's show from the ever-inventive comic promises 'an opening to die for' – which is certainly a bold statement. There's also a 30th anniversary gala celebrating some of his creative alter-egos at The Famous Spiegeltent (18:45, August 22)
Stand 1, 16:00
8. Late N Live
The Fringe's original home of late-night chaos also returns for a 30th year. Where else but Edinburgh do you get shows that START at 1am, and run through to 5am? Heckling and hollering are all part of the show, which can be frustratingly disruptive, but on occasion leads to memorable exchanges. Today's Late N Live can never capture the visceral thrills of when it was in the old Gilded Balloon building in Cowgate, but there's still a soft for it. The loss of the old venue following the 2002 fire opened the way to a plethora of other late-night shows – most notably Spank! for a similarly unpredictable ride – but diluting the thrill of any one of them being THE place to be.
Gilded Balloon, 01:00
From low-fi whimsy to political campaigning to personal anecdotes, Josie Long has brought a diverse range of shows to the Fringe since winning the best newcomer award in 2006 for her Kindness And Exuberance debut. She represents a new generation of Fringe comedians, here to experiment and play. This year's stand-up show at Stand 1 is a work in progress, while she also has a political offering with investigative journalist Martin Williams at The Stand 5 at midday over the last two weeks.
Stand 1, 17:30, August 16 to 29 only
10. Set List
The most recent addition on this list, Set List quickly became a favourite for the way it puts comedians on the spot. The premise, if you don't know, is that comics are presented with subject headings without any advance notice, and have to ad-lib a stand-up routine that could be summarised by that phrase . It was briefly a Sky Atlantic series, but is best experienced live, when you can smell the panic.
Gilded Balloon, 22:30
• Ten former Chortle Student Entrants at this year's Fringe.
Published: 27 Jul 2016
What do you think?