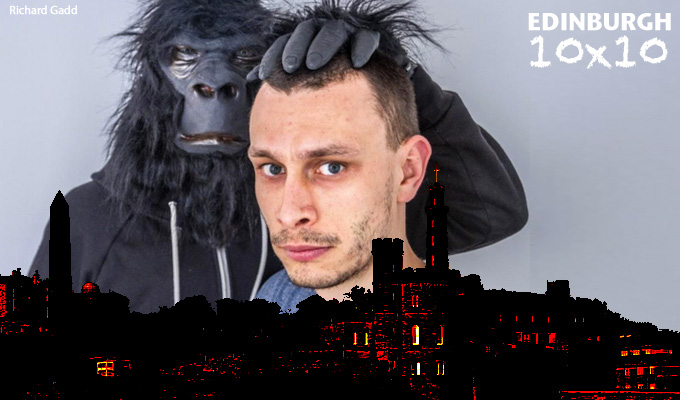 10x10: Once a student...
It's the 13th year of the Chortle Student Comedy Award, with former entrants going on to be familiar faces on TV, the comedy circuit and at festivals.
Here's a list of just ten of of our alumni returning to the Fringe this year – though we could well ave chosen Ed Gamble (2007 finalist), Mat Ewins (2009 finalist), Matt Winning (2010 and 2011 finalist), Bethany Black (2007 finalist), Rhys James (2010/2011 entrant), Lauren Pattison (2013-16), Elf Lyons (2011, 2012 and 2014), Mark Smith (2007 and 2008, as Winston Smith), Laura Lexx (2009 finalist) or countless more besides.
And come and see the finest of this year's crop at our final in Pleasance One at 10.30pm on August 16 (Tickets.
Our very first winner, from way back in 2004, more recently known for the BBC Radio Wales sketch show Here Be Dragons, appearances on panel shows such as QI and for occasionally co-hosting radio shows with Rhod Gilbert. He's back at the Fringe with a free show about taking your pleasure where you can find it… including what to do if you find a box of sex toys in your hotel room.
Laughing Horse@The White Horse, 21:15
Richard Gadd (2011 finalist) has been building a reputation for intense shows featuring sex, drugs and violence… and this year he promises to explore the personal upheavals that led him to such extremities. The word-of-mouth success of last year's cult hit Waiting For Gaddot, led to a pilot commission for Channel 4 and a BBC development deal with Hat Trick Productions.
Banshee Labyrinth, 21:45
Ed Patrick
Ed Patrick was a finalist in both 2007 and 2010, before taking time off from comedy to become a junior doctor – a job that informs his debut Edinburgh show, which comprises stories about the highs, lows and blind panics of working for the NHS.
Just the Tonic at The Community Project, 18:55
In the two short years since taking the title in 2014, Maddix has been on The John Bishop Show on BBC One, supported Jim Jefferies in Hyde Park and performed throughout Europe and the Middle East. And starred in a new series of Channel 4 Comedy Blaps, out today. Now, then, it's time for the debut show from a distinctive new voice.
Pleasance Courtyard, 20:15
Just a flying visit for our 2009 winner, now a TV regular (his next job being to co-host Sky 1's The Big Spell with Sue Perkins). He reprises last year's convolutedly-titled hit That's the Way A-Ha A-Ha, Joe Lycett for a five-night run at Assembly Hall.
Assembly Hall, 22:30, August 23 to 28 only
You can't spell delightful without DE. And now the low-key, sometimes musical, comic, who was a finalist back in 2012, tackles sacrifice, guilt, and love in his third solo Edinburgh show. The Scotsman's Kate Copstick once said of Elms, it was 'as if someone has squeezed all the sweet and nice out of Stewart Lee and made a whole new comic with it'.
Pleasance Courtyard, 21:30
Andy Field
Our reigning champion, at least until the 16th, presents his debut show, Roar, of 'jokes, characters and far-fetched funnies' on the Free Festival.
Laughing Horse @ Moriarty's, 20:00
Iain Stirling
He - or at least his voice – is finding fame as the narrator of ITV2's Love Island. Quite the change for a comedian whose previous broadcasting work was mainly in children's TV. And before all that, he entered the Chortle student competition in 2009, when he came runner-up.
Pleasance Courtyard, 19:40
Our 2011 winner, Adam Hess was nominated for the best newcomer award at last year's Fringe, so all eyes will be on his follow-up. And as well as his live comedy work, he's building up quite the reputation for offbeat funnies in the Twittersphere, where he's amassed 50,000 followers here
Heroes @ The Hive, 16:10
Phil Wang
Sketch trio Daphne were also nominated for best newcomer last year, a three-man group which includes our 2010 victor alongside Jason Forbes and George Fouracres. On the strength of last year's Fringed debut, they also made a four-part series for Radio 4, which is still available here.
Pleasance Courtyard, 17:45
Published: 26 Jul 2016
What do you think?