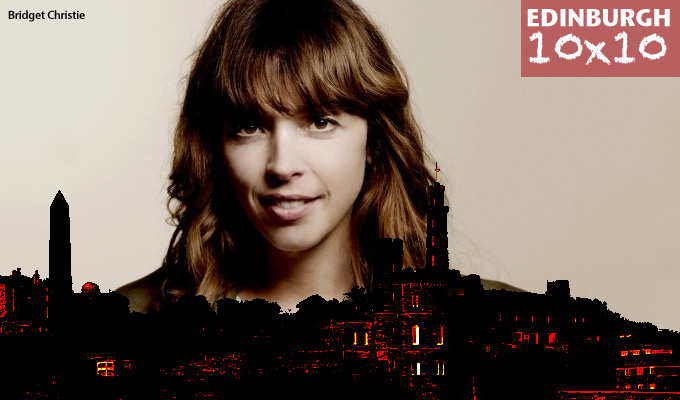 Edinburgh 10x10: A little bit of politics
A couple of numbers from the programme of Edinburgh Fringe, the home of cutting-edge, relevant art.
Number of shows that make direct mention of the EU referendum: 1
Number of shows that make reference to Adele's album 25: 5.
That's how unimportant Brexit seemed earlier in the year, when the programme deadline loomed,, and how comics found it easier to identify with the autobiographical concerts of a chart-topper than what would turn out to be one of the most seismic events in post-war British history.
But as politics gets more manic, and possibly depressing, than ever, here are ten shows that try to find the funny in the tumultuous times.
After the Brexit vote, the Edinburgh Comedy Award-winner was so angry, disappointed and confused that she was forced to tear up her planned show about mortality to write a new one about the referendum (as we reported here). She says that as a result of the Leave camp having no plan for what happened after they won, 'the UK has gone to shit economically, socially and politically' – a state of affairs she will rage against in what she calls an 'exasperated and despairing meltdown'.
The Stand, 11:00
2. Matt Forde: It's My Political Party (and I'll Cry if I Want To)
Well-connected Matt Forde was the one comedian to foresee the referendum chaos, writing months ago that his show would 'celebrate why it's great/awful that we're in/out of the EU/UK/NATO/whatever the hell happens next'. In a timely move, Forde, a former Labour activist and also host of an acclaimed political podcast, always has his finger on Westminster's pulse – and has just secured his own political TV show for Dave.
Pleasance Courtyard, 15:50
3. 10 Things I Hate About UKIP
'Warning: contains graphic descriptions of Nigel Farage,' goes the blurb for the latest show by Joe Wells, a proud communist comedian. The 'Kippers are an easy – if deserved – target for derision, of course, but in this show Wells tries to square his belief in treating everyone with love and respect with a hatred of the politics they espouse.
T-Bar, 13:00
Coltrane describes himself as 'your second-favourite activist comedian', since no one's likely to dislodge Mark Thomas from that No1 slot yet. Expect more Tory-bashing, equality-promoting comedy as he enthuses to the converted. For an idea of what to expect, he's uploaded last year's show, Left-Wing Propaganda Machine, on to YouTube in full and for free… which may be why he'd be a rubbish capitalist:
Banshee Labyrinth, 15:30
What's this? A Tory at the Fringe? Geoff Norcott probably deserves protested species status for what's a minority view on the arts circuit, even if the real world is a very different place. This hour is all about how he turned out to be right-leaning.
Underbelly, 19:10
Ayesha Hazarika was starting to make headway on the comedy circuit when she quit…to spend eight years as political adviser to Harriet Harman and Ed Miliband. So as the party self-destructs, she is in a better position than most to examine where things started to go wrong, including spending last year's election campaign touring the country in a pink bus.
Gilded Balloon Teviot, 20:45 on the 15th, 20:15 on the 16th and 21:30 on the 17th
Ahir Shah says he has been thinking about politics and 'what might become of a planet that is simultaneously growing more interconnected and divided'. He then got caught up in the Paris attacks, evacuated by police from the venue he was performing at just few doors down from one of the restaurants that was target. 'Everything started feeling more urgent,' he said. 'An urgency that has only increased since Britain's curious self-immolation in June.'
Laughing Horse @ Cabaret Voltaire, 13:30
What could be more political than the NHS? After Jeremy Hunt, against all the odds, got to remain health secretary, Phil Hammond returns to the fringe with his frontline take on what's happening to the the health service. A comedian, actual GP and writer of Private Eye's Medicine Balls column, his prescription is: 'Ditch the market, cherish the carers, fund the frontline and use the evidence'. Nothing too controversial there you might think. Right…?
TheSpace at Symposium Hall, 22:05
And if you think the UK's got it bad, the world could yet see a President Trump – who really will make America grate again. As the campaign reaches its final three months, it's sure to generate plenty of raw material for the satirists, including the British-based American Erich McElroy.
Laughing Horse @ Bar 50, 13:20
10. Grainne Maguire: Great People Making Great Choices
Maguire made global headlines by tweeting about her periods to the Irish Taoiseach Enda Kenny as politicians in her homeland discussed abortion last year. 'If they want to control my body, if they feel so comfortable interfering in what happens inside it, they should at least have all the details,' she argued. 'So I decided to live-tweet my menstrual cycle to the taoiseach Enda Kenny. Sure, some could argue that it's none of his business what happens inside my fallopian tubes, but if we took that logic to its conclusion, I wouldn't need to tweet him in the first place.' Such political comedy has landed her appearances on Question Time, The Daily Politics and Radio 4's Now Show. She'll be bringing the Great People… stand-up show to the Fringe, as well as What Has The News Ever Done for Me? a panel show in which guests have to enthuse the audience about topical stories that mean something to them (Heroes @ Bob's BlundaBus, 15:15)
Pleasance Courtyard, 19:15
Published: 25 Jul 2016
What do you think?