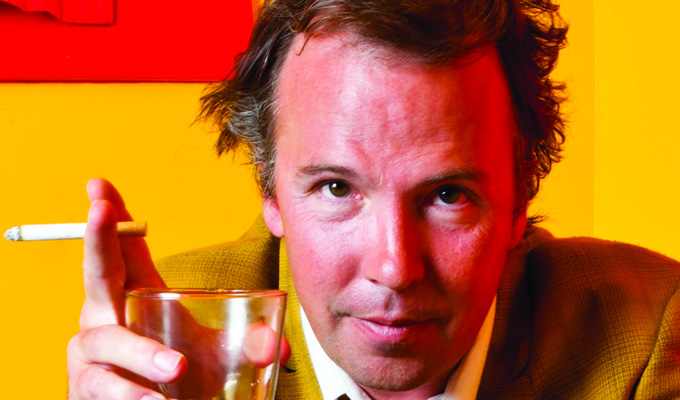 Feminists, thieves and everyday heroes
Over the last 12 months, a total of 1.8million unique uses have visited Chortle, making 7.2million page impressions (and real ones, too - none of this splitting articles over separate pages bullshit...)
But what were the most popular stories? We'll tell you..
1. Doug Stanhope Intervenes in suicide bid (October)
The comic talked a man down from Edinburgh's North Bridge on his way back from a tour warm-up gig. Story
2. The Wrong Sort Of Feminist (February)
In a year dominated by stories of universities turning away speakers who may be contentious, comic Kate Smurthwaite had to cancel a gig at Goldsmith's in London after security 'could not guarantee the safety of students'. It all stemmed from what a disagreement over how prostitution should be legalised between Smurthwaite and a minority on the students feminist society – even though that was not the subject of her show. Story.
3. Irn-Bru Ads Ripped Me Off (April)
Comedian Janey Godley accused advertising staff off stealing a line she improvised while trying out for a part in a commercial for the soft drink. 'I was shafted,' she said. Story
4. Britain's Hardest Working Comedian (April)
Sarah Millican takes the title based on the the number of miles travelled between gigs, in a study of star-name comics. Story. A different report this month, which cast its net wider, said Patrick Monahan show have the title.Story
5. Comic attacked on stage with a baseball bat (January)
Comedian Dylan Avila was attacked on stage with a baseball bat – reportedly by an open-mic comic he would not allow on stage. He suffered double skull fractures, and could owe his life to fellow performers pounced on the attacker after he stormed the stage in Washington state. Story
6. Whose Line Is It Anyway? makes a comeback (March)
A West End revival for the enduring improv showcase. Story
7. Fury over BBC writer's 'Kill Assange' tweet (January)
It was revealed that the writer of the BBC Four's three-part sitcom Asylum, inspired by Julian Assange, once called for the police to publicly shoot the Wikileaks founder in the head Assange backers said Thom Phipps's tweets were 'shocking' and 'dangerous' – but the writer said: 'It was clearly a joke.' Story
8.Allo Allo star Roger Kitter Dies (January)
Of all the comedy names who died this year – Warren Mitchell, Keith Harris, Lance Percival, and 'Blakey' actor Stephen Lewis among them – it was Roger Kitter, who played Captain Alberto Bertorelli in the wartime sitcom. whose obituary was most read on Chortle Story. Others we lost this year included: Susan Sheridan, who played Trillian in the original radio series of The Hitchhikers Guide to the Galaxy; Edinburgh Fringe producer Calvin Wynter; Pauline Yates, who played the long-suffering Elizabeth Perrin in The Fall and Rise of Reginald Perrin; comedy agent Michael Taylor; veteran US parodist Stan Freberg and Simpsons co-creator Sam Simon.
9. Is Trevor Noah A Joke Thief? (April)
Russell Peters accused the new Daily Show host of ripping off jokes… although he later backtracked and claimed his comments were a prank. It is not the only time the South African stood accused of plagiarism for having similar ideas as other comics. And Gina Yashere came out and called Peters a joke thief too. Original story
10. Wait… Graham Norton has a wife? (January)
The first WTF column of 2015 told how Wikipedia thought the chat show host was married to his Radio 2 co-host Maria McFarlane, based on a tongue-in-cheek BBC biography. Story
• Audience figures from Google Analytics.
Published: 31 Dec 2015
What do you think?