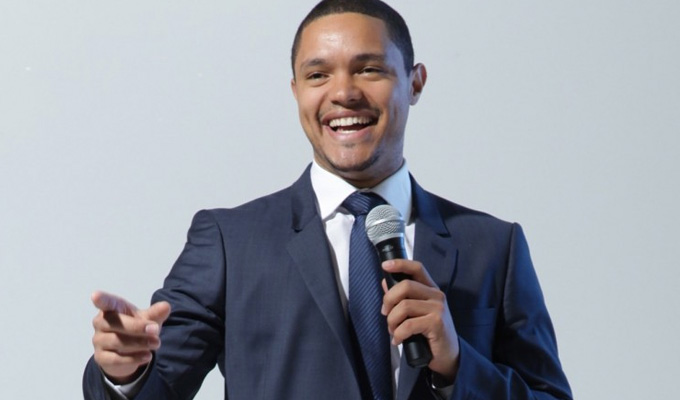 Is Trevor Noah a joke thief?
Russell Peters has accused Trevor Noah of being a joke thief.
The record-breaking Canadian comic called out the new Daily Show host during an interview in Singapore earlier today. When asked about Jon Stewart's replacement, Peters said bluntly: 'He [Noah] is also a thief above it all.
'He has stolen material from David Kau, he's stolen material from myself, you know, whatever - that's his gig now. Congratulations.'
Peters gave no indication of what gags he was talking about, but presenter Lin Xueling asked if the material could have been 'borrowed'.
Peters answered: 'You don't borrow in this business. If you're a comedian, it's just stealing somebody's underwear and putting it on, it just doesn't make sense.'
Noah was the support act for Peters on his 2007 tour of South Africa but this appears to be the first time the Canadian has made any accusation of joke theft against Noah.
Kau has previously accused Noah of being a joke thief, during South Africa's first ever comedy roast in 2012.
In an interview in response to those claims, Noah said there was no evidence that he had lifted a specific routine or gag.
'Nobody owns comedy, nobody owns a premise, nobody owns an idea,' he said, suggesting the accusations stemmed from the early days of stand-up in his homeland when 'everyone had their little niche thing… one guy was doing the coloured jokes and one guy was doing the political stuff and one guy was doing the cerebral stuff and one guy was doing the American stuff, but now when the market gets filled up with more comedians, you don't own that thing anymore.
'This is what all the guys just didn't understand; they were like: "No, that's mine! I'm the guy who tells the jokes about the government!" And we're like, no everyone tells jokes about government.
'David Kau, he even wrote on his DVD "I was the first person to do a Nelson Mandela impression." Like, no you weren't… His idea is "if I think of a Mandela joke first, I'm the Mandela guy." And no, that's not how comedy works.'
In today's interview, Peters denied any jealousy over Noah's new high-profile Comedy Central job saying: 'Do you know how much work that is? No, I didn't want it at all. It's a political job and I'm not a political-minded guy. I would be the wrong guy for that job, 100 per cent.'
After Noah was announced as the new Daily Show host, critics seized on old tweets to accuse him of being an anti-Semite and a sexist.
Here is the video of Peters making the 'joke thief' accusations:

Chortle has contacted representatives of both comedians seeking further comment.
Published: 5 Apr 2015
What do you think?