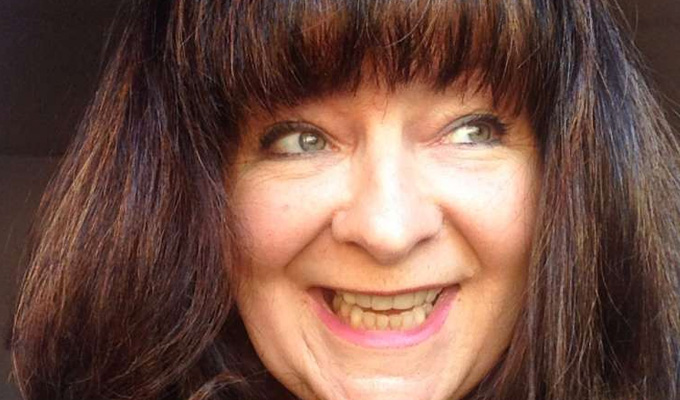 Irn-Bru ad 'ripped me off'
Janey Godley has accused Irn-Bru of 'ripping off' a punchline she improvised during an audition for the soft drink's latest advert.
The company yesterday released its new commercial, featuring a train passenger who ends up exposing his backside when the toilet doors malfunction.
Godley says the advert was dialogue-free until she improvised the line 'crack on' while unsuccessfully trying out for the role of the onboard attendant.
The ad-lib went down so well that she feared it might be lifted, so posted a comment about it online at the time, so providing 'time-stamped' evidence. She wrote on Facebook on March 4 that 'if they use that in the final advert and don't credit me this is proof I was shafted'.
The commercial, created by The Leith Agency, also uses a famous Billy Connolly routine about 'parking your bike' in a bum-crack as the punchline.
Godley told Chortle: 'I know that parking the bike in the bum is an old joke but there was no dialogue in that advert. When the guy says "where can I park my bike?", I was the trolley dolly lady and supposed to just look as if to say "uh hmm" and motion with my eyes.
'But I went "crack on" and the four people in the room all burst out laughing. And I went, "Guys, you cannae use that, that was me ad-libbing. You can't get me to write your advert". I just had my suspicions because of the way they looked at each other.'
In the advert, the line is delivered by the semi-naked passenger. But 'it was those specific words, said at the exact same time, with the same intonation and situation' Godley maintains. 'It's not vague. And it's frustrating to have been bang on the money'.
Godley is not the first comedian to complain about being used as an unpaid copywriter while trying out for a commercial. Mitch Benn tweeted: 'I've been to so many ad auditions with no script "so if you could just like, WORKSHOP the idea, have fun with it, y'know?"'
The Leith Agency has yet responded to a request for comment.
Here's the Irn-Bru advert
And here is Connolly cracking his gag on the Michael Parkinson chat show, which helped launched him to international stardom.
- by Jay Richardson
Published: 17 Apr 2015
What do you think?