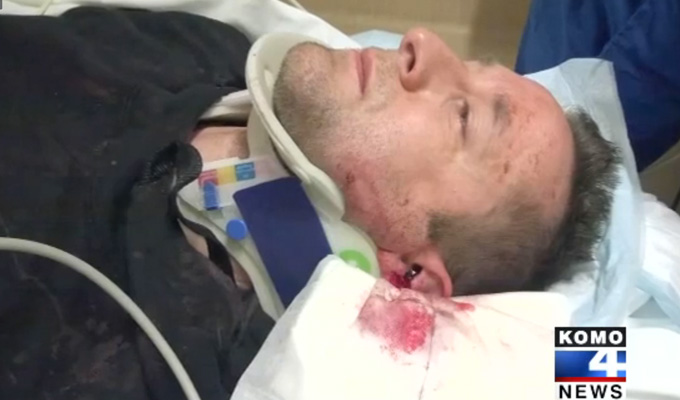 Comic attacked on stage with a baseball bat
A comedian has been attacked on stage with a baseball bat – reportedly by an open-mic comic he would not allow on stage.
Dylan Avila suffered double skull fractures when he was twice hit with the aluminium bat.
The comic could owe his life to fellow performers pounced on the attacker after he stormed the stage in Renton, in Washington State, on Monday.
'I just saw an image and a blur and a bat,' Avila told local TV news from his hospital bed, where he is now recovering from emergency surgery.
Witness James Taylor said the attacker 'was swinging, and had every intention of killing him,. He wasn't going to stop.'
According to Avila, the suspect had previously performed at the show under the name 'Jesus Christ' with a show that included a Bible and a sex toy.
'It was offensive on every level,' said the stand-up, who hosts the weekly show as well as co-promoting it. 'And I don't get offended easily. I'm a comic. There was no joke told, and there was nothing humorous about it.'
The 48-year-old was asked not to return to the club, after repeatedly coming back with the same routine, which is believed to be why he carried out the attack. The suspect in currently in custody. 'Dylan was acting in the best interest of the business, and the patrons and comics, to ask him not to return,' his wife Kalimar Avila Petitt told The Seattle Times.
The 36-year-old comic had an operation to put two titanium plates into his skull, as the bones were pushing into his brain following the attack. He also received four stitches to his ear. He is now 'doing great,' according to Kalimar.
Friends and supporters of the comic – who has three young children – raised more than $10,000 to meet his medical bills in under ten hours via an online appeal. The venue where the attack happened, The Local 907 donated $1,000, with the second largest donation being made in the name of Bridesmaids director Paul Feig.
Here are two local news reports into the attack.
Published: 7 Jan 2015
What do you think?