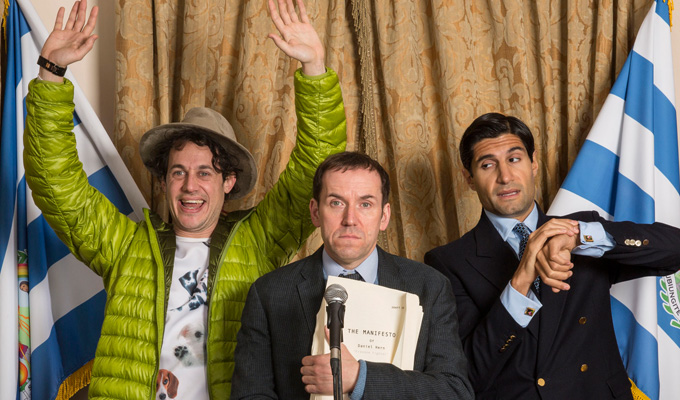 Fury over BBC writer's 'kill Assange' tweet
The writer of the BBC's new comedy inspired by Julian Assange once called for the police to publicly shoot the Wikileaks founder in the head.
Supporters of Assange say tweets Thom Phipps posted about him were 'shocking' and 'dangerous' – and make him unfit to write about the issue.
BBC Four's new three-part sitcom Asylum is inspired by controversial figure's enforced stay in the Ecuadorian embassy in London. He took refuge there in June 2012 to escape extradition to Sweden, which wanted to investigate sexual assault accusations against him. He fears such a move is designed to pave the way for him to be sent to the US to face an espionage trial.
Two months after Assange was given political asylum, Phipps posted: 'If the met [police] want to regain my trust they should drag Assange out the embassy + shoot him in the back of th head in the middle of traf square.'
Phipps now says: 'It was something I tweeted over two years ago and it was clearly a joke.'
However, backers of Assange took the issue more seriously, and have complained to the BBC over its 'shameful' decision to employ Phipps.
One of them, Emmy Butlin, said Phipps 'advocated for the public extrajudicial assassination' of the Wikileaks founder and queried why the corporation would 'employ someone with extreme views' to write the comedy.
She is also angry that the show is to air as part of the BBC's Taking Liberties season to mark the 800th anniversary of Magna Carta, saying: 'Mr Phipps has called for Mr Assange's assassination, going against the most fundamental principals.'
On her blog she also highlighted another tweet Phipps made in 2012, saying: 'its cool to imagine assange as a spartacus figure cuz that means he's going to be forcibly nailed to a piece of wood at one point.'
Another blog, Domestic Empire, complained that the 'writer chosen to write Assange-inspired comedy advocates murder over democratic free speech'.
Butlin complained to the Corporation saying: 'I find it offensive that Mr Phipps who has publicly incited violence and propagated the murder of Mr Assange, has been employed by the BBC' and calling for action.
The BBC complaints department wrote back saying: 'Unfortunately Mr Philip's [sic] is not a BBC member of staff and is not representing the BBC. Therefore we will not be commenting on Twitter posts made by third parties.'
Phipps is a new writer to TV and co-wrote Asylum with Peter Bowden, based on an idea by Kayvan Novak, who also appears in it, and his Fonejacker producer Tom Throstrup.
In the comedy, which will air on February 9, Ben Miller plays an Assange-type character described as a 'serious, self-important egotist who is accused of leaking important documents'. He is forced to share his quarters in the London embassy of fictional Latin American country El Rico with Ludo Backslash, played by Cardinal Burns's Dustin Demri-Burns, 'a larger than life, childish hacker who set up a file sharing website and became public enemy number one'. Producers 2LE Media say he was inspired by Kim Dotcom, the founder of file-sharing site MegaUpload.
When Chortle asked about Phipps' tweets and his role writing Asylum, a BBC spokesperson replied only: 'Asylum is a completely fictitious comedy based on the whistleblower culture and we are pleased to have the show as part of the BBC's Taking Liberties democracy season.'
His tweets have since been deleted, but were captured by pro-Wikileaks websites.
Published: 30 Jan 2015