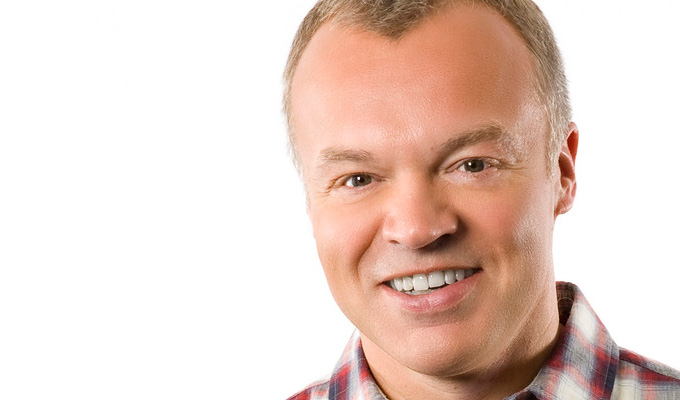 Wait... Graham Norton has a WIFE?!
• 'I've never had Botox – but I like people to imagine I have.' Jennifer Saunders.
•
Has Graham Norton been living a lie all these years? According to Google, the comic is married… and to comedy actress Maria McErlane. The pair work together on Radio 2 and the gaffe, first spotted by Reddit user Bective, probably came from her tongue-in-cheek biography on the BBC website which claims they have been man and wife for 17 years. Mind you, it also says she was one of the Black And White Minstrels…
• Netflix loudly heralded its deal to offer every episode of Friends to its North American customers from yesterday. Yet the much-vaunted launch left many fans irate when they couldn't find the sitcom on the site. It was because the show had been entered into the search engine as F.R.I.E.N.D.S - the way it is fashioned in the opening credits - not as the the more simple 'Friends'. British fans will have even more trouble finding it – as the deal did not extend to the UK.
• One of the most memorable characters in Vikki Stone's live shows is her parody of Dragons' Den entrepreneur Hilary Devey – achieved partly by taping a couple of tin cans to her shoulders underneath her jacket. But far from being offended, the haulage tycoon was so taken by the 'impersonation' that she invited the comedian to spend New Year at her house in Marrakech – where she saw in 2015 with the members of Status Quo. It can be a strange life, comedy…

• Jon Richardson says his favourite fairytale is The Princess and the Pea as 'it shows that unbearable whingebags can still find love'.
• Slow-on-the-uptake Ryanair staff have fallen for a comedian's joke tweet that passengers were being charged for 'emotional baggage'. When Belfast-based Ryan Hand tweeted: 'What a disgrace, there's a woman crying at the @Ryanair check in desk who's been made to pay more for emotional baggage' the airline's account fired back:'@RyanHand_ Hi Ryan, which airport is this happening at? IK'. Durr….
• A prankster this week changed the sign of Exit 135 of the Garden State Parkway in New Jersey from 'Clark/Westfield' to Clark Griswold, in honour of Chevy Chase's character from the National Lampoon Vacation movies.
• After the British Comedy Awards, Stewart Lee wrote an article for the Observer about how he'd never be attending again. Somehow it got rewritten by a non-English speaking robot and turned out like this. Favourite phrases include renaming his BBC Two show 'Stewart Lee's Comedy Automobile' and inexplicably altering the phrase 'live standup' to 'residue standup'. And you can read the original here
• Tweets of the week
Rob M (_Bankrobber_):  What idiot named the job "pig farmer" and not "babe magnate"?
Edward Philips  (@1755Dictionary): A parallelogram is one one-thousandth of a parallelokilogram. #fact
Matt Kirshen  (mattkirshen@):  Those who mumble history are doomed to repeat it.
Published: 2 Jan 2015
What do you think?