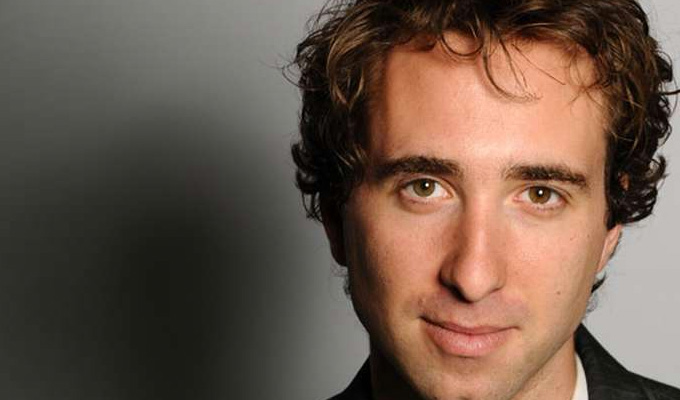 Where are all the Jewish comedians on British TV?
The general election highlighted a lot of division in the UK: between young and old, right and left, rich and poor, and – according to some – 'the clever and the idiots'.
But it has also thrown the issue of antisemitism into the headlines, an issue it seems few non-Jewish people properly understand. In the last few weeks I've had several people ask me about the problem, as well as Judaism in general.
I don't claim to speak for all Jews (like a Chief Rabbi!), but I think this shows there's a real problem surrounding education and in the representation of Jews in the media. The lack of visibility has led to a naivety, and a sense that Jews aren't widely considered a minority to champion.
The only visible Jewish comedian on TV is the brilliant David Baddiel, who has recently been wheeled out more often. But it feels like a token gesture for TV producers to show they're doing their bit.
There has only been no Jewish comics on Mock The Week since Chris Addison left in 2011. And he has been the only one in a decade. It's a show that does a lot to represent minorities but that is a truly shocking statistic.
In fact, at a glance, the lack of representation is reflected across a range of the BBC's comedy shows. The last season of Live At The Apollo did feature American Jewish comedians Alex Edelman and Sara Barron, but before that there was Addison in 2009 and Joan Rivers in 2007.
Such limited representation is not reflective of the UK and it is certainly not reflective of the UK comedy circuit, where there are plenty of great Jewish comedians. At one prestigious London club where I recently performed three out of the four acts were Jewish (in fact one audience complained it was 'too Jewish'!), while a third of the finalists in the Petfringe nationwide comedy competition I did this year were Jewish.
Yes, there are only around 300,000 Jewish people in this country but there are a hell of a lot of very good Jewish comedians and we are largely invisible.
It seems very different in America where they seem to champion Jewish comedy, you just have to look at the many Netflix specials and hear comedians talk about their Jewishness. It's a rich tradition that meant that when I was growing up in the UK, I'd see Jon Stewart, Woody Allen, Mel Brooks, Billy Crystal, Larry David, Jackie Mason, Jerry Seinfeld, Sarah Silverman and many others.
I watched these comedians and recognised traits of my own and from own life which made me feel less alienated; the obsession with food, the neurosis, the clingy Jewish mother… seeing this on screen was important, but I rarely saw British Jewishness represented.
When I jokingly asked a British TV producer about the lack of Jews on a show, they said, 'that's not a thing.' I was standing in front of them!
This isn't exclusive to comedy. Although there are many Jewish writers and producers working in TV, there's a lack of representation on camera.
False assumptions and negative stereotypes about Jewish people have been allowed to fester as Britons in general are not exposed to it. There is a belief that we are powerful and therefore not a minority that needs to be championed and this has clearly allowed antisemitism to spread and be somewhat tolerated.
Maybe part of the problem is that we are not immediately obviously different – but we have a history and an identity which is still unique.
Like many others, I am not instantly recognisable as a Jew and I am not observant. However I do have a Jewish identity, I am culturally Jewish and have a Jewish family and I like to share my experiences when I'm on stage.
But at the moment it's difficult, many audiences don't understand the frame of reference. When people find out I'm Jewish they're sometimes genuinely shocked because they expect to see an more recognisable Orthodox Jew. Audiences often say things like 'where's your little hat?' I did win Jewish Comedian of the year (my mum was judging, then again she always does).
I invited certain BBC producers to my Edinburgh show about my grandad and his best friend surviving the Holocaust (The Story of Walter and Herbert), as I felt it was an important story and it had been well reviewed and was getting a nice reception but they chose to ignore it. Clearly my show and I didn't fit their agenda. I'm clearly not pissed off about that at all (I clearly am).
The BBC and other broadcasters claim to care but they are part of the problem. In the past I've applied for work at the BBC but I know that as soon as I get to the question about ethnicity and I tick the 'Jewish' box I won't be considered, even when I'm over-qualified.
There are a lot of good Jewish comedians out there and an audience wanting to hear their story!
• Joe Bor will be performing A Story of Walter and Herbert at Finchley Arts Depot on March 14: Full details.
Published: 20 Dec 2019
What do you think?