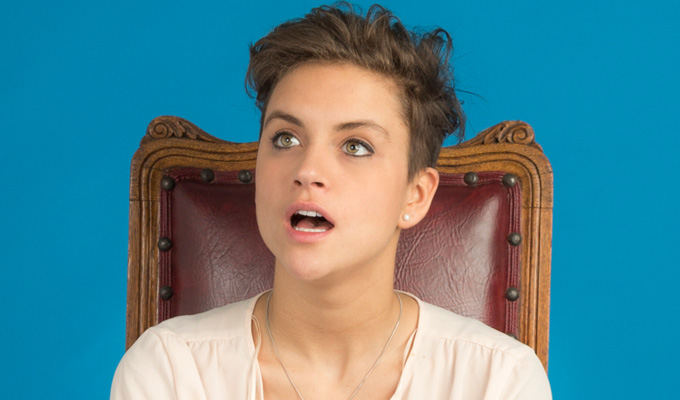 Maybe this is why there aren't more women in comedy?
I can't tell you how painful it was to see an article written about a mortifying incident that happened to me plastered up in public yesterday, without even so much as a warning. The article didn't directly identify me, but any of the 12,000 members of a forum where this had been discussed would have known my name. Not that it lessened the shock of seeing it online.
Though I'd very much like to keep this private henceforth, I feel it is only right that I should respond to Janet Bettesworth's disgustingly misinformed article that was posted by someone with a very one-sided, victim-shaming stance.
I would not like to be connotated as a 'victim' for the rest of my comedy life in London. The scrutiny, criticism, and guilt I have received continuously is why none of the other girls with stories are coming out. Why would they?
I know so many in this industry, dealing with sexual intrusion of men. Stories from one act stalking another home, to another girl who had a producer's hand down her pants. My story is only a small dent in the wider fear that people face about coming out about sexual crimes.
Though I'm sure some might like to jump on my story as just another one of those 'shrieking feminists' I felt a response was necessary. I don't identify as a feminist. I've never felt like I needed to give a title to simple human decency.
This story is not 'unsubstantiated'. The person in question has publicly admitted to what he did to me. And it is verified by three witnesses. After this article, I am very much done with this topic. I have been called mentally ill, and all manner of horrible, patronising titles. If coming out about a crime, and about the abuse of those who do not wish to receive degrading public scrutiny, is mental illness, then sanity is about as appetising as pigeon shit.
I had this friend in comedy. Probably one of the weirdest people I had ever met. But I'm weird, so it felt like we had struck a chord. We texted as mates rather often about the circuit, life, the whole shebang. I really felt like he was a nice guy. Strange, yes, but it just seemed like he wanted to do well at comedy.
We talked very often, as comics do, and we bonded over that. About a year and a half ago, after a late gig, I needed to crash somewhere as I wasn't going to make it to South London. As things sometimes do, one thing lead to another between and guy and a girl, and things happened between me and this act. Can't bear to bring myself to say any more than that as I was drunk out of my mind, and the only time I ever found the guy viably attractive in any way was that night when I literally couldn't see properly.
I haven't been able to understand why it happened till this day. But he was my friend, so I suppose my subconscious drunk self just trusted him. (I have now, understandably, stopped drinking.)
We had actually been OK after. Seemed we had our night without incident. I really thought about him as a friend, and we would talk about the circuit a lot. Felt like he really understood what had gone down, and now we were just good mates trying out this comedy thing.
I have to stress how much of a friend I thought of him, because it will elucidate what happens next.
One night, six months or so later, after a gig, I stop over just off Brick Lane cause I see other acts who have just finished their own gig, so I go over to hang out. We're having a great time, really laughing, and a female act pulls me to the side and tells me a compromising picture of me has been passed around the circuit.
At first, I know it's impossible. I'm far too busy to get caught up in anything, and I always felt I had a sense of evil people after being a street performer for years. Then she names him. All the blood leaves my body. I'm shaking. I'm mortified. From feeling like I'm working my way up in something that I love, to feeling like some guy's trophy. I had let my guard down for a split second, only to be mortified in that very split second.
He had snapped a selfie, with my unconscious, passed-out, sleeping, naked, recognisable self in the background, and sent it off to someone. (For those people that don't know, that is a crime.) He had claimed that we had been dating and were now in a relationship, as opposed to just someone he got on with and saw occasionally at gigs. It was a brag.
How did she know? Because that person who had received it, had showed it to her and another person, in casual conversation. A naked picture of me, taken without my consent while I was passed out unconscious.
I confronted the person who showed it, who had deleted the email. Then I called the act in question. At first he pretends like he doesn't know what I'm talking about. (Of course he does.) After some time of not letting him wiggle his way out of the truth, he admits to MAYBE, POSSIBLY having taken a selfie when he was drunk.
He tells me he's supposedly been going through a rough time with substances. I wanted to believe him. I wanted to believe that anyone I would allow myself to get close to couldn't be the embodiment of selfishness and evil. I'd never met anyone that could be so selfish, or at least I surely didn't hang around them. So I gave him the benefit of the doubt.
As I said, he was my friend. Why should someone have one mistake looming over them if they are truly repentant? He begs me to forgive him. I do, cause I wanted him to succeed. I told him if I find out he's done anything to another girl, I am not holding back. I wanted him to do well, like it had always seemed like he'd wanted to.
Fast-forward some time later, I'm on my way home from another gig, and in conversation it pops up that he has done much worse to another girl. I'm sickened. I had kept quiet because I thought he would go off and do better. She, and more girls have now come to me with their stories, ranging in criminality and assault.
They don't want to come out, because of people like Janet Bettesworth, who can only believe someone if the intimate details of their violation come to light. I am not the only one. If this is me misusing #metoo, by outing someone whose victims have come to me with their stories, then truly FUCK that twisted version of such an important campaign.
I certainly don't regret for a second coming forward about someone who has repeatedly abused people's trust.
If people like Janet care about one man's 'career' (I use the term generously) over the physical safety of others he gigs with, then there's not much I can do. I am so pleased Janet takes such interest in the case so as to ascertain that because I forgave an illegal act, because I believed in the good of someone I thought was truly repentant, that it somehow then becomes un-illegal.
My only regret is that I didn't come out back then, and maybe I could've protected others. But I did it now because I realised the mistake I'd made by keeping quiet.
Like so many girls before me, who can't bear the shame of seeing their most horrendously shame-ridden moment splayed out for anyone to rip apart. Perhaps, one man can say enough sorry and be put straight back into the situation that he took advantage of before, to the demise of those who trusted him.
Two men did just laugh about rape
I suppose it's really hilarious. If that's the comedy world we live in, where we put admitted abusers back where they abused, and laugh about the murder and rape of an innocent woman, it amazes me why everyone still has to ask themselves: 'Why aren't there more women in comedy?'
• Chortle would like to apologise for the publication of the original opinion article, which should not have appeared as it did. While all opinion pieces reflect the views of their author and not necessarily this website, that article did not go through the levels of editorial scrutiny we aim for. We apologise to Chelsea Hart for that and hope this does not undermine the work we are doing to make the comedy circuit a safer place for everybody, starting with our survey about the scale of the problem.
Published: 27 Jun 2018
What do you think?