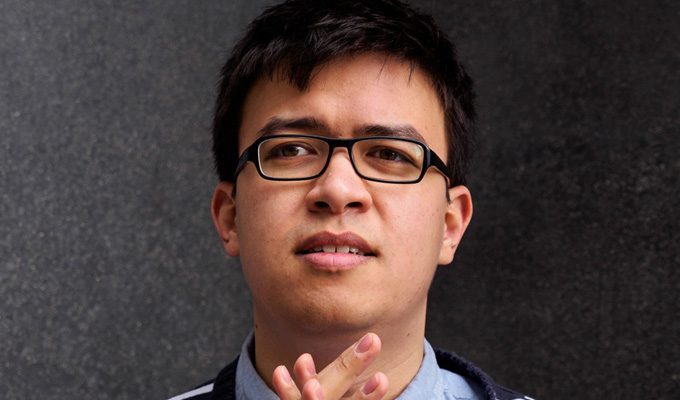 Phil Wang
Winner of the 2010 Chortle Student Comedy Award
Read More
Phil Wang: Kinabalu
We have lift off, Wang-wise. For a little while now Phil Wang has been threatening to turn in a consistent, quality show, and Kinabalu is it. Whereas in previous years, a Wang show meant likeable but lightweight, he now has a body of material that's easily strong enough to see him through for a full hour.
He says himself that he feels like he has grown-up this year (he's 27), though his rationale for that is that he bought lube for the first time. As it happens, this is one of the weaker routines, perhaps suggesting there's still some lingering immaturity in Wang that leads him to find lube intrinsically funny. He does find a good angle on the subject though: embarrassment tax. Companies that make taboo items can charge what they like.
Wang's on firmer ground when talking about his childhood and parents. He has a particularly funny joke about always being hot as a kid, and there's something innately amusing about the idea that he looked and acted like an adult even when he was a child. Conversely, there's something child-like in him when he's onstage, with his floppy, slightly confused demeanour.
He can turn his light touch to trickier subjects, too, like patriotism, racism and even the British Empire. Being half-English and having spent a lot of time in Malaysia (hence the show title, which is a Malaysian mountain), he has an interesting take on such matters.
He is, I suppose, a liberal man who was the product of the Empire, because of how his parents met, and is therefore able to provide a nuance to the debate on whether imperialism should be a source of pride or shame.
Wang tells us that racism is rife in East Asia, to the point where people are quite relaxed about it. This provides him something of a comic privilege in that he can make jokes and do things that other stand-ups can't do, and he does so to great effect. He also takes a brief and funny detour to speak about male feminism, defining it in a way that surely no numbskull could object to.
Kinabalu therefore covers quite a lot of ground, and it's delivered with quiet confidence – Wang is no Billy Connolly, he doesn't so much command the stage as gently subdue it. Another part of his appeal is his mannerisms, jerking his head, assessing the audience's reaction like a curious bird.
A minor irritation for me is his insistence on speaking in a heavily ironic, noir-ish way. It feels like a crutch, a legacy from when he didn't have such good material. It comes in handy sometimes, but it could still come down a few notches.
So a coming-of-age show for Wang, both personally and, perhaps, professionally. It's a satisfying product of his brains, comic nous, and unique style, and it could be the making of him.
Read More
Published: 9 Aug 2017
I hope no one sees the name of Phil Wang's third…
14/08/2015
One girl's name, three very silly boys. Daphne are…
7/08/2015
As part of its collaboration with the Manchester International…
16/07/2015
Phil Wang is quietly assured, and always has been.…
4/08/2014
Phil Wang promises us intellectually justified dick…
12/08/2013
Maybe it's because the standard at the top end of…
18/08/2010
Past Shows
Agent
We do not currently hold contact details for Phil Wang's agent. If you are a comic or agent wanting your details to appear on Chortle, click here.