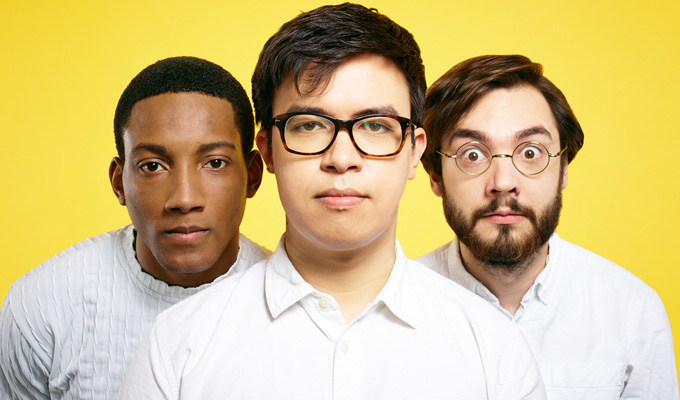 Daphne Do Edinburgh
Note: This review is from 2015
One girl's name, three very silly boys. Daphne are a newish sketch group formed out of the Cambridge Footlights and their self-titled debut show is a joy. Not all the sketches are smash hits, but there are plenty of wonderful little moments that have brought me a wee chuckle long after I left the room.
For starters, the dynamic between the three of them feels completely natural, not contrived as sketch acts often seem to. Jason Forbes brings the physical goodies and is more often than not the foil. Phil Wang provides a little deadpan levity, understated and unhurried in everything he does. George Fouracres smashes the whole thing home, a genuinely exciting comic actor who doesn't seem able to be not funny. It's a combination of style that just works, and a rock solid base.
As is often the way in sketch now, there's a bit of smart-arsery in deconstructing the form. They demonstrate to us what a 'pull back and reveal' joke is with a brilliant sketch that always … just … goes on … one more line. Another beaut was the sketch about an art forgery deal that gets rewound and replayed, and all hinges on a wink of Forbes's eye. They also pull off doing a sketch that includes the N-word, playing with our preconceptions of how black and white people speak. Writing a funny, inoffensive sketch on a such a subject is no mean feat, but they've done it.
It might not be the done thing to single out one person from a sketch group but Fouracres really does catch the eye. Whether he's playing it straight as a professor doing a presentation (an Andy Kaufman-esque turn) while Forbes and Wang break loose, or taking the lead with his various Songs From Around the World, his natural gift for comedy is undeniable.
There weren't especially any dud skits, although it's very noticeable that they rely on Forbes's Ainsley Harriott impression to get them out of a hole a few times. There's not especially any sense of direction or theme to the show, but that's not something count against a new sketch act, and they do bring the show to a pleasing climax with a parody of cockney round-the-old-joanna songs.
These are strong times for sketch acts, and Daphne are a mightily welcome addition. Some would scoff at yet another bunch of Footlights alumni having praise heaped on them, but on this evidence, they deserve it.
Review date: 7 Aug 2015
Reviewed by: Paul Fleckney
Reviewed at: Pleasance Courtyard
Recent Reviews
What do you think?