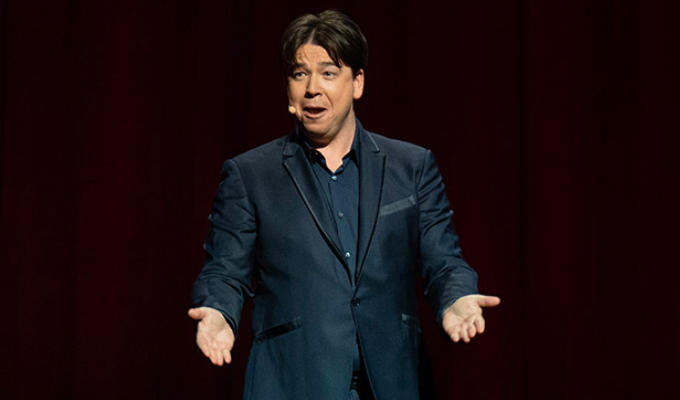 Stand Up For Shelter 2021
As unexpected guests go, Michael McIntyre is quite the coup. The arena-filler was a surprise late addition to the Stand Up for Shelter fundraiser in London last night, earning a rapturous reception from at the relatively intimate Shepherds Bush Empire.
Lockdown has posed additional restraints on observational comedians: not only has there been less to observe, everyone has put their lives under closer-than-usual scrutiny as their horizons contract.
It means some of McIntyre's Covid-related comments don't quite catch fire. The notion that everyone is wailing 'winter is coming' like a Game Of Thrones doomsayer doesn't ring true, despite his best attempts to make it into a catchphrase. That said, his act-out of a lateral flow test, dry-retching at the very thought of an approaching swob, is as accomplished a bit of physical overacting as you'd expect, given his reputation.
But a work-in-progress set is inevitably less surefire than what will end up on his next special. Casting his mind back to when we used to travel, McIntyre amusingly describes getting caught in a loop with the passport eGates – although the payoff is a variant on a gag so old it used to be about 'speak your weight' machines.
His haplessness is magnified at home, where he is bottom of the pile, stripped of his special powers, as neither his wife nor his teenage sons find him funny. No wonder he's desperately keen to get back on stage.
On the domestic front, tales of being the second most embarrassing dad on the football sidelines and spending far too much time on the phone, even in bed, ring with truth and are enlivened by the jeopardy of humiliation that mitigates his slick persona.
Following McIntyre, even in warm-up mode, is not a task most comedians would relish, but Dara O Briain is one of the few you'd expect to be equal to it. And so it was.
He takes to the stage with a walking stick, having had a knee operation during lockdown. His recuperation is almost complete and he barely needs it – though he would be forgiven for hanging on to this valuable prop for as long as possible.
O Briain has a phenomenal chunk about how his fantasy of having a stylish cane was dulled by the pragmatic reality – a masterful display of ego-crushing stand-up – as well as a wonderfully descriptive comment on how NHS doctors find a rare obsequiousness when working privately.
It leads into an equally grounding recollection of the time he found himself trying to blag a free toilet after hosting a plumbing award ceremony. We know he's a smart guy but it's reassuring to know he's constantly the idiot, too, such as the story of getting lost in a Warsaw museum and accidentally rewriting history in his head – an anecdote supercharged by some exemplary crowd work when a punter's comment threatened to crush the joyous mood.
McIntyre and O Briain understandably comprised the second half of a line-up which MC Jen Brister described as 'batshit'.
Comperes are supposed to be upbeat, but by her own admission Brister 'doesn't do positivity' – yet she gets the audience onside by both sheer force of personality, and by getting them to side with her grumbles. When she clashes with an irrepressibly cheery events organiser at a godforsaken drive-in gig, everyone's on the side of the grump.
Her five-year-old twins provide another source of irritation, especially during the intensity of lockdown, and she later tests the audience's patience – as the boys tested hers – with a reenactment even Stewart Lee might describe as 'a bit repetitive'. Effective, though.
In contrast, Adam Hills took the opening spot with his usual unquenchable positivity, which he has a great gag to describe. Cementing his place in comedy established by The Last Leg, this set largely revolved around disability sport.
Given that the material is often about disabilities, it might be seen as inappropriate, but funny. Or funny because it's inappropriate. However, one thing his involvement in rugby league has taught him is to be ruthless against your targets as they would expect to be given no quarter. The key, of course, is that Hills is driven by a matey humanity, always teasing people as equals.
Amy Gledhill introduced herself as the 'novelty non-famous' comedian on the bill, but there was no doubt she earned her place there with a charming and silly set, playing up her Northern naivety but clearly savvier than her persona let on.
Talk of her date with a 6ft 7in man had the innocent tone of explaining the birds and the bees to a child, while her phrase 'packet-of-eggs gigs' to describe those characterised by a front row of shaven-headed arms-folded geezers deserves to be universally adopted.
Sunil Patel opens with a few wry jokes about race, before cheerily admitting he doesn't know what he's talking about. His ancestry defines him much less than his position as a just-about-managing millennial, celebrating every minor lifestyle triumph as it comes.
It's quite mild stuff, but delivered with craft, self-deprecation and an underplayed sardonic charm that endears, while his outlook is easily relatable across his generation and beyond.
Closing the first half, Phil Wang opened with a great gag about Emma Raducanu, drawing on his status as comedy's unofficial spokesmen for partially Chinese people, sealed by his new book Sidesplitter.
His is a smart, sardonic set – a typical routine might open 'fair play to the Taliban…' – with astute comments laced in irony, picking at topics from unexpected angles and analysed with precise use of language, intelligent but cheeky.
Wang's overstylised delivery, repeatedly rolling around the key phrases, is an affection that slows the gags and waters down the sincerity. But the quality of the punchlines more than compensates.
• Stand Up for Shelter raised money for housing charity Shelter. Follow their work on Twitter and find out how make a donation here.
Review date: 5 Oct 2021
Reviewed by: Steve Bennett
Reviewed at: Shepherds Bush Empire
Recent Reviews
What do you think?