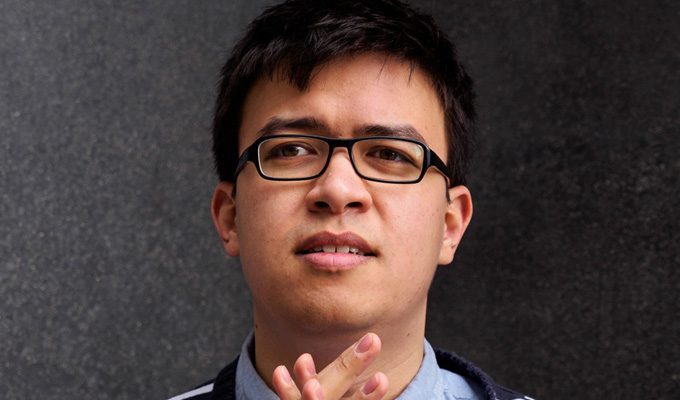 Phil Wang: Mellow Yellow
Note: This review is from 2014
Phil Wang is quietly assured, and always has been. From winning the Chortle Student Comedy Award in 2010 to his strong debut in 2013 he has exuded this inner confidence, which his sophomore show, Mellow Yellow, builds on.
Opening with safe racial gags to set the audience at ease, Wang flows through his set without missing a beat.His technique is flawless and his observations astute.
It's tight, insightful and often even a little risque. As in previous sets Wang seems to like to show his cheekier side, including spots on his sexual prowess, being a smoker, masturbation and ex-girlfriends. He often reverts back to his geekier side but these forays into riskier subjects show potential and highlight Wang's desire to expand his comedic repertoire beyond Asian jokes and Batman references.
After the initial exchange, his cultural heritage pops up on a few occasions but it never eclipses the man himself. Wang makes a few brilliant cultural observations early on, then sprinkles in a few well-placed callbacks throughout. It's as if he's reminding us of where he came from while also trying to tell us where he's going.
Unfortunately, that destination is unclear. For such an elegant and confident set, it lacks a focal point and is no bigger than the sum of its parts. There are a few spots where Wang uses a foot pedal to layer in his own vocals, and although this is a nice change of pace, it lacks the polish of the rest of his show. Wang seems to want to try new things – a great quality in a fledgling comedian – but such interludes seem more a tacked-on experiment than a settled ethos or gameplan.
Mellow Yellow may be flawed, but Wang is definitely developing in the right direction and he throws in enough variety, in both topics and technique, to keep things interesting.
Review date: 4 Aug 2014
Reviewed by: Barrie Morgan
Reviewed at: Pleasance Courtyard
What do you think?