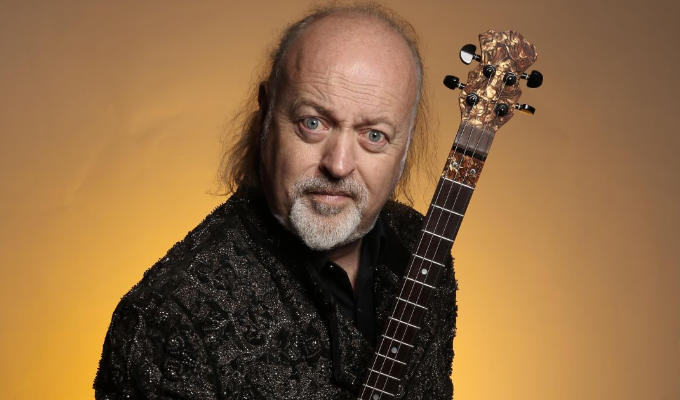 It ain't over till the beardy bloke sings...
Sunday August 1
LONDON: Ed Gamble and James Acaster perform the second live version of their Off Menu podcast in the salubrious surroundings of the Royal Festival Hall on the Soth Bank. Director Edgar Wright is the guest discussing his ideal meal,
EDINBURGH: Optimistic musical comedians Jonny And The Baptists offer an uplifting take on a torrid time as they bring their show Dance Like It Never Happened to the Stand today (then Glasgow tomorrow and Newcastle on Tuesday)
MANCHESTER: The last in the Frog & Bucket comedy club's series of summer shows at Home boasts a funny and varied line-up, with Brennan Reece introducing Kiri Pritchard-McLean, Tez Ilyas and Bethany Black.
Monday August 2
LONDON: While HBO is in the firing line for mocking Prince George in its latest animated comedy, the live version of Channel 4's The Windsors begins its run in the West End. It stars Harry Enfield as the Prince Of Wales, which also just happens to be the name of the theatre it's on at. Tickets can be had for as little as £15. Click here to book.
LONDON: Bill Bailey's certainly getting some good gigs since winning Strictly. Last weekend it was the main stage at Latitude, and today he begins a week at the Royal Opera House - swanky! And remember it ain't over till the beardy bloke sings… Tickets
LONDON: The Camden Fringe has grown to be a major event in the off-mainstream calendar, with hundreds of varied performances across North London over the month. However, it's usually eclipsed by the Edinburgh behemoth… so this may be the year that it really comes into its own as Londoners stay home. Today's comedy highlight is Russian stand-up Olga Koch doing the first in a series of work-in-progress gigs at the Aces And Eights. Camden Fringe website.
Thursday August 5
LONDON: 21Soho in - guess where? - boasts a fab bill of not-as-famous-as-they-deserve-to-be comedians tonight, with Darren Harriott, Rhys James, Sean McLoughlin, Thanyia Moore and Amy Annette
Friday August 6
EDINBURGH: It may have been hastily put together amid ever-shifting restrictions, but incredibly the Fringe will still boast hundreds of shows over the next three-and-a bit weeks. It will be nothing like the usual intensity, with most - but by no means all - comedians doing short work-in-progress runs. But there are a lot of good names attending, and it's a triumph that a festival has been assembled at all. Check out our listings of the Edinburgh Fringe comedy shows here.
LONDON: Quirky musical comedian Huge Davies brings his inventive and well-crafted breakthrough show The Carpark to Soho Theatre tonight and tomorrow.
Saturday August 7
SALISBURY: Frankie Boyle and Dara O Briain are the biggest names on the packed bill of the all-day Salisbury Comedy Festival. Among the many other acts entertaining the crowds in Hudson's Field are Barbara Nice, Dane Baptiste, Kiri Pritchard-McLean and Seann Walsh.
MANCHESTER: Of course, tickets sold out within an hour of going on sale, but Peter Kay makes his long-awaited stage comeback today with two Q&A sessions at the O2 Apollo in aid of charity.
LONDON: Simon Amstell presents some work-in-progess - which should be pretty close to the finished article judging by his recent Latitude Festival appearance - at Pizza Express. Fine support comes from Adam Bloom.
LONDON: Tonight's line-up at the ever-impressive London Comedy Allstars gig at the Londod Wonderground in Earls Court comprises Ian Smith, Maisie Adam, Nigel Ng and Phil Wang.
Published: 1 Aug 2021
What do you think?