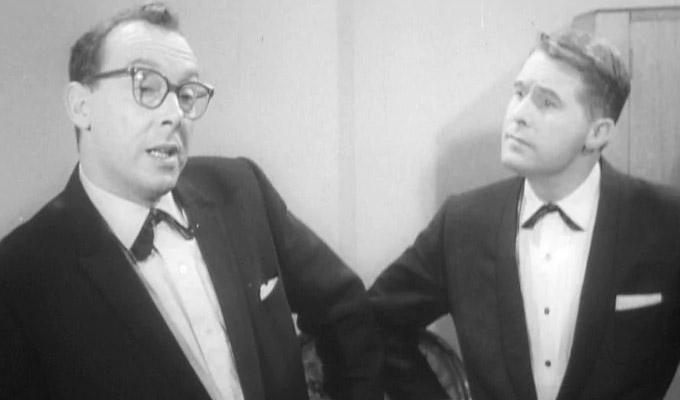 The Morecambe & Wise show what they found
The first Morecambe & Wise show to air on BBC One has been unearthed more than 50 years after it aired.
Eric Morecambe's son Gary discovered a film of the episode which aired on October 8, 1971, in the family archive.
It has never been repeated and the BBC wiped many of its master tapes in the 1970s – so only an audio version recorded by a viewer from the broadcast was thought to exist.
Gary found an unlabelled film can in the attic of the family home last year - which turned out to be the episode unseen for half a century.
Now ITV will air footage from the show next Wednesday as part of its Lost Tapes series, alongside interviews with Gary, his mum Joan Morecambe and sister Gail, and celebrity fans including Jonathan Ross, Ben Miller and Eddie Izzard.
Morecambe and Wise's first show for the BBC was Running Wild in 1954, but it was a flop, leading to the notorious review: 'Definition of the week: TV set — the box in which they buried Morecambe and Wise'. Eric kept the cutting in his wallet for the rest of his life as a reminder to do better.
A successful comeback started on the ITV station ATV in 1961, and they moved to BBC Two in 1968 where, for their second series onwards, they began their successful collaboration with Eddie Braben.
They were promoted to BBC One from October 8, 1970, with this newly recovered show that featured guests Paul Anka, Patricia Lambert, Kenny Ball and his Jazzmen. It attracted 14million viewers on its initial airing.
ITV says the episode involves 'stage curtains, ventriloquism and a toy dog that shoots nerve gas out of its bottom. The duo's long-time collaborator Ann Hamilton plays a nurse in a hospital sketch, looking on as Eric eats all of Ernie's grapes and then uses the empty bag to catch an invisible ball [a favourite visual gag of Eric's]. There's even a daring bedroom sketch in which Eric eavesdrops on a newly wedded couple in the next flat while they make love.'
Several episodes of the show remain missing as detailed by lost footage specialists Kaleidoscope.
In 2018, two missing episodes were found in a derelict cinema in Sierra Leone by archivist Philip Morris – who had previously found another version of one of them as a molten lump of film in Nigeria and used state-of-the-art restoration techniques to recover grainy footage.
• Morecambe & Wise: The Lost Tapes will air on Wednesday July 28 at 9pm on ITV. Tomorrow's episode of the series will feature Les Dawson.
Published: 20 Jul 2021
What do you think?