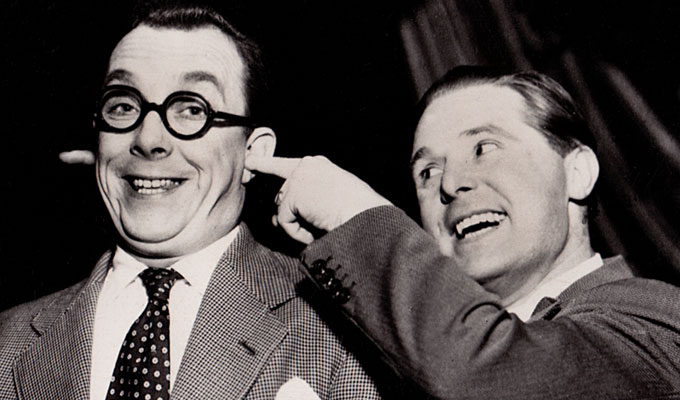 Found in Sierra Leone... the lost Morecambe and Wise
Two missing episodes of Morecambe and Wise's TV shows have been recovered from a derelict cinema in Sierra Leone after being lost for 50 years.
The tapes from the duo's 1968 series – the first after the BBC poached them away from ITV – have long been wiped by the corporation.
But British archivist Philip Morris found copies of two episodes in a derelict cinema that somehow survived the decade-long civil war that engulfed the West African country in the 1990s.
Morris, of Television International Enterprises Archives, previously recovered a badly deteriorated copy of the second episode of the 1968 series from a sweltering outbuilding in the humid, semi-rural Nigerian town of Jos.
That tape was an unplayable, molten lump, but the BBC and researchers at Queen Mary University of London were able to recover some images through cutting edge technology, as Chortle described earlier this year.
There was also evidence that two other shows from the first series had been sent to Sierra Leone as so-called 'audition prints' from London, However, research found that all Sierra Leone Broadcasting Corporation's archives had been destroyed during the civil war – but then Morris found them in a derelict cinema in the country, one of the ten poorest on earth.
Of the film that was found in Nigeria, BBC archivist Charles Norton said: 'The film was in an advanced state of decay… Every layer of film had fused with every adjacent layer of film so instead of having a roll of movie film, we now had a lump of plastic… sitting in a self-sustaining vapour of corrosive acid.'
But images sealed inside that 'mush' have now been recovered with the pioneering use of lasers and X-Ray technology.
Lost footage from both episodes is to be screened at a Missing Believed Wiped event at the British Film Institute on London's South Bank on December 15, marking 25 years of the initiative's success at tracking down 'lost' TV classics.
Fans will also be able to see a previously lost 1962 episode of Sid James's sitcom Citizen James, which was discovered in an old storeroom at Monaco Television during a clearout.
The episode, entitled The Day Out, comes from the third and final series of the BBC comedy and guest stars Liz Fraser, the Carry On actor who died in September, as the object of Sid's wandering eye.
Sid's daughter, Reina, said: 'It's wonderful that Missing Believed Wiped is giving audiences a chance to see Sid as Citizen James again in this "lost" episode. And Liz Frazer too – they're fantastic together. It's a real treasure.'
Tickets for Missing Believed Wiped go on sale to BFI members on tomorrow and the general public from next Tuesday.
Published: 5 Nov 2018
What do you think?