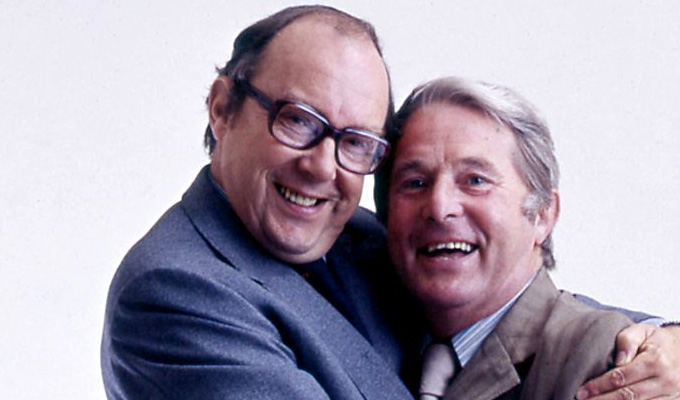 Bringing a Morecambe and Wise film back to life
BBC archivists have described the painstaking process of restoring a previously lost 50-year-old episode of Morecambe and Wise.
Tapes of the duo's 1968 series – the first after the BBC poached them away from ITV, and the subject of the recent drama Eric, Ernie and Me – have long been wiped
But experts recently recovered a copy of the second episode from a sweltering outbuilding in the small semi-rural Nigerian town of Jos.
It was there that the now-defunct broadcaster RKTV had kept its vault, including a 16mm film of the missing episode. The footage had been created by directly filming a TV screen airing the episode - the way that the corporation made tapes for the international market back in the 1960s.
This film had been used by various TV channels around the world before ending up in Africa, and should have been destroyed after it had come to the end of its life, according to RKTV's contract with the BBC. Luckily the broadcaster ignored that clause, and a freelance film researcher called Philip Morris found the tape in Jos in 2012.
But the town sits on a bakingly hot plateau in the heart of Nigeria, which also suffers high humidity in the rainy season – conditions which led to the serious deterioration of the film.
Archivist Charles Norton said: 'The film was in an advanced state of decay. The episode was on a form of film stock that isn't really used anymore and it was suffering from something called "tri-acetate film base degradation" – a truly horrifying film "disease" that can cause film to just rot away to nothing.'
The film releases an acid vapour as it decays, accelerating the degradation, and after the film as returned to the UK the British Film Institute even recommended it be destroyed as the gas made it a hazard to other rolls in its collection.
In the first of a series of blog entries on the BBC research and development website, Norton wrote about what he found: 'Every layer of film on the Morecambe and Wise roll has now permanently fused itself with every adjacent layer of film so instead of having a roll of movie film, we now have a lump of plastic.
'All of the pictures that make up this episode are sealed inside that lump of plastic. And as the film is sitting in a self-sustaining vapour of corrosive acid, it just gets worse and worse.'
A producer at BBC Birmingham called Paul Vanezis suggested a chemical treatment – but 'the film was so much of a mush, that immersion in any liquid would simply wash away any remaining picture from the surface'.
Loathe to dispose of the film, he stored it at his home for about a year in his fridge, until late 2014, when Norton collected it from him.
He suggested an X-ray technique previously used to examine an artefact called the Antikythera mechanism – an ancient Greek navigational calculator from the time of Archimedes that had become embedded in calcified bronze.
But to do so required cutting the film up into small fragments, about an inch square, with a laser - which could have caused additional heat damage to the material. But luckily it survived.
Next the film blocks were placed in a scanner and rotated around 360 degrees, creating 5,000 X-ray images of each chunk. Each was then reconstructed in 3D to compile 'virtual' chunks of the film reel.
X-ray imaging expert Dr Graham Davis, at Queen Mary University of London, wrote on the blogs: 'Flicking through the images, you might see part of Eric's glasses, or a hand, but never a whole image because of the film curving and distortion.
Dr Davis then wrote a program to flatten out the images, and the original footage began to emerge.
He wrote: 'The images showed varying signs of degradation and in some cases laser damage, but considering they had been raised from the dead, they really weren't bad.
'Until that point, I had had some doubts about the value of what we were trying to achieve, after all, we could never restore the film in all its glory, but only capture stills and maybe put together a short video clip. But as soon as Eric and Ernie's faces and stereotypical poses began to appear, a huge grin spread across my face and I knew that this was a job worth doing.'
But the images were still degraded, and while they might have contained all the right frames, they were not necessarily in the right order.
So the footage was then handed back to the BBC's research and development department, who are using a mixture of software and manual work to put the images in the correct order, repair further damages and fill in missing frames.'
Adam Wiewiorka, a senior engineer for BBC R&D, told Chortle: 'It may appear that the video processing could be a fairly standard process.
'However, the damage that the reel of film sustained over the years is somewhat different to what video processing software usually expects. There is a lot of warping and displacement of the image layer but, even more significantly, there are entire sequences of unrecoverable frames, some of them longer than the capabilities of frame interpolation algorithms. So recovering video data is more difficult than removing scratches and masking occasional voids in the image.
'Because of this, video recovery will need a lot of manual intervention and might take a long time. This process has not been completed yet and more information about it will be provided at a later date.'
UPDATE (26/2/18): The BBC have now released a clip about this process, which includes a few seconds of the recovered footage:
Published: 25 Jan 2018
What do you think?