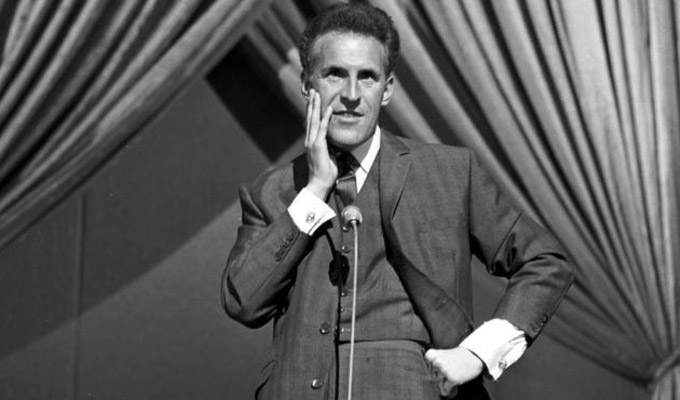 When Brucie saved the day
The best of the week's comedy on TV and radio.
Sunday February 16
SUNDAY NIGHT AT THE LONDON PALLADIUM: This is probably the most famous of all the 411 episodes of the classic variety show, broadcast live from the West End. In one week in 1961, the programme was hit by a strike by acting union Equity, who refused to allow its performers to appear, robbing the show of its entire guest list. But host Bruce Forsyth was not a member of Equity at the time; he was with the Variety Artistes' Federation – as was Norman Wisdom, who had been booked for the top-of-the-bill slot. So performed the entire show themselves, improvising wildly and most notably performing an anarchic sketch about decorators trying to put up wallpaper. Talking Pictures TV, 9pm
Monday February 17
THIS COUNTRY: Kerry and Kurtan Mucklowe - plus the local vicar, Reverend Seaton - are back for a third, and sadly final, series of misadventures in their Cotswolds village. And the first episode features a storyline that pays tribute to Michael Sleggs, who played Suggs and who died before this series was filmed. Creators Daisy May Cooper and Charlie Cooper talk about the show - alongside producer Simon Mayhew-Archer and director Tom George here. BBC One, 10.35pm, or available on iPlayer from 7pm
INSIDE No 9: This week's episode is entitled Love's Great Adventure. Steve Pemberto and Debbie Rush play a couple, Trevor and Julia, who always want to make Christmas really special for their family but this year, with money so tight, things aren't going to be easy. As each door of the advent calendar opens, everyone will have to do their bit to make Christmas happen.BBC One, 10pm
LAST WEEK TONIGHT WITH John Oliver: The topical show gets a wider audience as it arrives on Sky Comedy - just one day after it airs on HBO in the States. Sky Comedy, 10pm
MAN WITH A PLAN: Matt LeBlanc stars as Adam, a contractor who starts spending more time with his three kids when his wife, Andi, goes back to work. It's new to E4, which is airing the show from the beginning, stripping episodes at the same time every weekday. But the sitcom actually started life in the US in 2016 on CBS, where a fourth series starts in April. E4, 7.30pm
THE ESSAY: TOP OF THE BILL: Five comedians talk about their comic inspirations in a short series being stripped across Radio 3 at 10.45pm every night this week. Tonight, Adrian Edmondson remembers how rudeness and silliness made him laugh as a child, and how they led to the glorious pursuit of laughter as he began his own comedy career. On Tuesday, Susan Calman recalls how first seeing Victoria Wood helped shape her own career. Then it's Mark Watson on The Simpsons, Deborah Frances-White on witnessing the very first iteration of Phoebe Waller-Bridge's Fleabag; and Stephen K Amos on Redd Foxx. Radio 3, 10.45pm
Wednesday February 19
HYPOTHETICAL: This week Josh Widdicombe and James Acaster will be posing ridiculous Hypothetical scenarios to Tom Allen, Sue Perkins, Felicity Ward and Alex Brooker.Dave, 10pm
KEN CHENG: CHINESE COMEDIAN: In the first of four 15-minute programmes BBC New Comedy Award finalist Ken Cheng. Dave's Joke Of The Fringe winner, Cambridge mathematics dropout, and professional poker player Ken Cheng returns with a brand new series in which he'll explore free speech, social status, racism and money
Thursday February 20
LUCY & GINA'S SPECIAL RELATIONSHIP: In what looks like it could be a pilot, comics Lucy Porter and Gina Yashere hold a transatlantic conversation to catch up about their daily experiences and how their lives have diverged since they first started on the circuit. Lucy lives in London, a working mother, is married, runs comedy gigs for mothers with babies, and is often too tired to party. Gina lives in LA with her girlfriend and still has time to party, but is usually too tired... Radio 4, 11pm
Friday February 21
BUMPS: A new Comedy Playhouse pilot for BBC One written by Lucy Montgomery and Rhys Thomas. Amanda Redman plays 62-year-old Anita frustrated by the lack of grandchildren. Her daughter Joanne (Lisa McGrillis) can't have children and her son Aiden (Seb Cardinal) has zero interest. So after hearing about an Indian woman in her 70s who gave birth to a healthy baby, Anita starts thinking: what if she were to do the same thing? BBC One, 9.30pm.
INTELLIGENCE: Nick Mohammed created and stars in this workplace comedy set in the GCHQ eavesdropping HG. He plays an inept and tactless computer analyst who gets swept up by the arrival of a pompous, maverick NSA agent played by David Schwimmer. Sky One, 9pm
Saturday February 22
LEICESTER MERCURY COMEDIAN OF THE YEAR: The climax of the annual competition gets a live broadcast, presented by Geoff Lloyd and Tom Rosenthal. Union Jack Radio, 7.30pm
Published: 16 Feb 2020
What do you think?