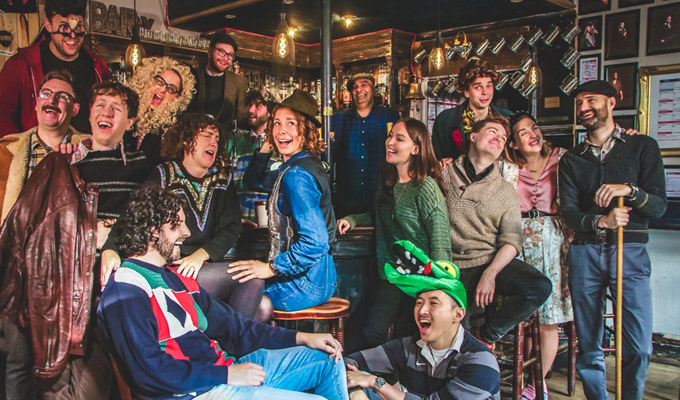 Christmas with the Weirdos...
The best of the week's live comedy.
Sunday December 8
MANCHESTER: Amusers assemble at the Frog & Bucket for a benefit in aid of the Red Cross. The strong bill comprises Mitch Benn, Phil Ellis, Tez Ilyas, Dane Baptiste and Chris Purchase.
LONDON: The Sunday Special at Up The Creek in Greenwich promises to live up to its name - again - thanks to fast-rising funsters Adam Hess, Maisie Adam, Sara Barron and Tom Lucy.
Monday December 9
LONDON: After two years off, the Weirdos comedy collective of some of the capital's craziest alternative comedians are back for another ill-disciplined pantomime, this time in their biggest venue yet - the Bloomsbury Theatre. They'll all at once be raising funds for the Great Ormond Street Hospital charity, saving Christmas, and rescuing the local high-street pub. The cast of dozens includes - deep breath - Cassie Atkinson, Helen Duff, Lucy Pearman, Joz Norris, Matthew Highton, Kat Bond, Ben Target, Ali Brice, Eleanor Morton, Michael Brunstrom, William Lee, Jon Brittain, Ben Alborough, Katia Kvinge, Gabby Best, Liberty Hodes, Sam Nicoresti, Alwin Solanky, Phil Jarvis, Aniruddh Ojha, Charlie Miller, Christian Brighty, Thomas Meek, Jack De'Ath, Joe Davies, John Kearns, Pat Cahill, Sooz Kempner and music from Soup Review. And they are all back to do it again tomorrow.
WATFORD: Comedian and million-selling author Adam Kay kicks off a short tour to promote his latest book of NHS stories, Twas The Night Shift Before Christmas. Here are the dates. He's also performing at the Chortle Comedy Book Festival next month,
Tuesday December 10
LONDON: Dara O Briain headlines the annual benefit for Aisling, a charity working with vulnerable and isolated Irish people in London. The bill at the Union Chapel, Islington, also includes David O'Doherty, Jarlath Regan, Joe Wilkinson.
LONDON: More than 35 years strong, Fascinating Aida - the trio of satirical songstresses comprising Dillie Keane and Adele Anderson, and, since 2004,Liza Pulman - begins a four-week festive residency at the Southbank Centre, ahead of a 2020 tour. They promise a selection of 'old favourites, songs you haven't heard before and some you wish you'd never heard in the first place'.
Thursday December 12
LONDON: It's a terrible name, but a good cause and a great line-up. Laff-ucino at 2Northdown in Kings Cross is raising money for Haven Coffee, which promotes artists from refugee backgrounds. Bread-dodger Nish Kumar headlines alongside sharp Ed Night and silly Tom Parry.
Saturday December 14
BRIGHTON: A fabulous mixed bill at the Dome features a host of political and social commentators - Angela Barnes, Fin Taylor, Nish Kumar and Shappi Khorsandi - plus the witty, artistic apercus of Simon Munnery.
Published: 8 Dec 2019
What do you think?