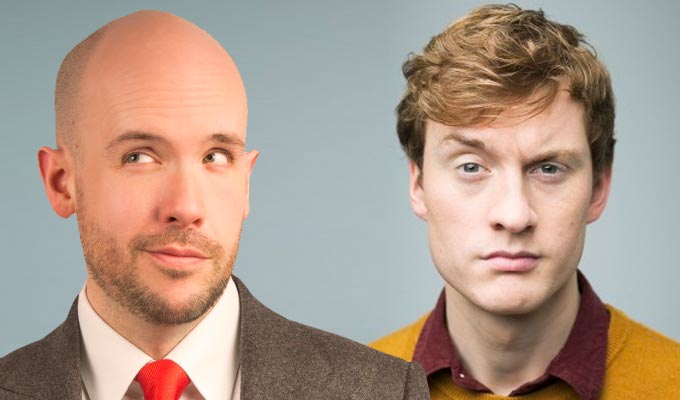 James Acaster and Tom Allen up for Melbourne award
A transgender comedian has been nominated for the biggest prize in Australian stand-up – the day after it severed its connection to Barry Humphries over his comments about trans people.
Cassie Workman has been shortlisted for the most outstanding show at the Melbourne International Comedy Festival – an award which was, until yesterday, known as the Barry.
Her show, Giantess, revolves around her experiences in suppressing her true self until she came out recently. (Review)
The Dame Edna creator referred to transgender women as 'mutilated men' in 2016, although last month he claimed he had been 'grotesquely interpreted'.
Also shortlisted for the Melbourne International Comedy Festival Award are Brits Tom Allen and James Acaster. Acaster, who is performing his new show Cold Lasagne Hate Myself 199 down under, has previously been nominated for the Edinburgh Comedy Award a record five times, but never won.
Also shortlisted are Australians Anne Edmonds (Review), Geraldine Hickey (Review) and Nath Valvo (Review).
Up for best newcomer – which has to go to an Australian or New Zealand act – are: Blake Freeman, Dan Rath, Nina Oyama (Review) and Oliver Coleman (Review).
Coleman has also been shortlisted for the Golden Gibbo, award –given in memory of the late Lynda Gibson to a local, independent show that pursues the artists' idea more than it pursues commercial gain.
He was nominated alongside Game Boys, Lauren Bok, Margot Tanjutco, Josh Ladgrove (Review) and Patrick Collins.
It was also announced that Sam Taunton (Review) and Steph Tisdell will be heading to the Edinburgh Fringe after winning the Pinder Prize, named after festival co-founder John Pinder and which gives the acts financial support for a run at the Edinburgh Fringe
By renaming their main award, festival organisers will be hoping the controversy surrounding 85-year-old Humphries' opinions will not overshadow the comedians they are hoping to champion.
2017 Barry winner Hannah Gadsby has called Humphries – who founded the festival in his home town with Peter Cook – 'an irrelevant, inhumane dick biscuit of the highest order' over his comments.
Winners of the awards will be announced at 1pm Saturday local time (4am UK time) as well as the recipients of other awards:
The People's Choice Award will be awarded to the most popular show of the Festival as determined by the ticket buying public.
The Directors' Choice Award given by festival head Susan Provan in consultation with other visiting festival program directors
The Piece of Wood, comics' choice award, is selected by past winners and will be presented to a peer literally for "doin' good stuff 'n' that".
The Funny Tonne will go to the person who saw the most Festival shows and wrote the most reviews.
Published: 16 Apr 2019
Recent News
What do you think?