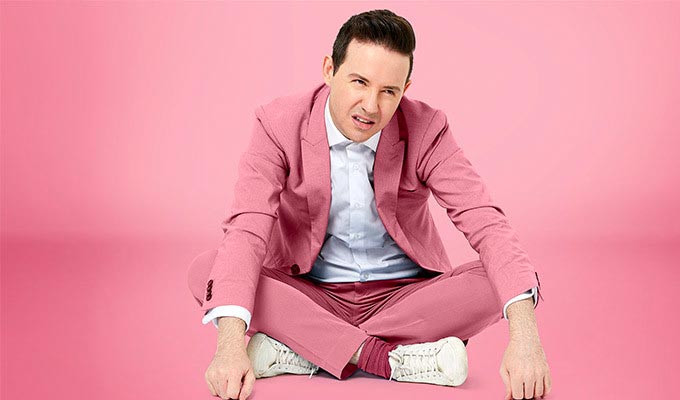 Nath Valvo: I'm Happy For You
Few comics can command the same adoration from the audience than Nath Valvo does. He's a dynamic, chirpy, gregarious powerhouse: gossipy, indiscrete, self-centred and absolutely owning it. He's actually uncompromisingly cynical in some of his views, but dresses it up in such camp high spirits that his show exudes an upbeat energy that lands with his millennial fan base, especially on a lively weekend night.
The delivery gives a supercharged turbo boost to his material, but also sometimes conceals relatively pedestrian observations. The sarcastically titled I'm Happy For You starts, for example, with quotidian comments about pretentious bars and restaurants, especially here in Melbourne – home of so many grandiose 'dining experiences'.
Saying the same line six times while doing a little dance doesn't make the observation any funnier, but does make it more entertaining, and gives the performance a conviction. It's a crowd-pleasing technique that Valvo uses a lot, seemingly learning a trick or two from England's equally animated Lee Evans – and it didn't do too bad for the Brit's bank balance.
Little jingles punctuate the longer routines, giving extra flourishes of energy, and more chances for vivacious Valvo to dole out little packages of life advice in sardonic soundbites.
Across the hour, he sneers at the idea of dinner parties, at the sort of vacuous life slogans his retired mum is adopting, and sardonically wishes that marriage equality hadn't been passed, as now he has no legal excuse not to tie the knot – all relatable stuff, if hardly groundbreaking.
Older than he seems, settling down is high on Valvo's mind, and while this again is common ground, the show steps up a gear or two when the theme of whether he is ready to become a father comes to the fore. Here he genuinely seems to be grappling with what he wants, as well as exploring the particular thought processes and red-tape hoops a gay couple must go through to adopt. No accidental drunken fumbles will result in a baby for them.
After a wobbly start in terms of content – but never delivery – there are a lot of entertaining tales here, and the disproportionate bitterness eventually crystalises into sharper-edged comedy, especially when he turns his scorn inwards. The description of his partner's perfect family compared to his more bogany upbringing proves especially astute, and funny.
Valvo's stage presence ensures this show's a blast, but only when he drills down into topics of more substance does it become as alive as his performance.
Review date: 7 Apr 2019
Reviewed by: Steve Bennett
Reviewed at: Melbourne International Comedy Festival
Recent Reviews
What do you think?