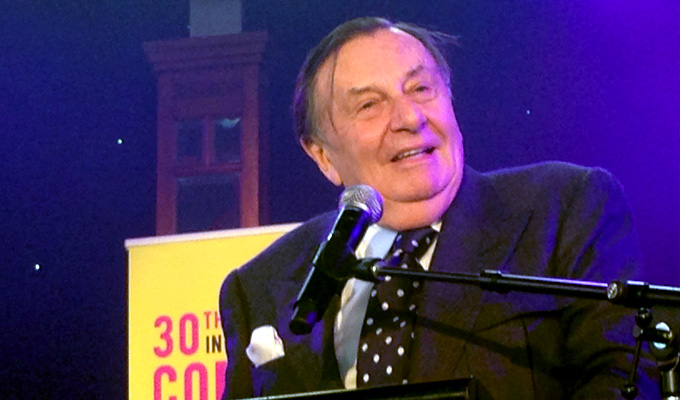 Melbourne Comedy Festival spurns Barry Humphries
The Melbourne comedy festival has snubbed Barry Humphries by renaming the annual prize awarded in his honour.
The accolade for the best show at the month-long event has been called the Barry Award since 2000 to acknowledge the role of the Dame Edna Everage creator in founding the festival in 1987
But he has been ostracised by many in the comedy world since referring to transgender women as 'mutilated men' in a 2016 interview – and now festival chiefs in his home town are distancing themselves from their one-time icon.
This year's awards – the shortlist for which will be announced at 1.30am tonight UK time – will be simply called the Melbourne International Comedy Festival Award.
Festival director Susan Provan said: 'Melbourne International Comedy Festival is one of the world's greatest comedy festivals and it is time for the award for the most outstanding show to be in our name to celebrate the city that inspired the growth of our festival and its outstanding artists.'
Humphries personally announced the nominees for the award in 2016, but his connection with the festival has since proved problematical.
When Hannah Gadsby won the Barry two years ago she criticised Humphries' comments, while acknowledging his contribution to Australian comedy.
But in a tweet last year she was much more blunt, saying: 'Barry Humphries loves those who hold power, hates vulnerable minorities and has completely lost the ability to read the room. Thats not a comedian, thats an irrelevant, inhumane dick biscuit of the highest order.'
In his 2016 interview he called Caitlyn Jenner a 'publicity-seeking ratbag' and claimed her transition was an act of 'self-mutilation'.
And last year he doubled down on his comments, calling transgenderism a 'fashion', asking: 'How many different kinds of lavatory can you have? And it's pretty evil when it's preached to children by crazy teachers.'
However, last month, Humphries claimed his comments had been 'grotesquely interpreted', claiming he had been speaking in character.
He explained: 'Edna carefully said she thought that men who had themselves castrated did not become women, and that got taken the wrong way.'
He also told the Sunday Times that political correctness was 'the new puritanism' – and today's move is only likely to exacerbate that feeling.
When the Melbourne festival's main prize was originally launched in 1998 it was called the Stella Award, after its sponsor, before being rebranded as the Barry Award two years later – when it was won by the Mighty Boosh.
Other previous winners have included Ross Noble, Maria Bamford, Daniel Kitson, Demetri Martin and Nina Conti. The last British act to win was Russell Kane in 2010.
This year's winner will be announced on Saturday afternoon, UK time.
Published: 15 Apr 2019
What do you think?