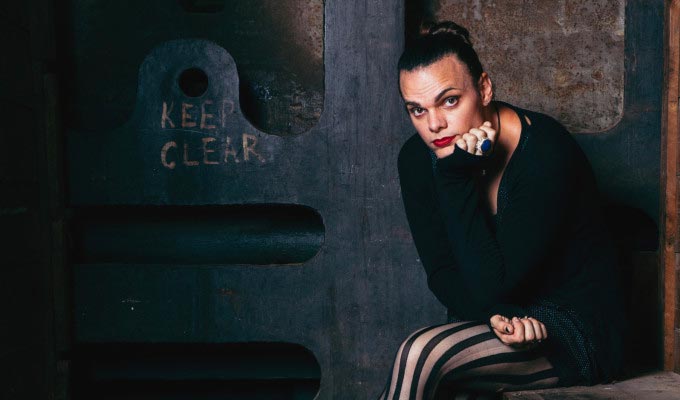 Cassie Workman: Giantess
Note: This review is from 2019
Cassie Workman has ruined her big reveal. Giantess was supposed to be her coming-out show, ending with the dramatic disclosure that she is a trans woman. But, impatient to both start her new life and to tell us about it, she makes her declaration from the very start.
Even without the emotive climax, her allegorical fairytale about what it's like to be denied her identity – even by herself – is heart-wrenching and revelatory, charming and funny, proud but self-effacing. And, above all, very personal as she offers a frank glimpse of the agony, sadness and humanity behind an issue that's become hijacked by reactionary blow-hards.
The poignant story is tenderly told through the parable of a six-year-old who is kidnapped by a troll soon after she start suppressing her true self when told casually but callously: 'Why can't you just be normal?' The metaphor may turn out to be paper-thin, but it is still powerfully effective.
Workman has always been a compelling storyteller, her well-measured voice drawing the audience in, with simple and often witty cartoons and an evocatively simple soundtrack adding further whimsy to her curious yarns. However there are occasional wobbles of uncertainty in her deliver this time, a symptom of a raw story not yet honed by constant retelling.
Previous shows under her former name have usually been ambiguous in the abstract, but with this so clearly drawn from her own experience – despite a half-hearted disclaimer to the contrary – it packs a stronger punch in its velvet glove.
For all the insight to be had, Giantess can be very funny, although inevitably it sometimes isn't. Workman insists she can do mainstream crowd-pleasing comedy – and performs a hacky ethnic-based routine about her Italian family to prove it.
And even when the message of the heartfelt tale is of most importance, she wrings some great jokes (and admittedly a couple of dodgy puns) from the narrative. Though she is so careful to be woke that her best joke comes with a postscript, not for fear of offering other trans people – but because she fears it oversimplifies a nation's cuisine.
The personal is political, and Workman wonders how harmful the demonisation of trans issues is going to be on other vulnerable people as she laments how bigots have become emboldened, unashamed to voice their hate in public. Even a member of her own family refuses to acknowledge Workman's new pronoun – but she's got a perfect takedown of such a stance.
Sadly the sort of empathy-free people who ought to see this important story, told warmly and with a frequent wry wit, are the least likely to go. For everybody else, it will prove a delight.
Review date: 4 Apr 2019
Reviewed by: Steve Bennett
Reviewed at: Melbourne International Comedy Festival