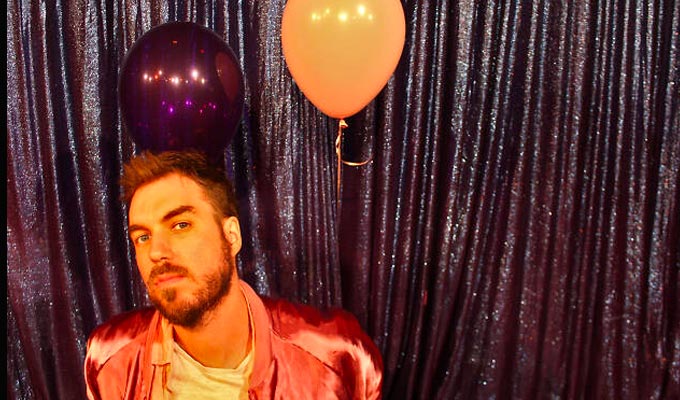 Neal Portenza is Joshua Ladgrove
To avoid confusion – as if! – Joshua Ladgrove is the comedian's real name, although for years he's donned a red beret, daubed on make-up, and stepped into a lab coat to perform as his bonkers modern clown, Neal Portenza. After vowing to quit comedy, Gadsby-style, he's back – and now performing under his own name, if not as himself.
This Joshua Ladgrove is the #1 bilge pump salesman in the greater Australia region, and he's here to share the secrets of his success with us, an eager audience of aspiring 'unit-shifters'.
It's a parody of motivational hype-merchants, of course, as Ladgrove rallies the crowd with an affirmating call-and response – 'I say "bilge", you say "pump".' – which gets increasingly silly.
But it's so much more than this, as you'll tell from the theatrical opening scene, set backstage at the seminar as he prepares himself. This sketch becomes a perfectly-judged mini-farce, with an hilarious tag that comes during the sales session itself.
Looking a little like Jack Whitehall without the trust fund, Ladgrove more than commits to the bit, never breaking the concept that this event is all about offloading more pumps. The premise does become a little strained – especially his example of why everyone needs such hardware or the development of mumbo-jumbo sales concepts – but some strong running gags, quick-witted audience interactions, a twisted but consistent internal logic, and the ever-present suggestion that there's something more to this keeps the audience on board.
That feeling is entirely justified, of course, and finally, the full absurdity of the situation is revealed, odder than anyone could have predicted but deploying some of the elaborate rug-pulling techniques Ladgrove honed as Portenza as well as making sense of at least some of the nonsense that's gone before.
As well as the engagingly off-kilter narrative, Ladgrove performs with a vigour that's as over-the-top as his imagination – which is what really makes him such a good salesman, convincingly flogging his uniquely ridiculous ideas.
Review date: 11 Apr 2019
Reviewed by: Steve Bennett
Reviewed at: Melbourne International Comedy Festival
Recent Reviews
What do you think?