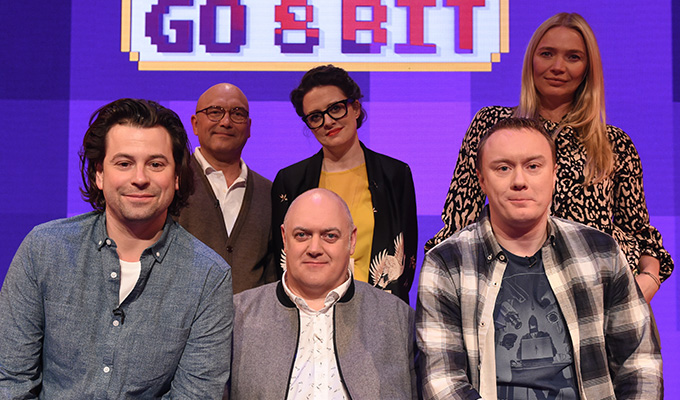 Game on... again
The week's comedy on TV and radio.
Sunday February 11
HENRY IX: This new sitcom from legendary comedy writers Dick Clement and Ian La Frenais gets its Freeview premiere, after launching on Gold last year. Charles Edwards plays a fictional monarch trying to make the Royal Family connect with a new generation of Britons. ReviewYesterday, 9pm
SPY: Channel 4 has the network premiere of Melissa McCarthy's comedy action-thriller, which co-stars Jude Law, Rose Byrne, Jason Statham and Miranda Hart. Channel 4, 9pm
Monday February 12
DARA O'BRIAIN's GO 8 BIT: The game-loving comic returns to oversee a third series of challenges. In episode one, Gregg Wallace and Jodie Kidd join team captains Steve McNeil and Sam Pamphilon to play five video games: d pick up the joystick to play five video games; Spy Hunter, Total War: Rome II, Battlefield 1, Push Me Pull You and special endgame Dara's Buttery Spuds. Future guests are Jonathan Ross, John Thomson, Kevin Bridges, Josh Widdicombe, Katherine Ryan, Dev, Anna Richardson and Nish Kumar Dave, 10pm
Tuesday February 13
A NORMAL LOVE: Former TV comedy producer Henry Normal returns for the third part of his  occasional – and award-winning – series which uses poetry, storytelling and comedy to tackle the big issues, And for Valentine's Day Eve, he explores 'love, romance and other unreasonable expectations'.... Radio 4, 6.30pm
Wednesday February 14
DAMNED: Jo Brand's social work comedy - which she co-writes with  Morwenna Banks and Will Smith - returns. In episode one, the team at Elm Heath Social Services come under pressure over a single mum sex worker and a case of historic abuse. Meanwhile, Al is newly single, and Rose is dealing with her kids, useless husband and an incontinent puppy. The show co-stars Alan Davies, Kevin Eldon, Isy Suttie, and Lolly Adefope, who has joined for this six-part run. Read an interview with Brand about the series here.Channel 4, 10pm
BLISS:  Stephen Mangan stars in this new  comedy as Andrew, a man living a double life with two families, each unaware of the other's existence. Created by Arrested Development's David Cross - who speaks about the show here, it co-stars Heather Graham and Jo Hartley. Sky One, 9pm
Thursday February 15
RED DWARF: It's 30 years to the day since Red Dwarf first launched on BBC Two, and Dave is celebrating with six back-to-back episodes, starting with Time Wave, when the Dwarfers run into a ship where criticism is illegal - and Johnny Vegas plays the cop enforcing the edict. Dave, 9pm
RAMBLING: Hill-walking enthusiast Ed Byrne is Clare Balding's guest, chatting about his love of the outdoors as they walk the seven miles between Stanton Moor and Robin Hood's Stride from Winster in the Peak District. Radio 4, 3pm
Friday February 16
IAN D MONTFORT IS: UNBELIEVABLE: In this repeat run, Tom Binns' alter ego, spirit medium Ian D Montfort, bamboozles and amuses a live studio audience with messages from beyond, such as the communication for a 'lady who has just lost weight, is thinking about losing weight or has been talking to someone about losing weight'Radio 4 Extra, 10pm
Published: 11 Feb 2018
Recent News
What do you think?