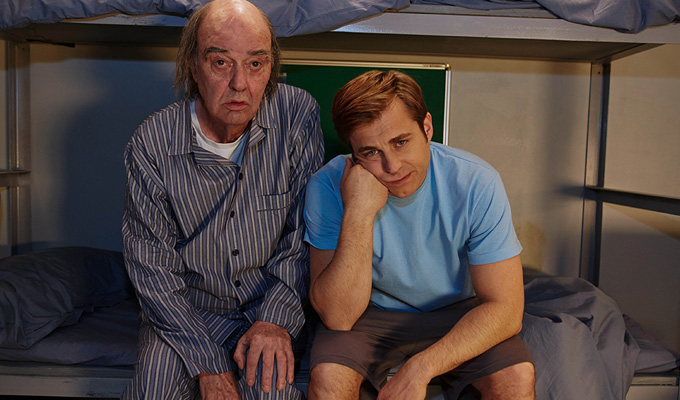 What you read in 2016
10. New tour and TV series for Micky Flanagan
In July we revealed.how Micky Flanagan was woking on a new Sky1 travelogue Detours, exploring 'big themes' such as the monarchy, class, gender relations and mid-life crises, ahead of his new stand-up tour, An Another Fing, which is set to be one of the big live shows of 2017.
9.Richard Herring's ten best interviews
Correspondents contributor Lorcan Mullan marked 100 episodes of the RHLSTP podcast back in February, with this rundown of the top interviews. In his personal opinion, of Course.
8. Eric Idle and Brian Cox to explain the Universe
In August, we reported on this science-comedy special being made by the BBC. It aired on Boxing day and our review of that is here.
The Brass Eye genius is back in the director's chair after Four Lions. Details are scant, but Film4 are financing it, as we reported in February.
6. Jimmy Carr jokes about September 11 victim
Jimmy Carr appeared on the Comedy Central roast of Rob Lowe in September, getting thoroughly into the bad-taste spirit of the event with gags about New York firefighter Scott Davidson, father of comic Peter Davidson. Read the report here .
5. Cuckoo returns for two more series
Back in April we reported how the BBC had commissioned two series of the comedy starring e Greg Davies and Helen Baxendale. The air date has not yet been confirmed.
4. 'Nobody on the Eastern Seaboard is safe.'
This was a Weekly Trivia File from July, headed by a rather bizarre Netflix description of Stewart Lee's stand-up special.
3. Taskmaster series 4
News that Hugh Dennis, Noel Fielding, Mel Giedroyc, Joe Lycett and Lolly Adefope would be the comedians taking Greg Davies and Alex Horne's challenges in the next series of Dave's hit show broke in November.
2. Philomena Cunk gets her own show
Diane Morgan's deadpan alter-ego is a hit with our readers, as our revelation In January that she was breaking out of Charlie Brooker's TV Wipe to front her own show commemorating Shakespeare's 400th anniversary was the second most popular news story of 2016.
1. The BBC remakes Porridge
News of the remake of the classic Ronnie Barker sitcom broke in March, and full details of the casting, alongside Kevin Bishop as Fletch, was the most-read story on Chortle this year.
Published: 30 Dec 2016
What do you think?