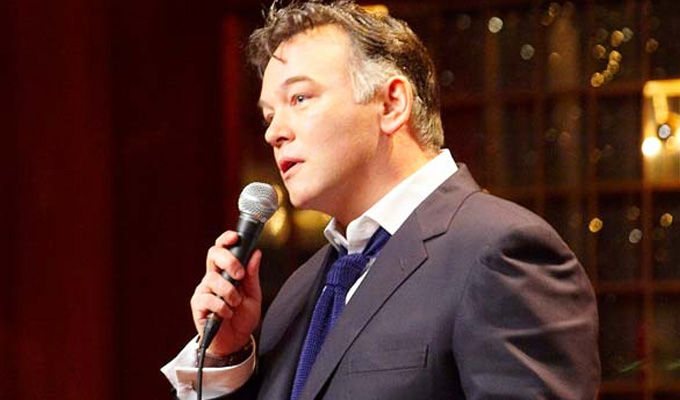 You won't believe how Netflix describes Stewart Lee's show
• 'Ricky Gervais has got balls the size of watermelons.' Ben Bailey Smith (aka Doc Brown), his co-star in Life On The Road.
• How best to describe Stewart Lee's brand of comedy? Netflix has come up with a peculiar answer. Their blurb for his Comedy Vehicle has summarised the stand-up show as: 'Reports of sharks falling from the skies are on the rise again. And nobody on the Eastern Seaboard is safe.' Sadly the mistake doesn't go both ways and describe Sharknado 3 as intense, intellectually incisive stand-up. Thanks to Brendon Burns for screengrabbing the screw-up.

• Dara O Briain says he hasn't got a favourite machine in the new series of Robot Wars, which he's presenting, because 'you shouldn't get too close to them – that way, when they die it's not as much of an emotional wrench.'
• Boy Meets Girls star Rebecca Root is applying for an Irish passport in the wake of Britain's vote to leave the EU, as her mother is a Dubliner.
• Star Wars legend Mark Hamill is to take the stage of London's Leicester Square Theatre for a comedy show tonight. The actor will be moderating a debate between Donald Trump and Bernie Sanders, as played by US comedians and improvisers Anthony Atamanuik and James Adomian. Hamill, who also has a role in the next series of Greg Davies' comedy Man Down, tweeted: 'LOVE these guys but had NO IDEA when I ordered my seat it was ONSTAGE.'
• Nick Frost's hardcore fans are called The Frostitutes.
• Californian comedian Jeff Wysaski has been pranking Los Angeles Zoo by placing spoof, but realistic-looking, signs near the animal enclosures, including such information as: 'ANIMAL FACT: Meerkats can control electronics with their minds. If your cell phone rings DO NOT ANSWER IT. It is one of our meerkats asking for you to help it escape and they are VERY PERSUASIVE' or 'ANIMAL FACT: If you give a tiny trombone to 76 ducklings, they will lead the most adorable parade you've ever seen.'

• Let's not say that comic Toby Foster is out-of shape, but last week he pulled a muscle – by laughing. And the injury – on stage at his own Last Laugh Comedy Club in Sheffield City Hall – was so severe that he collapsed and an ambulance needed to be called. However the stand-up, who is also BBC Radio Sheffield presenter, later told the local Star newspaper that he was all right: 'I'm OK,' he said. 'I pulled a stomach muscle while laughing.'
• Miranda Hart has bunions and is using a bizarre toe-stretching device called Yogatoes to ease them,
• 'So much as I hate the cliche, comedy is like a drug in that you are always chasing that initial high, which is never as good. Also like a drug, it will eventually wear you down and ruin you. It will destroy relationships and make you drift away from old friends in favor of new friends who do your comedy drug, still chasing the dragon. After a time, you don't even enjoy the drug anymore but keep doing it out of habit. It's all you know. It's also a gateway drug that, if you stick with long enough, might lead you to harder drugs like television. You can see how deep you've fallen into the abyss. You want to go back to who you were but it's too late. The withdrawal back into a 40 hour work week would be too much to bear. Then you get shunned from circles when you get too sloppy at your drug and they have no more use for you. Open mic Tuesday. Go ahead, sign yourself up.' So writes Doug Stanhope in his new book Digging Up Mother.
• An anonymous fan once sent Greg Davies a stone gorilla. Six months after it arrived the woman who sent it revealed herself at a DVD signing after a stand-up show, asking: 'Do you like your gorilla?' 'I don't know what the significance was,' Davies now confesses.
• Tig Notaro has become a mum. The 45-year-old comic and and her wife, Stephanie Allynne, have welcomed twin boys, Finn and Max 'happy, healthy and really, really cute'. The babies were conceived using Allynne's eggs via a surrogate.
Tweets of the week: Tory 'leadership' special!
On the plus side, Michael Gove can now apply to be the Poetic Justice Secretary.

— Andrew Hunter Murray (@andrewhunterm) July 7, 2016
Andrea Leadsom says criticism of her CV is 'ridiculous', and she didn't have to put up with this nonsense when she was an astronaut.

— HaveIGotNewsForYou (@haveigotnews) July 7, 2016
I think Theresa May should be PM.
Purely because she looks like she would punch a blind orphan with less force than Andrea Leadsom.

— Joe Heenan (@joeheenan) July 8, 2016
Published: 8 Jul 2016
What do you think?