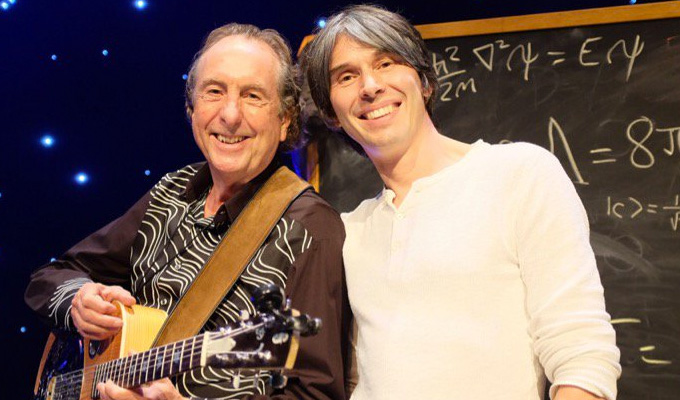 Eric Idle and Brian Cox to explain the universe
Eric Idle is bringing back Rutland Weekend Television for a Christmas one-off covering the entire history of the universe in an hour, with the help of Professor Brian Cox.
The BBC Two show will also star Warwick Davis as The Big Bang, with Noel Fielding taking on Einstein and Hannah Waddingham tackling time. Meanwhile Cox's Infinite Monkey Cage co-presenter Robin Ince attempts to keep order.
The Entire Universe has Cox expecting to deliver an auspicious scientific Christmas lecture. but he soon realises he is in a musical being staged by the Muriel Tritt School of Music and Dance. The scientist then mentors Eric in an attempt to make up for his  lack of education.
Rutland Weekend Television ran for two series and a Christmas special in 1974 and 1975, and introduced the world to The Rutles a spoof band based on the Beatles.
Idle said: 'I am very pleased that Rutland Weekend Television is back on BBC TV with a Christmas Special only 41 years after its last one. The world's smallest TV station takes on the world's largest subject: the entire universe.'
'It's fitting that 41 years after Rutland Weekend Television produced a Christmas special with George Harrison, it is back with the Beatle of Science, Brian Cox.  No doubt what Rutland did for TV in the 70s it will now do for science - and set it back 40 years.'
 Cox said: 'This undermines my credibility as a serious scientist.  I expect The Entire Universe to be the final nail in the coffin.'
The physicist has previously worked with Idle on a video for Monty  Python's Galaxy Song used in the 2014 stage show Monty Python Live (mostly). After a live version of the song, the audience were shown footage of Cox at Cambridge discussing the various scientific inaccuracies within the song, until being ploughed down by Professor Stephen Hawking.
The Entire Universe will be illustrated with songs by Idle and John Du Prez – the pair behind the West End hit Monty Python's Spamalot – and choreographed by Arlene Phillips.
It will be filmed at the BBC's studios in Elstree in front of a live audience.  The show was commissioned by Shane Allen, controller of BBC comedy commissioning and is a BBC Studios Comedy production. The producer is Lisa Clark.  
Published: 23 Aug 2016
What do you think?