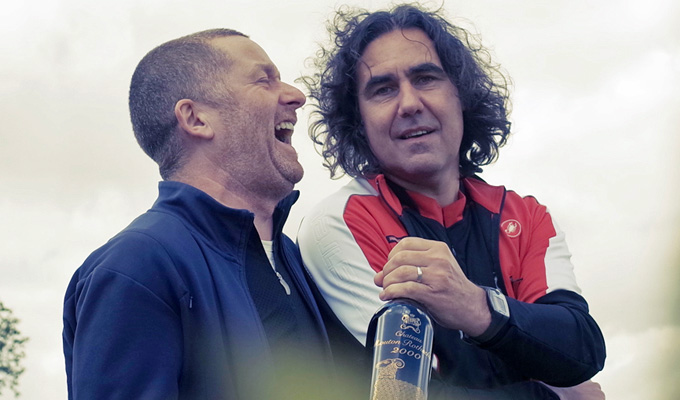 New tour AND TV series for Micky Flanagan
Micky Flanagan is filming a new six-part travelogue for Sky 1 – as well as planning a stand-up tour for next year.
Provisionally titled Micky Flanagan Detours, the documentary will explore 'big themes' such as the monarchy, class, gender relations and mid-life crises.
He has already asked Germans their opinion on Brexit – where he 'got some quite interesting reactions' according to a source from production company 7 Wonder – and he returned from filming in Las Vegas on Monday.
Tonight he will be at the male beauty pageant Mr World in Southport, and tomorrow hosts a 'British tea party' in the town, as he investigates patriotism.
Once filming has finished, Flanagan will start working on his first stand-up tour since 2013.
He sold out almost 7,000 tickets to work-in-progress shows within minutes yesterday. The initial 4,700 seats at venues across London this autumn sold out in under 60 seconds to members of his mailing list after being released at 9am, with a further 2,000 snapped up equally quickly.
Tickets for UK-wide work-in-progress shows will go on sale in November, around the time that Micky Flanagan Detours is expected to air.
The comedian's manager, Christian Knowles, told Chortle that the aim of Detours was to 'put to bed all the great issues of British society so Mickey doesn't have to think about them any more – so he can go to the pub and enjoy a pint.
'He'd like all issues signed off by Christmas ideally, so he doesn't have to think. He's a big thinker but it worries him that he's a big thinker.'
The six, hour-long episodes, which are co-produced with Flanagan's Double Busy company, aim to 'feel a lot different' to his 2014 Sky 1 documentary, Detour De France, which followed the previously reluctant traveller as he cycled the route of the famous cycling tour.
'He's not on his bike and I think he's quite glad about that to be honest,' the 7 Wonder source added. 'It's more of a traditional documentary, taking the big themes and speaking to people who are relevant to them.'
As well as Detour De France, 7 Wonder have previously co-produced the documentaries Lenny Henry's Got The Blues for Sky Arts and Billy Connolly's Tracks Across America for ITV.
Speaking to Chortle before Detour De France, Flanagan admitted: 'I hate living out of a bag and don't get a buzz out of being in airports. I want my own bed. Travel is a pain in the arse'.
Here's the trailer for the original series, also pictured above:
- by Jay Richardson
Published: 19 Jul 2016
Recent News
What do you think?