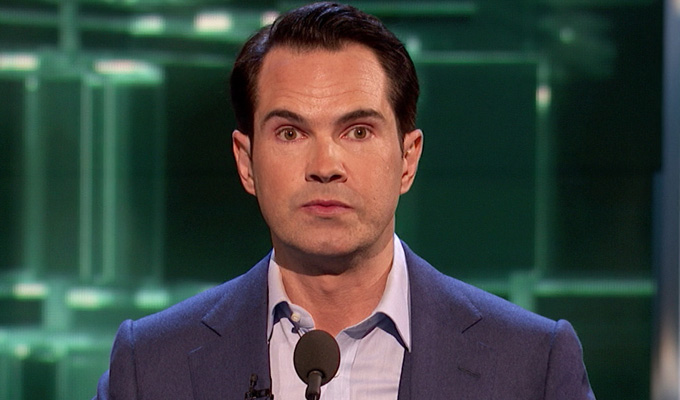 Jimmy Carr jokes about Sept 11 victim
Comedy Central has aired a brutal Jimmy Carr joke about one of the victims of 9/11 on the 15th anniversary of the tragedy.
The comic made the bad-taste quip about New York firefighter Scott Davidson at the roast of Rob Lowe, which aired in the UK in the early hours of this morning.
Scott's son Peter, 22, is now a comedian and Saturday Night Live cast member, and was also on stage at the event.
'I'm appalled that people would come here and make jokes about the sacrifice Pete's heroic father made on 9/11,' Carr said. 'This is not the roast of Pete Davidson's father. That was in 2001.'
Amid stunned laughs, the camera cut to Peter smiling, but seemingly taken aback by the blow. Lowe was seen saying in disbelief: 'Wow. Wow.'
Carr embraced the roast spirit, which encourages the most offensive personal gags with nothing off-limits, but his joke divided the audience:
Jimmy Carr on the Rob Lowe roast, absolutely brutal 😂 "This is not the roast of Pete's father...that happened in 2001" (9/11)

— Simon Harris (@Simon___Harris) September 6, 2016
Jimmy Carr's joke about Pete Davidson's dad getting roasted on 9/11 made me audibly scream #LoweRoast

— Rob Romeo (@RobbyIsAFreeElf) September 6, 2016
ok wow. I really thought Jimmy Carr was standing up for Pete but then he went with another gross 9/11 joke. How many more

— Julia Kloss (@RealJuliaKloss) September 6, 2016
Jimmy Carr making a joke about someone's dad dying during 9/11 to his face infront of the world is just bogus.

— Cameron Wallace (@JazzyPhantasm) September 11, 2016
@jimmycarr your dig at Pete Davidson's dad also got 1st Responders, every 9/11 victim, and all firefighters who've died. Wow! Brutal, man

— Charles Lee (@Goofyfan_Chuck) August 28, 2016
Pete Davidson has previously joked about his father's death. At the roast of Justin Bieber last year, he said: 'I lost my dad on 9/11, and I always regretted growing up without a dad … until I met your dad, Justin. Now I'm glad mine's dead.'
In explanation, the comic, who was seven when his father died, has said: 'There's nothing I won't joke about, and I think it's because of what happened to me. That's the worst thing that could ever happen to somebody. Now it's just like, "Who cares, man?".
Despite, or perhaps because of, the 9/11 joke, Carr was broadly acknowledged as the hit of the roast, which aired in America earlier in the week.
He was especially scathing about right-wing commentator Ann Coulter, who was the butt of the hardest punchlines of the show.
Carr likened here to a 'truck-stop transvestite whore' and said: 'Ann Coulter is one of the most repugnant, hateful, hatchet-faced bitches alive...but it's not too late to change, Ann. You could kill yourself.'
Coulter sat stony-faced through all the insults, endured through a thin smile. But her own set – in which she admitted she was only there to plug her new Donald Trump book which she placed on the lectern for the duration – was poorly received.
Carr's other targets included former quarterback Peyton Manning, saying the American football star 'played with some of the all-time greatest… rapist, murderers and wife-beaters', adding: 'The only people who get more concussions than NFL players are their wives'.
And of Lowe he said: 'He's like a Ken doll. He's plastic and often the first thing to enter a teenage girl's vagina.'
Here is Carr's section, with the Scott Davidson gag 2mins 30sec in.
Published: 11 Sep 2016
Recent News
What do you think?