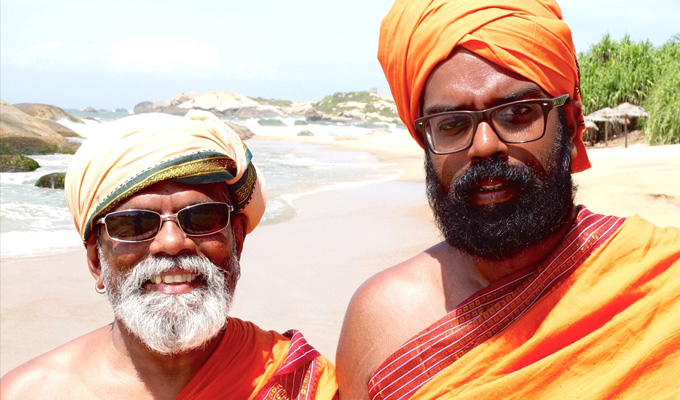 Rom on holiday
The comedy week ahead…
Sunday September 27
LIVE IN BRIGHTON: Eddie Izzard performs a late-night fundraising show for the Labour Party at the Dome as their conference kicks off in the city. There's another benefit for the local party at the Komedia tomorrow night featuring Arthur Smith, Jen Brister and Patrick Monahan.
LIVE IN LONDON: A typically strong Happy Mondays gig at the Amersham Arms in New Cross features Dane Baptiste, Nish Kumar, Sara Pascoe and regular MC Holly Walsh.
Tuesday September 29
LIVE IN LONDON: Tom Parry established himself as a solo talent away from his Pappy's sketch troupe colleagues with his solo debut at the Edinburgh Fringe this year. Now the unpromisingly titled, but best newcomer-nominated, Yellow T-Shirt begins a five-night run at the Soho Theatre. Review.
LIVE IN BURY: Ed Byrne kicks off his latest tour, Outside, Looking In, which will keep him busy well into next year. Dates
TV: Comedy Central airs the first Daily Show with Trevor Noah, having previously dropped the Jon Stewart version. The UK gets it a day after America, and the guest on this opening episode is comic Kevin Hart.11pm
Wednesday September 30
TV: Romesh Ranganathan travels to Sri Lanka to connect his roots in the new six-part BBC Three series Asian Provocateur. But the trip is mainly to appease his mother; the grumpy stand-up is typically not happy about the whole venture. On his travels he has his head rubbed with a chicken as part of a blessing ceremony, is bugged by his Uncle Thiru to invest in a elephant poo paper factory, and performs with local rap act MBZ. 10pm
RADIO: Meanwhile another part of the old Empire comes under the spotlight in A Beginner's Guide To Pakistan, in which comedian Sami Shah,visits Birmingham to give Radio 4 listeners an introduction to his homeland. 6.30pm
TV: Mathew Baynton, from Yonderland, The Wrong Mans and Bill, heads the ensemble cast Of You, Me And The Apocalypse, a sprawling new comedy-drama about mankind's final days that also features Pauline Quirke, Jenna Fischer, from the American Office, Megan Mullally from Will & Grace and Rob Lowe from Parks & Recreation. There's just 34 days to go before armageddon, and the future of humanity is sheltering in bunker deep beneath Slough. 9pm
Thursday October 1
LIVE IN SALFORD: No Such Thing As A Fish, the always-fascinating podcast from the 'elves' who do all the research for QI, kicks off a live tour at the Lowry. Dates
LIVE IN WINCHESTER: The city's four-day comedy festival kicks off tonight with QI creator John Lloyd, master observationist Hal Cruttenden and up-and-comers Paul McCaffrey, Fin Taylor and Phil Wang. Website
Friday October 2
LIVE IN BIRMINGHAM: Meanwhile, the highlight of the opening night of the second city's comedy festival - running until next Sunday - is a toss-up between provocative clown Red Bastard at the MAC and Tom Stade at the Comedy Junction in Sutton Coldfield.
LIVE IN GLASGOW: Provocative libertarian – and contrarian – Doug Stanhope pops over to the UK for a month, starting with a couple of nights of expert stand-up at the Glasgow Academy. Dates.
LIVE IN RUISLIP: If you're way out West of London, there's a fantastic double at the Comedy Bunker tonight, with astute social commentator Andrew Maxwell and lovable physical-comedy fool Spencer Jones as The Herbert.
TV: The Kennedys, BBC One's new 1970s-set comedy based on the memoirs of Emma Kennedy and starring Katherine Parkinson, Harry Peacock and Dan Skinner, launches tonight. In episode one Brenda (Parkinson) is determined to be the first person on Jessop Square to throw a dinner party. See some pictures here. 9.30pm.
Saturday October 3
LIVE IN BIRMINGHAM The biggest-selling comedy recording artist of all time, 'Weird Al' Yankovic is coming to the UK for three nights as part of his 2015 Mandatory World Tour, starting with the Birmingham 02 Academy tonight, Hammersmith Eventim Apollo tomorrow and the Glasgow 02 ABC on October 9. Expect to hear 'Word Crimes' - 27.5million views on YouTube and counting…

LIVE IN LONDON: The Union Chapel boasts far too many headliners for one gig, with stand-up, music, silent comedy and sketch all represented by The Boy With Tape On His Face,Reginald D Hunter, Roisin Conaty, Sheeps and The Horne Section
LIVE IN CARLISLE: A fine club night at the Old Fire Station features the exquisite puns of Gary Delaney, the affable self-deprecation of Justin Moorhouse, and musical comedy from Professor Brian Cox-lovin' Vikki Stone.
LIVE IN NOTTINGHAM: Two of comedy's most inventive older hands play Just The Tonic, with Brendon Burns raving from the heart, and Adam Bloom speaking from the head.
Published: 27 Sep 2015
What do you think?