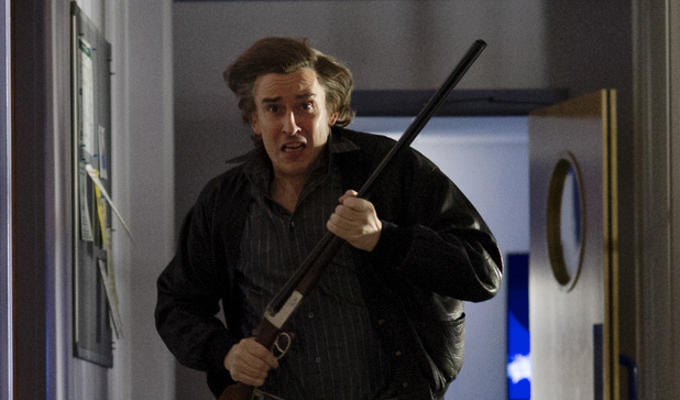 Alan Partridge movie tops UK box office
THE ALAN PARTRIDGE movie Alpha Papa is No. 1 at the British boc office. It took £2.17million over its opening five days, more than the other new releases Grown Ups 2 and the Lone Ranger. Steve Coogan released a statement in character saying: 'Now is not a time for gloating or celebration, more a time for healing old wounds, a time to say ''let us join together in thanks that I am number 1 at the box office'' Halleluja.'
AUSTRALIAN comic Rebel Wilson has been censored for cracking a joke about One Direction. Accept an acting prize for her role as Fat Amy in the movie Pitch Perfect, at the Teen Choice Awards, Wilson said: 'You know what's weird? When I found out that there was a band called One Direction, because that's the name I also gave my arsehole'. But the gag was beeped out of the family-friendly show.
SKY 1 has released the first trailer for Yonderland, its new eight-partcomedy from the starts of Horrible Histories. The show is about a mum, Martha Howe-Douglas, who unexpectedly finds herself in a fantasy land. The show was also written by and stars Mathew Baynton, Jim Howick, Simon Farnaby, Laurence Rickard and Ben Willbond.

I LOVE MY COUNTRY, the new panel show featuring Frank Skinner and Micky Flanagan, attracted an audience of 2.8million on Saturday night; very close to its opening episode ratings, but only half the average audience BBC One can usually expect for that 7.30pm slot.,
Helen Lederer is to appear on Hollyoaks. The comedian, who appeared on ITV diving series Splash! earlier this year, tweeted that she has been working Alex Fletcher and Nick Pickard, who play Diane and Tony, adding: 'See you in me nurses outfit.'
Published: 12 Aug 2013
What do you think?