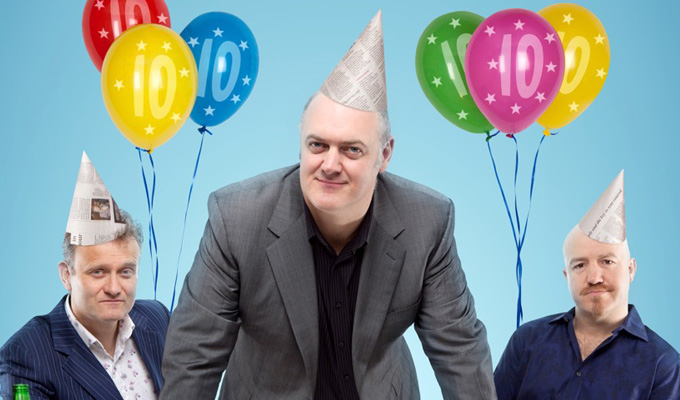 Mock The Weekipedia
Mock The Week is celebrating its tenth birthday this month – and as it prepares to return for its 14th series, with a run of 12 episodes starting on June 11, here are 15 random facts about the show:
• There have been 136 episodes so far, comprising 114 regular recordings, 14 compilations, seven Christmas specials and one New Year 'bonus' show.
•Including host Dara O Briain, 80 performers have appeared on the show.
•Dara and Hugh Dennis are the only people to have appeared in every single episode. Dara used to begin every show with a monologue about the week's news but this ended after series four.
• Ed Byrne has made the most appearances of any non-regular, with 32, followed by Milton Jones: (26), Josh Widdicombe (14) and Stewart Francis (12)
• Episode 1 was broadcast on Sunday June 5, 2005. The line-up was Frankie Boyle, Hugh Dennis and Linda Smith against Jeremy Hardy, Rory Bremner and John Oliver.
•When the show began, Tony Blair was still Prime Minister, Sven Goran Eriksson was still England football manager, David Cameron was a little known Shadow Education Secretary, Nick Clegg had been an MP for just a month and Barack Obama was five months into being a senator. The leader of Ukip was Roger Knapman, Andy Murray was ranked number 407 in the world at tennis. There was no such thing as Twitter, Facebook had only just started and Crazy Frog was at number one in the charts.
•The stand-up round was originally called 'Wheel of News', but after a rival show featured a round of the same name, the decision was made to change it. For episode two, it became 'Stand Up, Sit Down' and has changed name every episode since. Names have included: Ashley Cole Just Sent Me a Picture of His Mock, English Jokes for English People, Joke-o Ono and Mock-tor Quinn, Medicine Woman and Unexpected Item in the Gagging Area
• 68 different performers have faced the stand up wheel. It has revolved 377 times with Andy Parsons stepping up to the microphone most often, 64 times.
•Episode Six of Series One was cancelled as it was being recorded in central London on 7/7. A compilation was put out instead. The Show That Never Happened would have seen Andy Parsons, Greg Proops and Jo Brand as guests alongside Rory, Hugh, Frankie and Dara.
•The oldest performer to make a debut on the show was Clive Anderson who was 53. The youngest person to appear on the show was Jack Whitehall who was 21.
•The tallest performer to appear on the show is, unsurprisingly, the 6ft 8ins Greg Davies. The shortest guests ever to appear on the series are 4ft 11ins Sandi Toksvig, Lucy Porter and Susan Calman.
•Panelists Alun Cochrane, Micky Flanagan and Ben Norris were all former studio warm-up men for the show. Norris was the warm-up man for series 7 show 11m, but Frankie Boyle pulled out on the recording due to chest pains, so Norris stepped on to the panel.
•Rory Bremner and Jan Ravens are the only performers to have appeared on both Mock the Week and Strictly Come Dancing.
•During the recording each cast member is given a banana and a mug containing either water or a 'mystery brew'; occasionally they are allowed a chocolate or energy bar.
• Frank Skinner is the only winner of 'Rear of the Year' to have appeared on Mock the Week.
Published: 28 May 2015
What do you think?