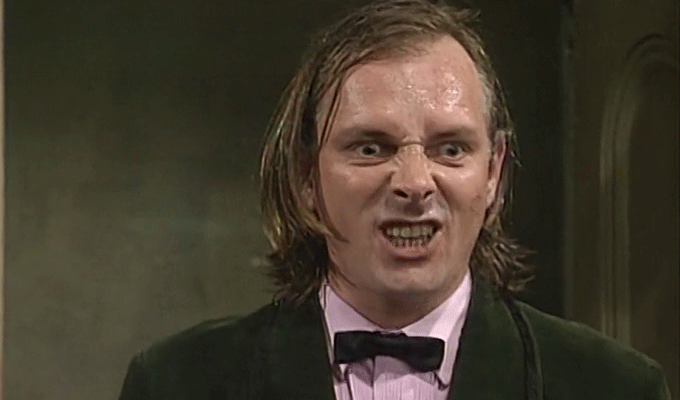 Goodbye, and thanks for all the laughs
2014 has taken its toll on the comedy world. Here we pay tribute to some of those who passed away after dedicating their lives to laughter…
Rik Mayall
It can be unfortunately easy to overlook a star's achievements while they are still with us; seemingly part of everyday life and with their genius tempered with human failings and the inevitable career duds. But Rik Mayall – entertaining to the end playing Greg Davies's dad on Man Down or lending his animated storytelling to Crackanory on Dave – was a colossus whose impact on the art form is hard to overstate.
Alternative comedy was, by its very premise, an amorphous movement of individuals all doing their own thing, but it was given the shape we would come to recognise primarily by Alexei Sayle, Rik Mayall and Adrian Edmondson, each bringing an intensity to the anarchy. They, among many like-minded performers of varying public visibility in the early Eighties, so heavily influenced a generation of now-fortysomething comedians by bringing the punk ethos to a staid comedy scene.
The message – behind all the bluster and cartoon violence, both verbal and physical – was that in comedy anything was possible if done with enough strength of personality. That idea has largely disappeared from a TV landscape now dominated by panel shows and shiny-floor stand-up extravaganzas with any sense of danger or unpredictability buffed down – but while Mayall's star shone at its brightest, you just had to stare at it.
He was the first of his generation to do so many things – which is why being the first to die, so suddenly and with such a high profile, had such an impact.
Robin Williams
Parallels exist between Mayall and Robin Williams, both supercharged forces of nature whose charismatic unpredictability held a magnetic allure. Williams, once the cocaine binges were exorcised, was a warmer personality, though – to the point of schmaltz in his more saccharine movies. But those character traits brought a playful humanity to his manic string-of-consciousness on stage.
Early in his stand-up career he was widely accused of being a joke thief, the kiss of death for most comedians. But Williams not only shook it off, he won the respect of his peers. When Billy Crystal hosted the Emmy awards this summer, he said of Williams on stage: 'The brilliance was astounding, the relentless energy was kind of thrilling' – and offstage 'he was the greatest friend you could ever imagine: supportive, protective, loving.'
That someone so gregarious and generous could also take his own life at 63 shows the cruel irrationality of metal illness. There's a reason why the 'tears of the clown' irony resonates so much, and tragic that Robin Williams became the latest to succumb.
Joan Rivers
Just weeks before her death, Joan Rivers was vilified for her comments that Palestinians casualties in Gaza 'deserve to be dead' - just the latest in the never-ending cycle of controversies she attracted both professionally and personally.
Yet if those protesting thought she would back down, they knew nothing of her steely determination that ensured she stayed at the very top of the stand-up pyramid for six decades – despite several major setbacks.
She infiltrated the boys' club of nightclub comedy, she burned her bridges with her powerful mentor Johnny Carson; she suffered bulimia and lost her beloved husband Edgar – and cracked jokes about it just days later. Her boldness as a comedian knew no bounds, trampling over boundaries in the comedy profession as freely as she trampled over boundaries of taste.
Plenty of her material might have been morally questionable, but that was no concern to her as she delivered the most acid-tongued insults she could muster in powerful tsunamis of bile. 'I've learned to have absolutely no regrets about any jokes I've ever done, she said. 'You can tune me out, you can click me off, it's OK. I am not going to bow to political correctness. But you do have to learn, if you want to be a satirist, you can't be part of the party.'
Inspired in part by the frankness of Lenny Bruce, she was open about her own life, from the endless plastic surgery to the personal setbacks, long before such openness was expected. She was a strong taste, not to everyone's palate, but her success showed the power of her determination.
Sid Caesar
'A giant - maybe the best comedian who ever practiced the trade,' Mel Brooks said of his friend Sid Caesar after his death in February at 91. And he said that of a man who once dangled him out of an 18th-storey window during a particularly tense writers' meeting… Another former colleague, Carl Reiner, said: 'Inarguably he was the greatest single monologist and skit comedian we ever had.'
Caesar helped define the golden age of American television in the 1950s thanks to Your Show Of Shows, a live, late-night cavalcade of fast-paced sketches, plenty of which would become classics; although the demands of the production would lead to furious outbursts, alcoholism and unhappiness – until he vowed to turn his life around in 1978, and in the 1980s he revived some of his classic sketches for the Broadway stage, making them hits once again.
On the enduring nature of his work, he said: 'Comedy is the truth. You can identify with the truth [and] truth doesn't change.'
The sitcom creators
There was a time when Jeremy Lloyd and David Croft's sitcoms dominated TV at home and abroad. Are You Being Served? was one of the most successful comedy exports of all time, and is still shown around the world, helping form an image of Britain in countless foreign minds. In total 69 episodes were made, plus 85 of Allo Allo – sitcoms on a near-industrial scale that could only be matched by the well-financed Hollywood machine.
Their ubiquity meant he characters and their catchphrases inveigled themselves into the public consciousness, making a notable impact on the cultural landscape. Not all the attitudes have dated well, and the formulaic episodes would eventually drive their running jokes into the ground, but their work became part of the fabric of the nation.
Croft died three years ago, and just before Christmas Lloyd, who was 84, joined him in the great writers' room in the sky….
We also Bob Larbey this year, dying in March at the age of 79. He had a similar influence with an impressive range of now-classic sitcoms. With his writing partner John Esmonde (who died in 2008) he created Please Sir!, Ever Decreasing Circles and The Good Life, plus A Fine Romance and As time Goes By on his own.
Each were notable for their strong, identifiable characters that audiences would come to love, a perceptive social edge, and great jokes – a formula that means they stand up to repeated viewing to this day, decades later.
The sitcom actors
The year has taken its toll on familiar faces – and voices –  from sitcoms, too:
Playing a dim-witted, naive antipodean, Bill Kerr was pretty much the only person Tony Hancock could legitimately look down on, contributing to the fine balance of relationships in the Lad Himself's eponymous half-hour sitcom. A monster hit on the radio, the show well ahead of its time – and still thoroughly entertaining to this day. It was often a show about nothing, long before Seinfeld popularised the phrase, so it was perhaps apt that just before he died at the age of 92 in August, Kerr was heard laughing at the US sitcom, one of his favourites.
Donald Sinden, that stalwart of sitcoms such as Two's Company and Never The Twain, died in September at the age of 90.
Roger Lloyd Pack, loved for his role as Trigger in Only Fools and Horses, died at the age of 69 in January.
Sam Kelly, who played Captain Hans Geering in 'Allo 'Allo, Bunny Warren in Porridge and Martin in My Family among many roles in his long career, died at the age of 70 in June. We also lost another Porridge actor, Ken Jones, who died in February at the age of 83. His other roles included The Liver Birds, Watching and Murder Most Horrid.
And Russell Johnson, who played The Professor in the classic American sitcom Gilligan's Island died at age 89 in January.
John Pinette
With only a small handful of TV and film credits to his name, John Pinette forged a successful stand-up career across the US and occasionally beyond. He long struggled with his weight –  reportedly topping 32 stone at one point, before losing almost half of that – giving him a distinctive physical presence that formed the cornerstone of his comedy. The title of four of his five albums, referred to food – the exception using his catchphrase 'I Say Nay Nay.'
After he was found dead in a Pittsburgh hotel rom in April – aged just 50 and after suffering from liver and heart disease – comics lined up to pay tribute to his warmth and generosity offstage which matched his cherubic demeanour on it.
Bill Burr called him 'a headliner both on an off stage. Such a great man. Truly inspirational,' while Jim Gaffigan said: 'He was always so funny, so generous and so kind.'
Even Just For Laughs, which runs the annual comedy festival in Montreal where Pinette was always a bestseller, paid tribute. In a statement they said: 'His passion to entertain, his contagious yet mischievous laugh, his genuineness, his smile, his friendship and his great success have made him a master of his craft and a true legend who will always live on'
Sunna Jarman
Not a famous comedian, nor even one with a cult following, Sunna Jarman was part of the thriving live scene from which almost all great British comedy spawns.
The overriding message from all the tributes paid to the 40-year-old after she died earlier this month was that she was one of the people whose presence unfailingly made the circuit a better place. In this part of the comedy world where demands are high and rewards low, many comedians spoke of how her cheery outlook and warm nature brightened up any gig where they were lucky enough to share a bill with her.
Also missed
Right at the start of the year, Simon Hoggart, the former host of Radio 4's News Quiz, died at the age of 67 from pancreatic cancer. And right at the end, David Ryall, known as Frank from Outumbered, among other roles, died on Christmas Day at 79.
Director Harold Ramis, responsible for some of the biggest comedies to come out of Hollywood, including Ghostbusters, Caddyshack, Stripes, Groundhog Day and National Lampoon's Animal House, died in February at 69 after a long illness.
Chris Luby, one of the more unforgettable comedians from the early days of alternative cabaret with an act that involved impersonating aircraft, racing cars and the entire Trooping The Colour using only his vocal talents, died in January.
Elaine Stritch, the larger-than-life Broadway legend who found a new generation of fans playing Colleen Donaghy, mother of Alec Baldwin's Jack Donaghy, on 30 Rock, died in July at 89.
Another grande dame of comedy, the actress Dora Bryan died in July at 91. Her career spanned more than 100 films and TV series including Last of the Summer Wine, Dinnerladies, the St Trinian's films and Absolutely Fabulous.
From an almost forgotten age, Eli Woods, a variety era comic  best known as Jimmy James's stuttering stooge has died at the age of 91 in May. Tony Gray, one of Britain's more eccentric and best-known clowns of the Fifties and Sixties, died at the age of 86 in April.
Mike Elliot, a Newcastle comedian who also hosted radio shows in the region, died at the age of 68 just before Christmas following a battle with cancer.
American comic Otto Petersen, the creator of foul-mouthed puppet act Otto & George, died at the age of 53 in April.
Mike Nichols, the former comedian who went on to direct acclaimed movies including The Graduate, Catch-22 and Postcards From The Edge, who died in November aged 83.
Though not especially known in the UK, comedian and disability rights campaigner Stella Young was a strident, funny voice on the Australian stage and in the Australian media. Her death in December at 32 was a great loss. And in New Zealand, stand-up Ewen Gilmour died in his sleep at the age of 51 in October
And finally, not a comedian, but embraced by them, cancer sufferer Stephen Sutton died in May at the age of 19, having raised more than £3.2million for charity. Jason Manford was the most vocal cheerleader for his fundraising, but the whole comedy world rallied around the inspirational teenage with well-deserved support from the likes of Jack Whitehall, Al Murray, Steve Coogan, Ricky Gervais and Bill Bailey. His was a short life, but an incredible one
Published: 31 Dec 2014
What do you think?