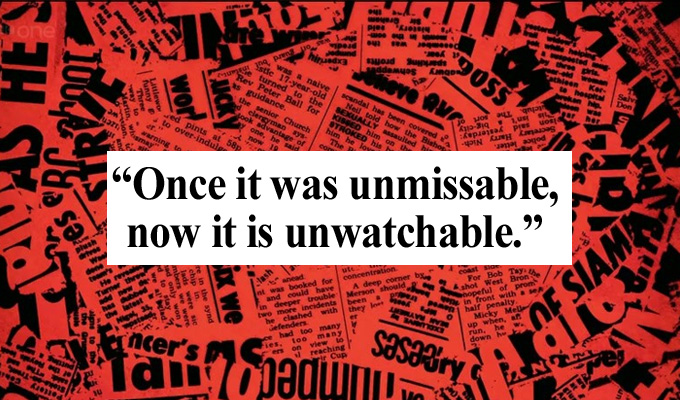 Got The Nine O'Clock Blues
Some comedy fans who were around before the alternative comedy revolution may think themselves as urbane, enlightened, liberal people who rejected the racism, sexism and crude stereotypes of the comedy scene of the Seventies. Some of today's comedians have been criticised for being throwbacks to the bad old days but there is one living legend of the modern scene that is depressingly reliant on chinky jokes, jock jokes and other types of jokes involving punching down which, for some reason, hasn't received the same level of vilification. Who? It's a what, not a who.
I used to watch Have I Got News For You avidly but it ceased to be an 'appointment to view' and episodes stacked up unwatched on my PVR. However, negative press reactions to one recent episode made me watch it and then wonder how long the show had been that bad.
On April 26 this year, the show featured a question about Scottish independence and the video clip featured Scottish dancing, politicians and more Scottish dancing. During the subsequent discussion, host Ray Winstone told a joke about Scotland's chief exports being 'oil, whisky, tartan and tramps' and then asked the studio audience to vote on whether, 'we should just tell the Scots to bugger off'. Perhaps licence-payers in Scotland should have their own topical news quiz.
In the episode of December 14, 2012, Charlotte Church told a joke about the North Korean space programme planning to put a dog into orbit. 'If all goes well the North Korean scientists hope it will crisp up nicely on re-entry,' she said. If one chinky joke wasn't enough there was a picture joke about a Chinese man who looked like Alan Carr.
Earlier that year Kirsty Young read out a dog-eating joke and some Scottish jokes but I can't recall if they were the same Scottish jokes as Jo Brand's or those made during Alastair Campbell's appearance. You don't have to be from Scotland or the Far East or a member of the PC brigade to disapprove: you could just be a fan of original comedy.
Yet the studio audience which voted to tell the Scots to bugger off also applauded Winstone when he called a county councillor who made sweeping generalisations about Pakistani schoolchildren 'a prat' and earlier episodes have included jokes mocking Prince Philip's archaic attitudes. Making jokes about other people being racist is hypocritical and hollow if you make jokes the late Bernard Manning might have enjoyed.
However, there's another type of joke that feels even more common, and that's fat jokes. For years they were usually 'John Prescott is fat' jokes but at some point years after he retired from frontline politics they were replaced with 'Eric Pickles is fat' jokes. That's the sort of well-researched hard-hitting satire that only the BBC can produce.
I almost feel sorry for the guest hosts who are given such appalling scripts containing so many overused hacky jokes. So many of the jokes in the show are old and some of the hosts and guests are so familiar that episodes I hadn't watched before felt like repeats.
Other jokes feel familiar because they HAVE been elsewhere – and seen by thousands or millions of people. The episode containing the Korean space dog joke about featured a clip from the One Pound Fish song video (23 million YouTube views). When you watch a topical news quiz do you want to hear the One Pound Fish song or see photos of cats that look like Hitler or photos of the world's worst waxworks or a video of a man in swimwear who looks vaguely like Ed Balls dancing energetically or a collection of photos of badly-installed toilets which has been online for nearly two years?
One viral video shown on Have I Got News For You was Fenton the dog chasing deer in a London park. After it was shown Paul Merton asked 'Why did people think that was entertaining?' and said 'I'm in the wrong business'. When asked what The Sun's headline for the Benton story was he replied 'Humanity reaches the bottom of the barrel. We are all doomed. Will the last person to leave the planet tell Fenton. Human beings duped into watching crap on new invention.'
You don't need a new invention to watch crap because Have I Got News For You devoted four minutes of prime-time TV to Fenton, Gavin the world's most sarcastic gorilla and a video of a cyclist being knocked off a bike by a deer. The show is in the business of broadcasting viral videos. If that's satire then I'm a banana. If that's the level of comedy the show's aiming for, rename it Have I Got Links To Make You LOL and move it to E4. If Paul Merton thinks such videos are crap, he should resign from the show.
Producers sometimes still aim for hard-hitting satire, most notably in the episodes in which someone such as Conrad Black or Alastair Campbell is brought before Ian Hislop, a Jeremy Kyle for the ruling classes who interrogates and humiliates brazen reprobates on national television. The most famous example of such a show trial concerned Angus Deayton who committed the sins of gluttony and fornication and was cast out of heaven.
However, when Jimmy Savile's abuse became public Have I Got News For You targetted internet hoaxers and the tabloid press rather than the BBC which employed Savile for decades. The conviction of Stuart Hall, another BBC employee, was not covered at all, despite happening before lunch on the day an edition was recorded. I like satire made without fear or favour and I certainly don't like satire to be replaced with corporate spin, which resembles the tactics used by Alastair Campbell.
The show isn't a format: it's a formula: familiar faces + a bit of hard news + lots of trivia + lots of old jokes + pictures and videos found online = money. You could base a bingo game on its guests, mannerisms and jokes. A permanent host or new team captains won't make any difference if the problem is the script, the jokes, the laziness, the dumbing-down...
Comedians and former guests on the show have also pointed out its flaws. Will Self has been a guest ten times but after his appearance in November 2007 he wrote an article in which he said that it was his last as the show had lost its bite.  I enjoyed his appearances and I would have loved to hear him joke about the financial crisis, the parliamentary expenses scandal, the Coalition, phone hacking or Jimmy Savile on the show but it didn't happen and I don't blame him for that loss.
A week earlier Ann Widdecombe made her second and final appearance. I haven't missed her as much but it might have been interesting to hear her views on the expenses scandal. Stephen Fry (three appearances) has boycotted the show since the sacking of Angus Deayton, a decision he described as 'greasy, miserable, British and pathetic'.
Frankie Boyle (two appearances) has criticised the show, with his agent complaining that his best material had been cut. In response Paul Merton said 'we did him a favour. He didn't look good' and that comedians from Mock The Week 'forget that we have a different audience. A brighter audience, dare I say.'  Presumably if Mock The Week didn't show any cats that look like Hitler it's because the show's audience wouldn't be bright enough to get the joke.
The production team annoyed Doug Stanhope by asking for six free tickets to his London shows (a hundred thousand views of the response he posted on YouTube which sadly hasn't been broadcast on Have I Got News For You). Add others who won't appear on HIGNFY or any panel shows (such as Billy Connolly, Daniel Kitson, Dylan Moran, Ricky Gervais and, following a brief flirtation with the genre in 2006, Stewart Lee) and you could make a dream guest list for an entire series of HIGNFY.
If you don't believe me, make a list of the era's best comedians, writers and independent-minded politicians, then compare it with a list of the people who have appeared on the show. Have I Got News For You has few guests who are better than third-rate. It's a bad showcase for bad comedians, bad writers and attention-seeking politicians.
Have I Got News For You was sharp, intelligent, relevant, fearless and hilarious but over the 45 series following its first broadcast on BBC Two in 1990 it has become blunt, dumb, irrelevant, cowardly and unfunny. I used to think it was unmissable but I now find it almost unwatchable. It's a shadow of its former self. The big beast of TV satire has lost most of its teeth, leaves difficult food untouched, is slow and lazy, walks around in tiny circles and stinks. If Have I Got News For You was an animal it would be put to sleep.
I expect the show will continue. Even if it has betrayed its values and is losing its long-standing viewers, it's too valuable to those still involved. Besides, it might get better. Old jokes may be retired, obvious jokes may be avoided and new jokes may be written. More major news stories may be covered and tackled fearlessly.
While I'm waiting and hoping could I please have some quality topical TV satire? Could I please watch a stand-up show in which comedians are given as much freedom as possible to create hard-hitting passionate topical comedy about major news stories, the show that Stand Up For The Week should have been? I'd rather watch ten minutes of new topical comedy from Doug Stanhope, Frankie Boyle or Stewart Lee than another lacklustre series of Have I Got News For You.
Could I please watch a comedy version of Question Time with four comedians and one politician on the panel, the show that Frank Skinner's Opinionated should have been? Could I please watch satire that makes me gasp at its audacity, applaud its originality, admire its diligence and eagerly await the next episode like Have I Got News For You used to do? Or do viewers have to find or make their own satire now?
Tweet
Follow @chortle
Published: 10 Jun 2013
Recent Opinions
What do you think?