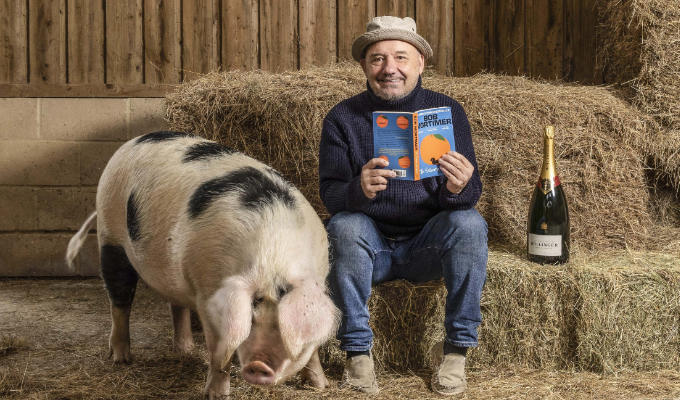 Bob Mortimer scoops a book award for The Satsuma Complex
Bob Mortimer has won the Everyman Wodehouse Prize for Comic Fiction for his debut novel The Satsuma Complex.
The novel, inspired by his early life as a trainee solicitor, took the award as it 'best evokes the PG Wodehouse spirit of witty characters and perfectly-timed comic phrases'.
Mortimer's prize includes a jeroboam of Bollinger Special Cuvée – equivalent to four normal bottles of champagne – and having pig named after his winning book.
The comic said he was 'really chuffed to have won', adding: 'What a treat to have an old spot pig named after the book. I still have no idea if I can actually write but this award gives me fresh hope. Cheers!'
Peter Florence, chair of the judges and a literary festival producer, said: '[Mortimer] approaches the world with a sly, mischievous smile. I guess this is what happens when you turn a brilliant, oblique comedic attention to life.
'The language and the tone tip your perception all the time, and he has this strange ability to keep the reader on the very brink of guffawing for whole chapters at a time.
'You get to love all these characters, the good ones and the bad ones and the very bad ones. And you'll start talking to squirrels. And then you'll have to think around what that's achieving for you.'
The award, now in its 23nd year, is the UK's longest running prize for comic fiction and is designed to highlight the funniest novel of the past 12 months. The other 2023 shortlisted titles were: Darling by India Knight; Didn't Nobody Give a Shit What Happened to Carlotta by James Hannaham; Mother Hens by Sophie McCartney; Murder at Crime Manor by Fergus Craig and Teen Couple Have Fun Outdoors by Aravind Jayan.
Victoria Carfantan, from sponsors Bollinger said: 'As always, the judges have had a difficult time picking the winner of this year's prize, but The Satsuma Complex really does seem to tick all the boxes.
'Funny, clever, and with Bob Mortimer's very distinctive voice, it's the perfective literary accompaniment to a good glass of Champagne Bollinger.'
The other judges for this year's prize were comedians Pippa Evans and Sindhu Vee, broadcaster James Naughtie, publisher David Campbell and Hay Festival vice-president Justin Albert.
Previous winners have included Terry Pratchett, Alexander McCall Smith and Nina Stibbe.
» Our review of The Satsuma Complex
Thanks for reading. If you find Chortle's coverage of the comedy scene useful or interesting, please consider supporting us with a monthly or one-off ko-fi donation.
Any money you contribute will directly fund more reviews, interviews and features – the sort of in-depth coverage that is increasingly difficult to fund from ever-squeezed advertising income, but which we think the UK's vibrant comedy scene deserves.
Published: 20 Nov 2023