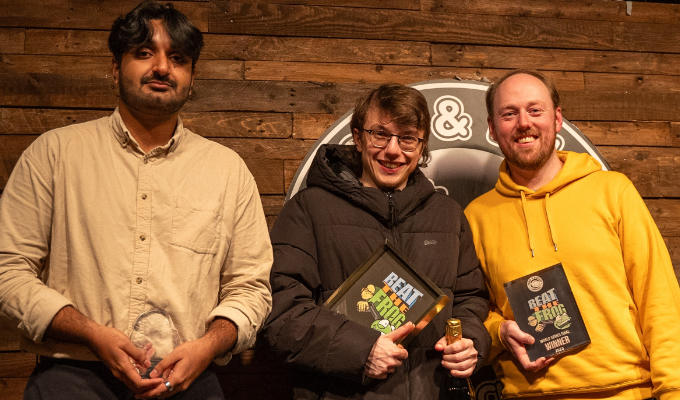 Australia's Peter Jones wins Beat The Frog
Australian comedian Peter Jones has won this year's Beat the Frog World Series, the long-running talent hunt run by Manchester's Frog and Bucket comedy club.
Northern Irish comedian Daniel McCreanor, centre, was runner-up in a vote by last night's audience and Qasim Akhtar, left, from Bury won the panel prize chosen by industry figures.
The other finalists, compered by former winner Brennan Reece, were Alex Bertulis-Fernandes, Caryl Burke, Adam Evans, Kevin Finn, Rheanon Lee, Blank Peng and Al Stevenson.
Jones has appeared on TV in his native Australia, performing stand-up on Comedy Up Late from the Melbourne International Comedy Festival, below, and has written on the show The Project and The Weekly.
Beat the Frog is a weekly, gong-style new act night, although the final does away with the red cards that lets the audience remove acts that they don't enjoy.
Previous winners have included the Sam Gore, Rob Mulholland, Carl Hutchinson and Dan Tiernan, who went on to win the BBC New Comedy Award and a best newcomer nod for his Edinburgh Fringe debut this summer.
A full review is here.
Published: 7 Nov 2023