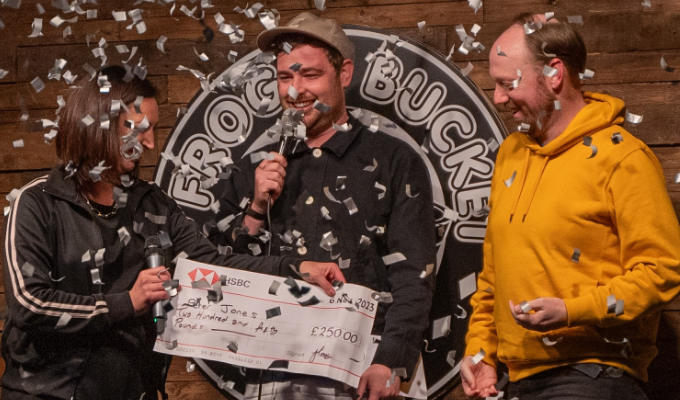 Beat The Frog World Series Final 2023
Often new act competitions have a clear winner – a stand-out star-in-the-making, clearly head-and-shoulders above their contemporaries, however talented. Last night's Beat The Frog World Series final, however, was much closer to call. Any number of the acts could have taken the title without controversy, having bought various talents to the stage.
In the end it went to Peter Jones – pictured above with host Brennan Reece and venue boss Jess Toomey – defying the received wisdom that going on first is a poisoned chalice – and on an audience vote to boot. He's already had some success in his native Australia, which showed in a relaxed delivery, concealing strong jokes though a hapless everyman persona and casually getting the audience on board with a few well-judged conversational gambits.
Quips about his baldness go beyond the usual stand-up ice-breaker about a comedian's appearance, with some deft gags contrasting how he normally looks, compared to the creepy vibes he exudes with a combover of what little hair he has. Dry, self-deprecating jokes are deftly crafted as he dryly muses about why life's vicissitudes always seem to happen to him, from bizarre bird strikes to orang-utan encounters.
Chinese comic Blank Peng has become almost a permanent fixture on new comedy competitions at the moment, and again she shone with her mischievous take on the undemocratic, authoritarian, misogynist surveillance state back home, performed with a faux innocence.
Britain's own imperial history is also fair game as she tacitly acknowledges the complex relationship between colonial powers past and future, and who really holds the power when it comes to punching up or punching down. It's fertile territory – and very pertinent – and this smart operator is perfectly placed to explore it.
We reviewed Kevin Finn yesterday at Hot Water's Breakthrough Act Of The Year Final in Liverpool, and again this larger-than-life Canadian powered through with a high-octane performance, a fast-paced maelstrom of accents, songs and sheer camp energy that makes him seem like a one-man cartoon character.
His material is relatively slight, but with a bright, cheery demeanour and cheeky glint in his eye – especially when mocking the vocal mannerisms of various British regions – his strength of personality ensures his set is a delight, and was enthusiastically received.
In contrast, Daniel McCreanor was virtually rooted to the spot for his calmer routine, his eyes fixing on one corner of a roo, then another. But his material has a bit of an edge, underlined with his declamatory Belfast delivery to that give his lines extra oomph.
He's a bit of nerd – a dedicated Doctor Who fan, for starters – with that image emphasised by the way he performs in a zipped-up padded anorak (for which there is a reason). And when he talks about female school hockey coach sleeping with a male student, his reaction is to consider his schoolmate a legend. That's not an especially novel point of view, but his demeanour of being an oddball outsider elevates the material, and earned him the runner-up spot.
Caryl Burke shared an amusingly jaundiced view of men, both in general and in specific – based on a chequered history with the dating apps. She gets the ick with just about everyone she meets, partly down to her sensitivity toward the slightest of red flags, but largely because most of her dates seem properly awful.
Maybe she hit a nerve with some blokes in the audience, as one of them grassed her up by sending Chortle an email while the show was still going on to point out that one key line she used has been shared widely on Twitter over the years. That would need addressing, though Burke's cynical attitude is appealing.
Rheanon Lee also needs to grow as a writer, although she cuts a thoroughly engaging character on stage, cheerfully wry about certain aspects of her disability, not least in the unthinking things people say to her, well-intentioned or otherwise.
Her approach is a little straightforward, but she's delightfully upbeat company, especially when sharing more specific personal experiences, such as her mum's ill-advised solution to her inability to open an umbrella. She seemed like one of the less experienced comics on the bill, and a couple more years on the circuit will hopefully polish her obvious talent.
Adam Evans is another promising act who would benefit from more gig hours to finesse his nervous delivery until it's underpinned by an understated confidence - although he would never want to entirely lose the awkward timidity that his his shtick.
Some of his material is anti-comedy, deliberately clunky jokes or terrible chat-up lines, which he attributes to a Hugh Grant-style tendency to gabble, or become over-polite when social jitters overwhelm him. That comparison is emphasised by his RP accent, which he says his social status doesn't warrant.
Another sign of inexperience was stuffing his landing by ending with a confusing tag to a routine the audience was already not on board with. But he has the kernel of an intriguing persona and promising writing, so don't be surprised to see him making waves eventually.
Al Stevenson combines the blunt double-entendres of Julian Clary with the bored, world-weariness of Jo Brand. Those contrasting attitudes shouldn't really work together, but they mostly do, even if Stevenson never really lets the audience feel relaxed in his confronting presence.
His personality seems spilt, too, between his camper instincts and his upbringing in one of the rougher districts of Newcastle. But both parts of his character embrace a withering sarcasm, whether it's towards the front row, where his banter can havecruel edge, or in observational routines about the likes of dementia-friendly ambulances.'
Alex Bertulis-Fernandes was probably the most talented writer of the night, packing her set tightly with smart, elegantly-crafted gags from dating-based wordplay to darker material about the morning-after pill, delivered with a fake innocence.
However, she was also a less natural performer than many of the other acts, her chilled delivery sometimes a little too detached as she lets the jokes speak for themselves. Thankfully, they speak volumes.
Finally came Qasim Akhtar, who won the panel prize from industry figures in the room. Another performer who leans into his awkwardness, his set is a mixed bag with a few lines that seem familiar and predictable – even a '… and that was my mum' pull-back-and-reveal.
But he also has also more promising moments, especially when teasing the audience about the lack of racial diversity in the room with a well-chosen analogy, or speaking about being his ex. Hopefully the judges' citation will be the spur to work on these more inventive aspects.
Thanks for reading. If you find Chortle's coverage of the comedy scene useful or interesting, please consider supporting us with a monthly or one-off ko-fi donation.
Any money you contribute will directly fund more reviews, interviews and features – the sort of in-depth coverage that is increasingly difficult to fund from ever-squeezed advertising income, but which we think the UK's vibrant comedy scene deserves.
Review date: 7 Nov 2023
Reviewed by: Steve Bennett