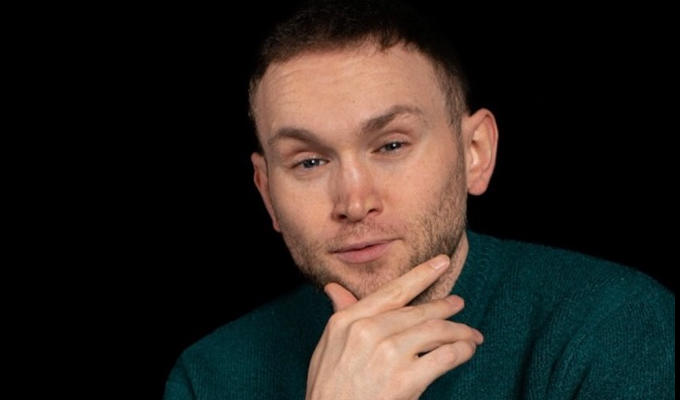 Hot Water Breakthrough Act Of The Year Final
Hot Water's breakthrough act of the year competition is one of the comedy circuit's less structured competitions. Rising stand-ups cannot enter, but get chosen by the Liverpool club's management; there are just three heats, each sending acts to the final; and the prize is kept secret till the end.
That process delivered an all-male final last night, compered by Danny McLoughlin using quick-witted crowd work of the sort the venue likes to promote on its prolific social media channels.
Opening act Liam Bolton offered a quirky way of setting up below-the-belt material, a winning mix of the slightly crude mainstream and more adventurous set-ups, especially thanks to the clever interlinking idea that he 'can't stand having a body'.
Including impressions, props and even a break for a mini-podcast into the mix suggests a comic willing to try anything for a laugh, and there's a strong streak of silly to contrast to his slightly intimidating appearance.
His limited time was slightly derailed by a woman in the audience asking him a very detailed question about skips, clearly mistaking him for a council waste specialist not just a bloke telling a joke about visiting the tip, but he dealt with it appropriate teasing. And, realising he hadn't got enough time left to embark on a new routine just let the clock run down, demonstrating a confidence on stage. Promising stuff, even if some of the material might benefit from finessing.
Hagrid lookalike Mike Carter stuck to fairly familiar territory, from not lasting long in bed to cheating the FitBit – and the sort of activity that might register a lot of wrist movement – though the way he set those gags into a story was more creative than the jokes themselves. But a couple of lines about vaginas, crucial to his set, are unpleasant, even if he tries to distance himself from the comments by making how crude they are seem like the gag.
Jon Capewell mined the safe comic territory of how being in his 30s isn't like being his 20s, and how relationships changes over time, from presenting your best self on early dates to happily going to the toilet in front of each other a few years in. It's identifiable stuff – either from life or from other comics who have trod similar ground over the years – and goes down well, either despite or because of its lack of originality.
Harry Stachini has a keen observational eye, starting with a delightful mini-sketch recreating a couple's spitefully passive-aggressive row in the middle aisle of Lidl. That's followed by another couple of re-creations: the first imagining a more contemporary, socially aware version of a children's nativity play, the second his increasingly agitated flatmate arguing with Alexa, which can't understand his South African accent.
He brings these scenarios to life with vivid characterisations and the assured presence of a detached observer. He's already got a couple of Edinburgh hours under his belt, which shows in the maturity of the writing, and was awarded the runner-up spot tonight.
Faizan Shah comes on to the stage with a swagger and a flex amusingly out-of-character for his rather mild-mannered, geeky demeanour. He has a fine anecdote about working on airport security, and witty takes on the prejudices inside his family. His political material is less original and more naive, joking that Liz Truss killed the Queen or explaining why he decided there's no such thing as white privilege, but evokes a funny of a very rare visit to the pub to watch an MMA fight.
Brash and camp, Kevin Finn calls to mind fellow Canadian Phil Nichol – as well as a touch of Kenny Everett – with his super-energetic set. He starts by belting out a Queen number, leads a singalong and displays a truly impressive range of accents, from Essex to Yorkshire… and, of course, Scouse, which could be a high-risk manoeuvre here, but the audience delight in his increasingly shrill representation.
There's not a huge amount of material beneath this rocket-powered performance, but it's so much fun that barely matters.
However, it seemed the best was saved for last, as seventh act Ben Silver, pictured, took the title and the hitherto secret prize – a few hundred quid.
He's slightly nerdy, with a keen sense of the ridiculous, which he only acknowledges with the slightest of half-smiles. 'Mad innit?' becomes a catchphrase, especially potent after he's regaled the audience with a preposterous fantasy.
Silver's sense of humour ranges from short wordplay to dubious-taste 9/11 gags and a meta-routine in which the subject of a joke becomes aware of being it in. A bit Stewart Lee, this section, but Silver gets away with it. And all is packaged in a confidently awkward persona, if that's not an oxymoron, that makes sharp punchlines feel like casual asides and afterthoughts. As the most original act on the bill, he made a worthy winner.
Thanks for reading. If you find Chortle's coverage of the comedy scene useful or interesting, please consider supporting us with a monthly or one-off ko-fi donation.
Any money you contribute will directly fund more reviews, interviews and features – the sort of in-depth coverage that is increasingly difficult to fund from ever-squeezed advertising income, but which we think the UK's vibrant comedy scene deserves.
Review date: 6 Nov 2023
Reviewed by: Steve Bennett
Reviewed at: Liverpool Hot Water Comedy Club