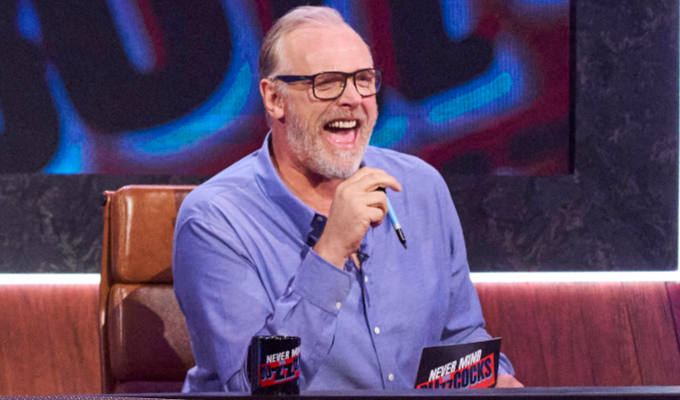 Taskmaster, Buzzcocks and The Cleaner...
Here's our pick of the week's best comedy programmes on TV, radio and on-demand:
Monday September 20
RICHARD OSMAN'S HOUSE OF GAMES This week, comics Ed Byrne and Ingrid Oliver take on former Great British Bake Off contestant Ruby Bhogal and rower and broadcaster. Matthew Pinsent. BBC Two, 6pm.
BRITISH AS FOLK: Darren Harriott, Fern Brady and Ivo Graham visit the Welsh valleys in this week's show, and meet indie rock band Adwaith and the Treorchy Male Choir and visit the Palpung Changchub Dargyeling Tibetan Buddhist Centre. Dave, 10pm
MAX WALL: IT'S GOT TO BE FUNNY: In this 1983 interview, Max Wall, one of Britain's greatest physical comedians, traces his life and career - including the affair that nearly ended it. Talking Pictures TV, 3pm
Tuesday September 21
NEVER MIND THE BUZZCOCKS: Greg Davies hosts the rebooted music quiz with team captains Daisy May Cooper and Noel Fielding, plus regular Jamali Maddix. Tonight's guests are Nish Kumar, singer Anne-Marie and Little Mix's Jade Thirlwall. There are interviews with all the regulars here. Sky Max, 9pm
ALAN DAVIES AS YET UNTITLED: Andy Field, Geoff Lloyd, Lou Sanders and Guz Khan share their favourite anecdotes. Dave, 10pm
Wednesday September 22
NJAMBI McGRATH: BECOMING NJAMBI: In this new four-part series, the Kenyan born comedian traces the roots of her upbringing and the colonial British influences that shaped her life. Radio 4, 11pm
WHAT'S FUNNY ABOUT... Producers Peter Fincham and Jon Plowman start a second series of their show looking into some of Britain's favourite comedy programmes. In the first episode they speak to Ricky Gervais about The Office, who reveals how a combination of Homer Simpson, Jimmy Cagney, and a bloke with a ponytail who worked at a temp agency in Reading all helped inspire the character of David Brent. Next week they discuss Have I Got News For You, followed by Smack The Pony the week after. This half-hour broadcast is an edit of an hour-long version airing on Radio 4 Extra at 10.30pm tomorrow. Radio 4, 11.30am.
Thursday September 23
TASKMASTER: Greg Davies and his loyal lickspittle, Little Alex Horne, return for a 12th series, with Alan Davies, Desiree Burch, Guz Khan, Morgana Robinson and Victoria Coren Mitchell competing for the honours. There are interviews with all the contestants here. Channel 4, 9pm
Friday September 24
THE CLEANER: Just to complete Greg Davies's domination of primetime comedy this week, this episode of his sitcom has his crime scene cleaner stuck outside the deceased's house where he meets the radical vegan (Ruth Madeley, from Years And Years) who lives next door. BBC One, 9.30pm
MR MAYOR: In this new US import, sitcom king Ted Danson stars as a retired Los Angeles businessman who decides to run for mayor of his beloved city... and pulls off a surprise victory. Holly Hunter stars as his politically savvy deputy. Sky Comedy, 8.30pm
THE LAST LEG: Fresh from their Tokyo Paralympic specials, Adam Hills, Alex Brooker and Josh Widdicombe return for a 23rd series of their topical show. Channel 4, 10pm
Published: 19 Sep 2021
What do you think?