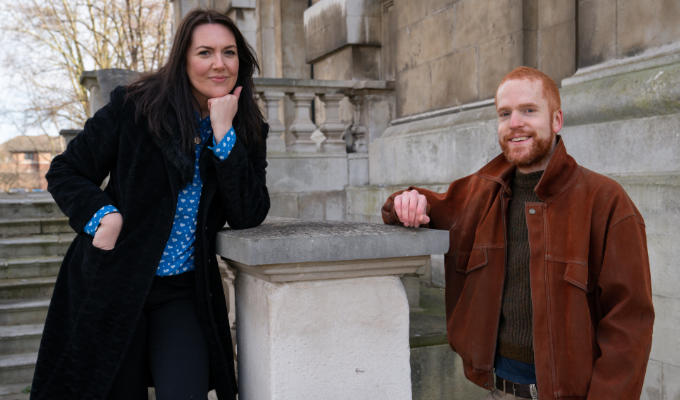 Comics give messages to their younger selves
The week's best comedy on demand. For more streaming gigs use the search box with 'online' as the region.
Saturday March 6
BARREL OF LAUGHS: During lockdown, Manchester's Frog and Bucket has been kitted out with all the streaming tech it needs, and tonight launches a run of live Saturday-night shows from its venue with Justin Moorhouse, JoJo Sutherland, Matt Stellingwerf and Brennan Reece. The Monday-night Beat The Frog new act challenge will also be live-streamed, kicking off with an all-female line-up for International Women's Day this week. More on the venue's website.
Sunday March 7
YOUNG ONES QUIZ: Today would have been Rik Mayall's 64th birthday, and to mark the occasion Robin Ince and Jose Long hosts a quiz about the groundbreaking sitcom that propelled him to fame. It comes a day after superfan Ince appears on Celebrity Mastermind with the show as his specialist subject. The live quiz features guest appearances from the likes of Ian Rankin, Sara Pascoe... and even Young Ones co-writer Lise Mayer. It takes place on the Cosmic Shambles Network from 6.30pm.
Monday March 8
DEAR ME: Katy Wix and Adam Drake take guests back to the places of their youth in this new podcast series. In each location, the guest talks through their memories and gives a message to their younger self. It launches today in all the usual podcast places with Liam Williams up first, followed by Kiell Smith-Bynoe and Lou Sanders the next two Mondays. The following set of three episodes will then be released in autumn.
A LOVELY TIME: In this new podcast, comedian and actress Amy Gledhill, a solo performer as well as being half of the Delightful Sausage double act, interviews comedians about what makes their perfect day. The first episodes will be released today with guests Poppy Hillstead and Maisie Adam, followed by Jordan Brookes on Wednesday, then a double header of Jonny Pelham and Sophie Willan on Friday. From then on episodes will be released every Monday morning.
PUTTING A FACE ON: Kiri Pritchard-McLean has written this 'funny, dark and ultimately empowering monologue about gaslighting', which Chewing Gum star Susan Wokoma has performed for London's Old Vic Theatre. It will be streamed for free on You Tube from 10am today, to mark International Women's Day.
Wednesday March 10
ALWAYS BE COMEDY: There's an alluring line-up for the virtual venue's weekly stand-up gig tonight, with Glenn Moore, Lou Sanders, Sarah Keyworth and magician Pete Firman on the bill. Tickets
Thursday March 11
JOKE'S ON YOU, DEMENTIA! Hugh Dennis and Jo Brand are the big names on this fundraiser for the Alzheimer's Society, topping a line-up that also includes stand-ups Eshaan Akbar, Lucy Porter and Stephen Bailey. Tickets are free, but of course they would like you to make a donation at the charity's website.
Friday March 12
NO SUCH THING AS A FISH: The podcast all about quirky facts from the QI researchers embarks on a 20-hour charity marathon with 35 guests each given 35 minutes - to mark 35 years of Comic Relief. Free on the Red Nose Day YouTube channel from 3.30pm.
MOSHE KASHER - LIVE IN OAKLAND: The US comic returns to his hometown for this 2012 special, which drops on the NextUp comedy streaming service today.
CHINESE ARTS NOW FESTIVAL COMEDY NIGHT: Evelyn Mok, Ken Cheng and Phil Wang fly the flag at this gig celebrating Chinese culture. Tickets
KNOCK2BAG: Tim Key heads a strong selection of the best alternative acts at the oddly-named club from 8pm – including Australian weirdo Sam Campbell, character turn Ellie White and deadpan Johnny White Really-Really. Tickets
Published: 6 Mar 2021
What do you think?