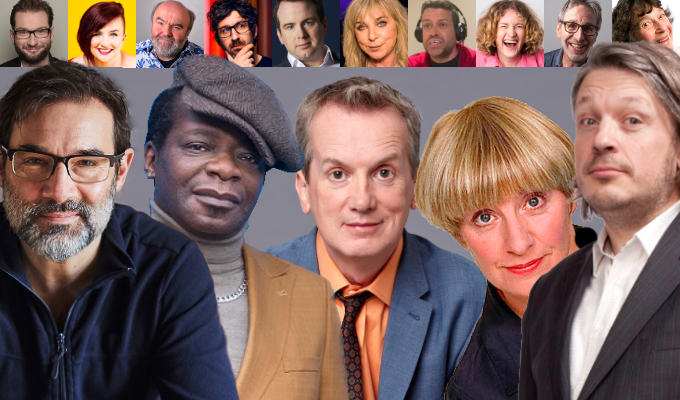 Missed the Chortle Comedy Book Festival?
Comedy fans who missed out on Chortle's book festival can still watch all the sessions with a special catch-up pass, launched today.
Highlights of the eight-day festival, which ended on Sunday, included:
Adam Buxton talking about the best and worst of his podcast is set to release a four-track musical EP next year
Jon Richardson in hilarious conversation with his friend, the political comedian Matt Forde.
Frank Skinner sharing his love of poetry
Richard Herring on fighting the trolls on International Women's Day
Victoria Wood biographer Jasper Rees revealing a treasure trove of unreleased material
Toast Of London co-creator Arthur Mathews,, speaking about plans for the show's return.
Michael Spicer talking about his his 'Room Next Door' idea came about and went global
Alistair Campbell's stand-up daughter Grace speaks her upbringing, comedy career, and following her own path
Mark Watson speaking about his next book - a loose combination of memoir and self-help – and his current novel, Contacts
Outnumbered co-writer Andy Hamilton speaking about his book Longhand, believed to be the first published in the author's own handwriting
Fascinating and funny sessions with comedians Laura Lexx, Daliso Chaponda, Ian Stone and Lynn Ruth Miller
A discussion about the free speech ethos of the Comedy Cellar in New York
Comedians, including Stephen K Amos, and publishing insiders on the industry's 'diversity deficit'
Robin Ince talking to academic Jonathan Silvertown about the psychology and biology of laughter
Ariane Sherine and David Conrad on how to live to 100.
The catch-up passes cost £29 which cover all 22 sessions, and include six months' membership of comedy on-demand streaming service NextUp.
They will only be available until Wednesday next week, December 2, and the sessions must be viewed by December 13.
Click here to buy the pass.
• NextUp are installing streaming technology into at least ten comedy clubs, to help them make money from broadcasting gigs online. The company's head of content, Tom Brandt, said: 'Over the last seven months, live-streaming has risen even more than amateur sourdough. It's been normalised among fans and comedians and we believe it will continue to play a key role in the comedy world post-Covid, connecting potentially global audiences to live comedy everywhere.' Clubs wanting to take part can register their interest here.
Published: 25 Nov 2020
Recent News
What do you think?