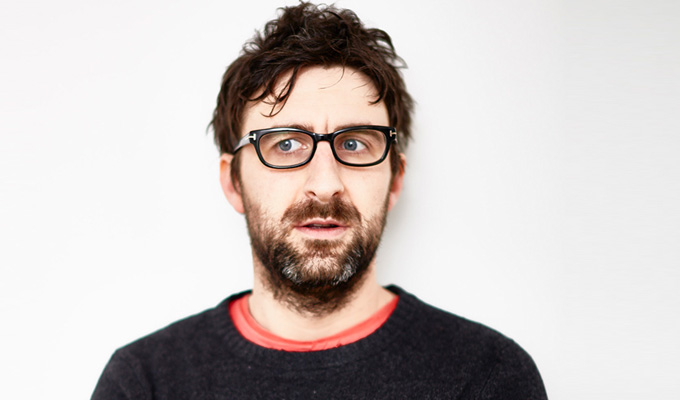 Another 24 hours of joyous madness
The week's best comedy on demand.
Now
SEAN'S SHOW: As Sara Pascoe's sitcom Out Of Her Mind hits screens with its frequent breaking of the fourth wall, Sean Hughes' 1990s sitcom, which made heavy use of the same technique has been added to the late comic's YouTube channel.
Saturday October 24
UNMUTE: The podcast festival wraps up today with live versions of Off Menu with Ed Gamble and James Acaster at 4pm, The Bugle with Andy Zaltzman, Nish Kumar and Alice Fraser at 7pm and Films to be Buried With with Brett Goldstein and guest Alistair Green at 9pm. All the details you'll need are here The Vicar Of Dibley - 24 October The Catherine Tate Show - 24 October The Royle Family - 24 October
Sunday October 25
YOUR PLACE COMEDY PRESENTS...: Laura Lexx, Robin Ince, Tim FitzHigham are taking part in this live-streamed comedy gig run by 10 small, independent venues from across Yorkshire and the Humber. It's free, but you're invited to donate to help out venues struggling through the pandemic. More details here
THE REAL INSPECTOR HOUND: A very starry cast will be hosting a live table read of Tom Stoppard's satirical whodunit from 7pm, in aid of the Royal Theatrical Fund, helping all those in the industry clobbered by the Covid shutdown. The impressive cast includes Derek Jacobi, Simon Callow, Jennifer Saunders, Freddie Fox, Emilia Clarke, Samantha Bond, Sanjeev Bhaskar, Gary Wilmot and Robert Lindsay. Tickets, priced £35, are available here
Tuesday October 27
A NIGHT IN WITH JOAN AND JERICHA: Julia Davis and Vicki Pepperdine perform as the agony aunt alter-egos from their hit podcasts, as they are interviewed live from the London Coliseum by Adam Buxton from 6.30pm tonight. Tickets
HARRY HILL'S NOISE: Harry Hill is launching a new podcast, with a big difference. He said: 'Basically it's a half-hour of ambient sound, then at some point during the podcast, I make a noise. 'Now, when you're listening to it, you'll forget that I'm about to make a noise and you'll get lulled into it, and then I'll make the noise and it'll be really funny. 'I mean, it doesn't sound like a regular podcast, does it? But believe me, you're going to love it. Available via Apple, Acast and Spotify.
SARAH COOPER: EVERYTHING'S FINE: Comedian Sarah Cooper, who's known for her viral Donald Trump impersonation clips, is getting her own Netflix comedy special based on current events. And it's got a vast array of guest stars including Ben Stiller, Eddie Pepitone, Helen Mirren, Jane Lynch, Megan Thee Stallion, Whoopi Goldberg, Winona Ryder and Jon Hamm.
Wednesday October 28
ALWAYS BE COMEDY: Felicity Ward, Glenn Moore, Jessica Fostekew and Stephen Bailey make for a funny and varied bill at the streaming comedy club tonight. Tickets
Friday October 30
TRUTH SEEKERS: The new comedy-horror from Nick Frost and Simon Pegg about a team of part-time paranormal investigators, lands on Amazon Prime Video today - with co-stars Emma D'Arcy, Samson Kayo, Malcolm McDowell, Susie Wokoma and Julian Barratt. Read interviews about the show with Pegg and Frost
WATSONATHON 2: More madness as Mark Watson hosts another virtual 24-hour show, bringing fans and comedians into his orbit to create a real community of optimism. When he did this in May he raised £45,000 for charity, and tonight's edition, kicking off at 9pm, will raise funds for Turn 2 Us - which helps people in financial hardship all over the UK - and the Comedian Support Act, which supports performers in need. The donation page is here, and watch on Twitch.
Published: 24 Oct 2020
Recent News
What do you think?