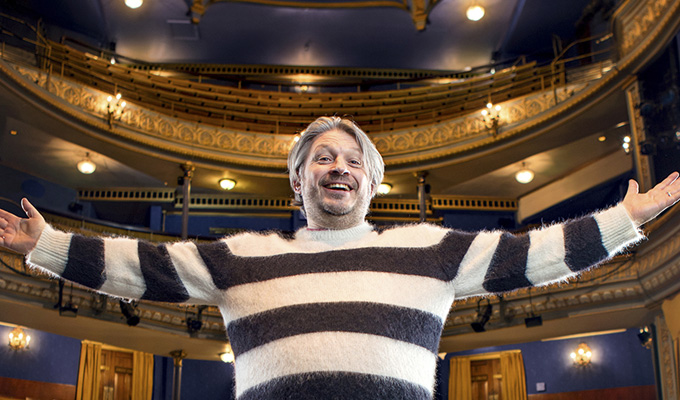 Richard Herring's radio comedy returns
The week's best comedy on TV and radio...
Sunday July 12
THE GRASS IS GREENER: This comedy starring Cary Grant, Deborah Kerr, Robert Mitchum, and Jean Simmons was something of a flop on its release in 1960, despite its star-studded cast. But the story of a British aristocrat having an affair with a suave, somewhat obnoxious American oil tycoon, under her husband's nose garnered critical acclaim and has since won a cult following. Talking Pictures TV, 6pm. Repeated on Wednesday at 5pm.
ROMESH RANGANATHAN: MISADVENTURES FROM MY SOFA: Again broadcasting from his own home, the comedian introduces previously unseen footage from his travelogue series, starting with trips to Zimbabwe, Bosnia and the Sahara. BBC Two, 9pm
THE FESTIVAL: This 2018 comedy movie was directed by Inbetweeners co-creator Iain Morris and reunites Joe Thomas and Hannah Tointon from that hit sitcom. They play a couple who break up but still wind up at the same music festival (actually shot at Leeds). Co-stars and cameos include Noel Fielding, Ed Sheeran, Claudia O'Doherty, Jemaine Clement and Nick Frost. Channel 4, 9pm
Monday July 13
MIRACLE WORKERS: Daniel Radcliffe and Steve Buscemi return in the second season of this American comedy. While the first was a workplace series set in heaven, the second is set in medieval times, as a group of villagers attempt to stay upbeat in the face of extreme inequality, widespread ignorance and the possibility of catching the plague. (How times have changed…) Look out for Peter Serafinowicz, Jamie Demetriou and Fred Armisen in supporting roles. Sky Comedy, 9pm
Friday July 17
RELATIVITY: Richard Herring's comedy drama returns to Radio 4 with a third series of inter-generational misunderstanding and sibling sparring. The cast includes Alison Steadman, Phil Davis, Fenella Woolgar, Gordon Kennedy and Herring himself. Radio 4, 11.30am
Saturday July 18
STANDING UP FOR LIVERPOOL: Les Dennis tells the story of Jackie Hamilton, a Liverpool club comedian and contemporary of Jimmy Tarbuck who never made the big time. He was the inspiration for Dennis' one-man show, Jigsy, which previously played the Edinburgh Fringe and which the Royal Court Liverpool revived as a lockdown live-streaming show during lockdown. This programme was first broadcast on Radio 4 in 2007. Radio 4 Extra, 11.30pm
Published: 12 Jul 2020
What do you think?