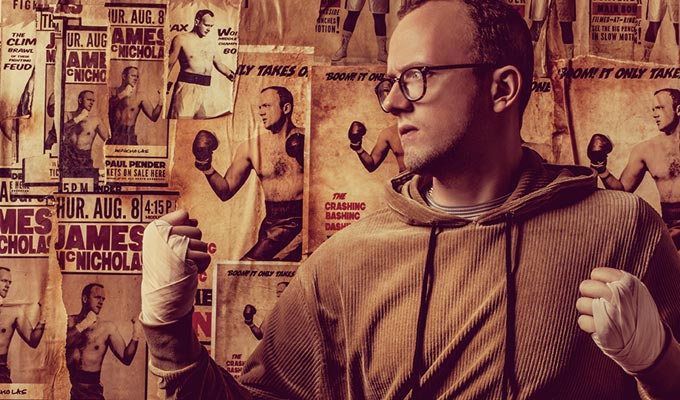 Boxing comedy pulls no punchlines
The best of the week's live comedy.
Monday February 17
LONDON: There's a big fundraiser at the Union Chapel in Islington for Fringe Of Colour, the award-winning initiative designed to support BAME acts heading to the Edinburgh Fringe. It's a strong bill, too, with Mash Report's Nish Kumar introducing Ahir Shah, Desiree Burch, Rose Matafeo, Sindhu Vee and more. Tickets.
LONDON: Grace Campbell kicks off her first UK tour at the Soho Theatre, with a show trading on the fact that her dad, Alistair, was Tony Blair's ferocious spin-doctor. Why I'm Never Going Into Politics features Westminster gossip, her run-ins with the patriarchy as part of the feminist collective The Pink Protest, and quite a few sex jokes. Schedule
Tuesday February 18
READING: Chortle's hunt for the next generation of comedy talent kicks off at the Reading Student Union, followed by the second heat at the University Of Warwick in Coventry on Thursday. We've helped uncover some great talent in the past - and this year's prize is a doozy, a trip to gig around Australia, thanks to the Comedy Lounge in Perth, and other venues. All subsequent heats are listed here.
Wednesday February 19
LONDON: In his new show, the talented James McNicholas contrasts his achievements as a struggling actor and comedian with that of his grandfather Terry Downes, who was the 1961 middleweight champion of the world. The entertaining and story - which will inevitably be described as 'packing a punch' - is told with skill and verve… and is at the Soho Theatre for the rest of the week.
Thursday February 20
LIVERPOOL: Irish sketch trio Foil Arms and Hog kick off their new UK tour, Swines, at the Philharmonic Hall. They have racked up more than 100 million hits on YouTube and last year played the biggest venue at the Edinburgh Fringe, to which they will return this August. Dates
Saturday February 22
LEICESTER: Just before the city's comedy festival draws to a close tomorrow, it has a 'comedian of the year' to crown. The finalists, as put forward by comedy promoters across the UK, are: Louise Young, Omar Abid, Good Kids, Matt Bragg, Eric Rushton, Mustafa Fecto, Nina Gilligan and Dinesh Nathan.
WATFORD: There's an impressive line-up at Just The Tonic tonight, led by smartly mischievous Adam Bloom and backed by the brutally frank Diane Spencer, guitar-noodling circuit veteran Pierre Hollins, and hilariously self-deprecating Sean McLoughlin.
Published: 16 Feb 2020
What do you think?